SAN FRANCISCO GALLERY OPENINGS
ERSATZ FIRST THURSDAY; 09.02.04
General comment: Technically, this is the first Thursday in September, but since it comes before Labor Day, many art dealers are either still at their summer homes in Monaco (or is it Manteca?), finishing up their MFA theses (or is it... oh, never mind), and/or sitting on the bench in the middle of the Egyptian Room at the Metropolitan. But that doesn't mean us inveterate artsters must go artless. So are you ready for some art? Let's see what we can squeeze out of our creative community this time. By the way, for those of you who wonder how I order these shows, the one I go to first is first, second second, and so on-- and that order depends on where I park the car.
Dolby Chadwick Gallery: She Has the Time; Linda Christensen
Comment: Maybe nobody told Dolby Chadwick that all the downtown galleries are opening next Thursday instead of this one. Or maybe the sax player's contract states that he plays on the first Thursday of every month, no exceptions. Or maybe they're having two openings-- first and second Thursday. Anyway, if you like Bay Area Figurative but weren't around in the fifties or early sixties to pick up a fresh Dieb, or you don't have half-a-million-plus lying around now to pick up a ripe Dieb (assuming you could find one for sale, which you can't), you can always spend ten or twelve grand on one of Christensen's competent remakes with modest revisionist flourishes.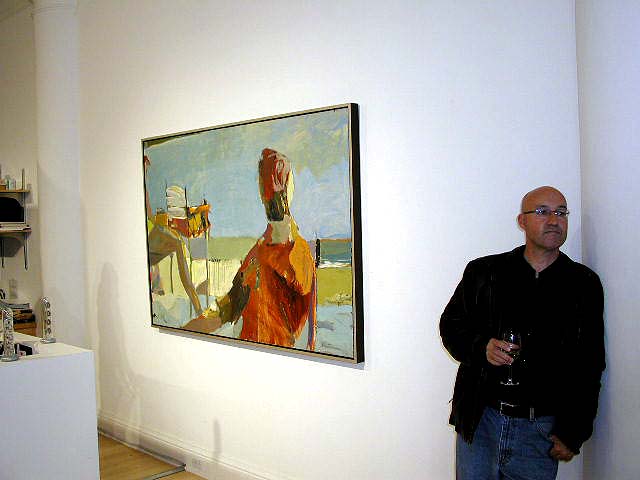 Art.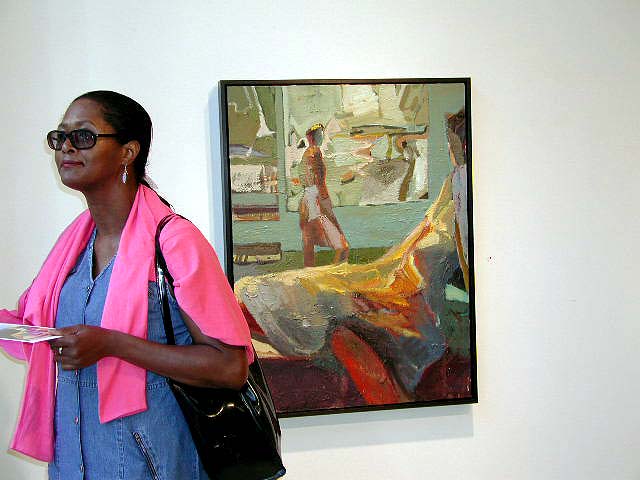 Art.


In the mix.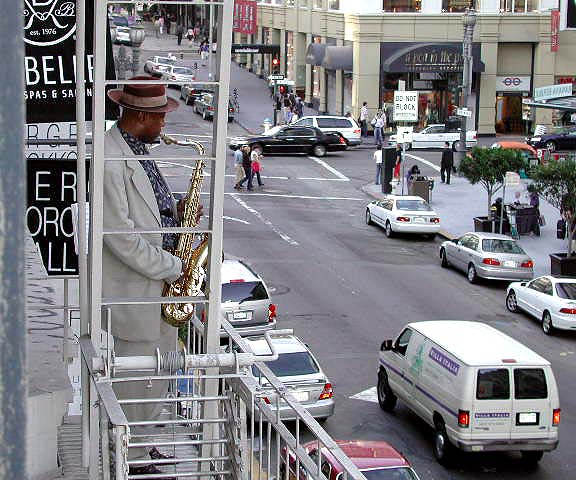 Out the window.


***
Jenkins Johnson Gallery: Scott Fraser, Daniel Sprick.
Contemporary realism, they call it; two artists from Colorado. When you can paint just about anything to look exactly like it does in real life, you have the ability to combine things in strange ways, ways you would not encounter in reality. So then you combine them, and people look at your paintings and go, "Isn't that strange?" That's basically how it works.
Artist/artists: Scott Fraser, Daniel Sprick.
Art.


Art.


***
SOMA Gallery, 1035 Mission Street: Put You in Your Place.
Artist/artists: Alfonso Aguirre, Ana Teresa Fernandez, Leonardo Herrera, J.Danielle Hubbard.
Comment: A long concrete room of art with varying degrees of Gay overtones. Photographer Leonardo Herrera had one of the better artist statement's I've read in a while, on being Gay and making art of it-- impactful as well as informative.
Art.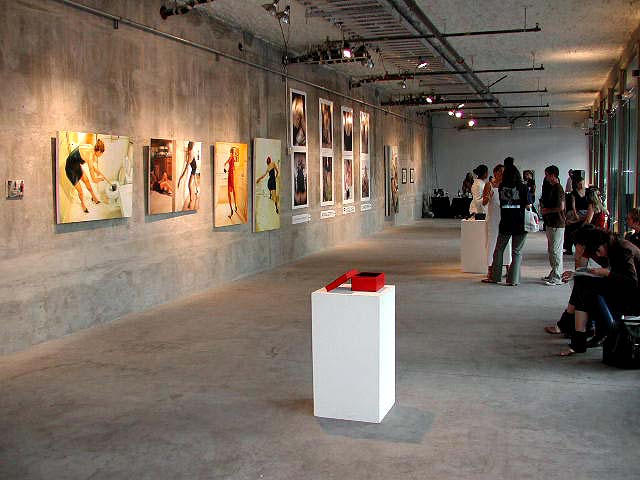 Art.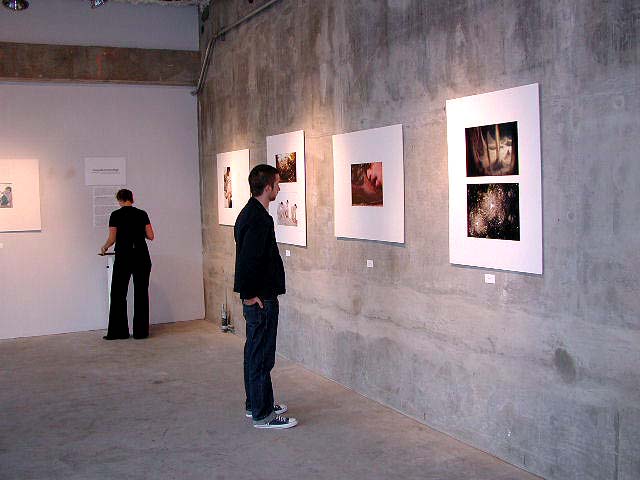 Art.


***
Pigman Gallery: Time Indefinite.
Artist/artists: Mark Faigenbaum.
Comment: Pieces of plastic with diagrams on them-- recycled parts of old outdated technology devices-- attached with screws over the surfaces of collages made mainly with old newspapers. Couldn't quite figure out how to shoot the show, so no pix.
***
Fusion Artspace: A Book of Mirrors.
Artist/artists: German Herrera.
Comment: Photocollages, conceived, composed and photoshopped on computer, black and whites, looking almost like images you might encounter and photograph while walking around with your camera-- looking real, but really imaginary. Prices a little on the stiff side, perhaps, for digital prints.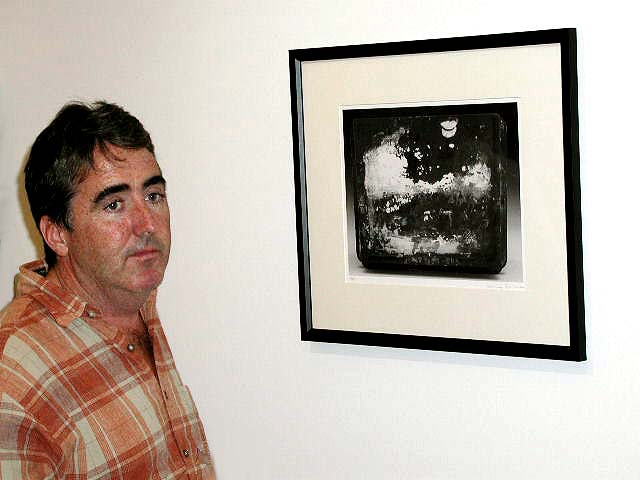 Art.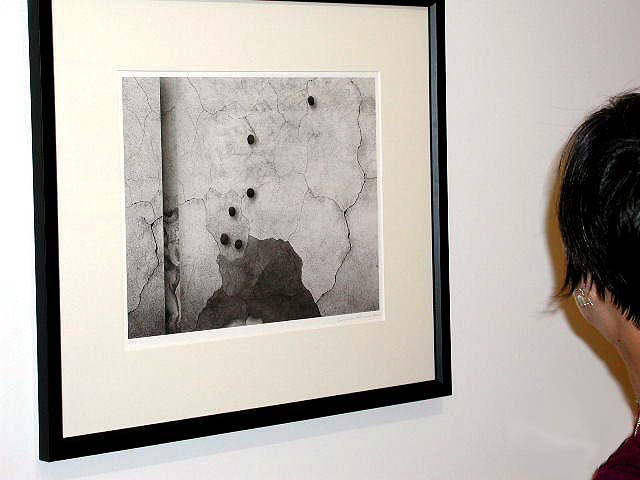 Art.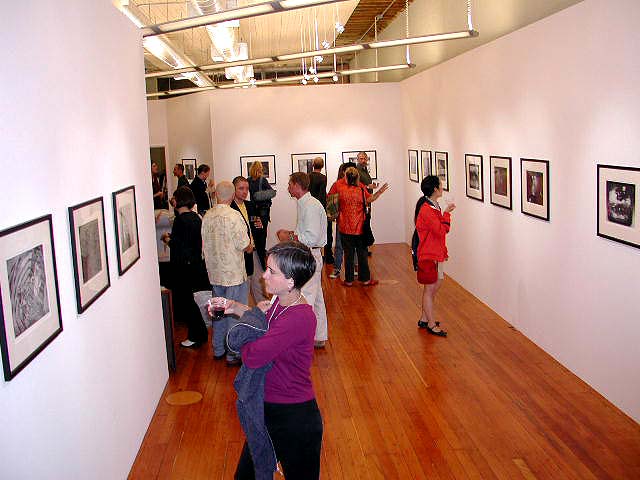 Terrain.


***
111 Minna Gallery: Life and Death.
Artist/artists: Paul Urich, Chris Duncan.
Comment: Modern, abstract, primitive, figural, fantasy, lots of dots of paint, scratchy, sketchy, detailed sectors-- maybe the kind of stuff you'd see if you screwed the top off a weird person's head and looked inside. The piece-by-piece analysis: varying degrees of visual engagement. Enigmatic, impenetrable, unfathomable art-- a lot of it going around lately-- not easy to digest, I'm not sure where it's heading, but I've got time and a malleable mind.
Art.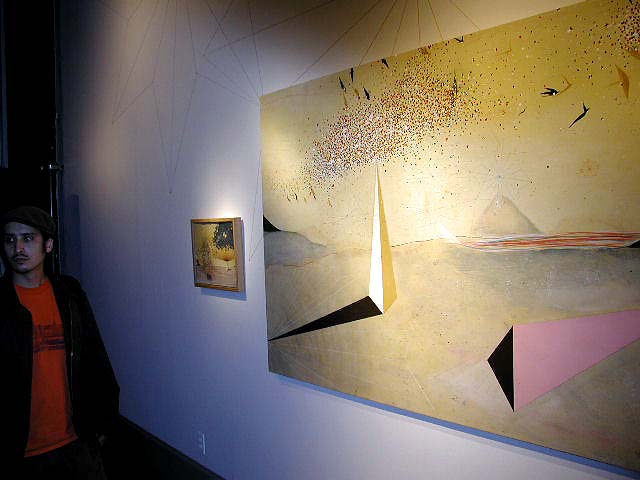 Art.


Chris Duncan (left).


Art.


Art.


***
San Francisco Art Exchange: Ronnie Wood.
Artist/artists: Ron Wood.
Comment: Art by Rolling Stones guitarist Ronnie Wood at "America's Most Exciting Gallery," an exclusive private event with no photographs allowed, and where you have to twist nine ways to Everest to get in. Point of information: the amount of money that commercial galleries like this take in selling art like this is astounding. One of my missions in life is to figure out how to channel the tip of that cash nebula into the fine art realm of the art world.
Sycophants.