SAN FRANCISCO GALLERY OPENINGS
BALAZO GALLERY - VARNISH FINE ART - 21 GRAND (OAKLAND)
01.14.05
Balazo Mission Badlands Gallery: Lost and Found.
Artists: Judy Cohen, Chris Corales, Lisa J. Farrell, Thuy Hoang Nguyen, Tofu, and a collection of items from Found Magazine.
Comment: Those artists are at it again-- refusing to contribute to America's gross (as in disgusting) national product, forsaking the tenets of bloated compulsive consumptive consumerism, their refusal manifested in transforming refuse into art. For example, Tofu cuts up and collages old maps into mosaic quilt-like patterns, arranged onto canvas with meticulous detailed precision. Lisa J. Farrell makes eerie mystic shadowbox assemblages using old weatherbeaten window frames. And the cut-form shard art in the front room appeals in a primitive way. Why buy expensive materials at FLAX when everything at the largest art store in the world-- our trash-- is free? Sorry FLAX, but at least you got a link out of it.
Shadowbox art (Farrell).


Map art (Tofu).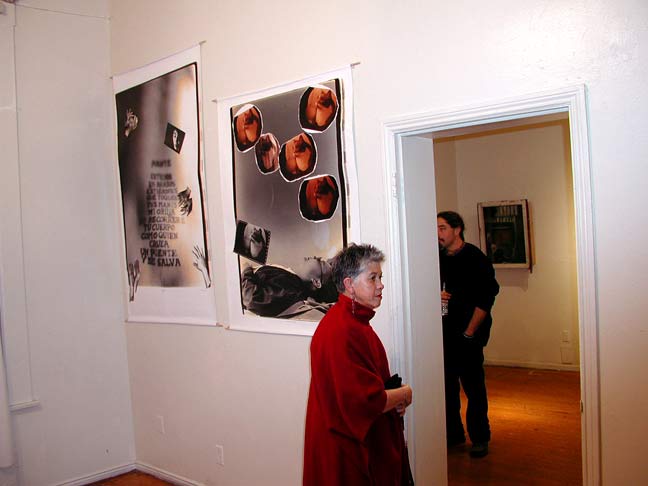 Art (Nguyen).


Shard art.


Entertainment courtesy of JouJou.


Art (Nguyen).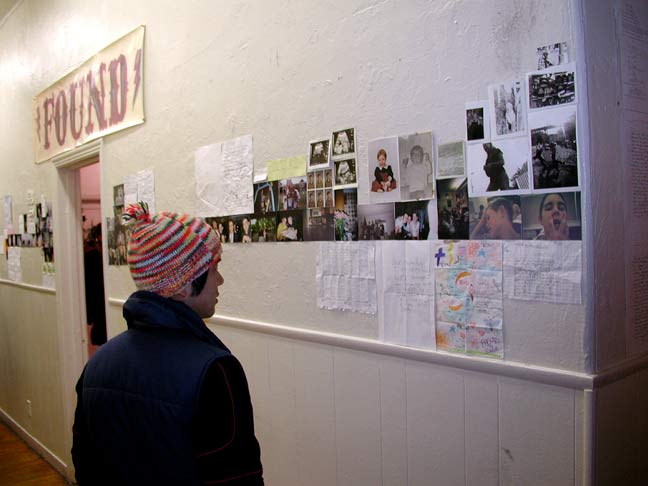 Found Magazine art.


Map art - door man and partner of curator Erin Madarang.


***
Varnish Fine Art: Lauren McCubbin; Rented.
Comment: Slinky Nagley feline fantasies by artist and "Rent Girl" illustrator Lauren McCubbin, plus added bonus "Rent Girl" reading by author Michelle Tea. McCubbin's girl paintings are tastily suggestive, borderline direct. They make you wonder what happens next, what lies in store, where you'll end up if you go for the ride, and how you're gonna feel when you get there. The art's perfect for spiking nightlife in dark bars, romantic restaurants, or maybe even the rec room of your penthouse condominium. And it's affordable too, topping out at only $800.
Art.


Art.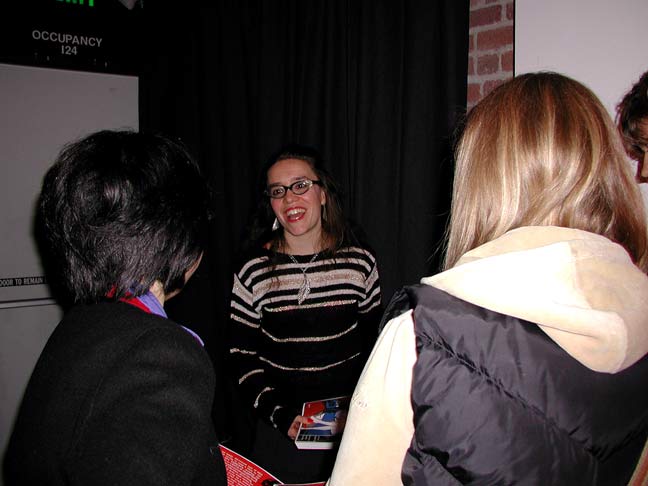 Michelle Tea book signing.


Art.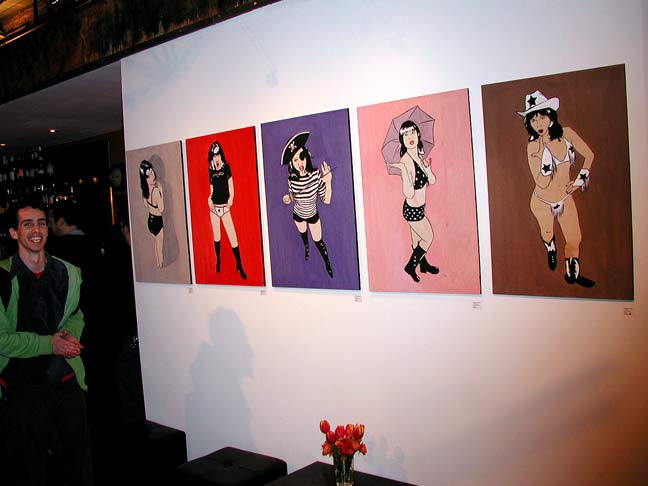 Art.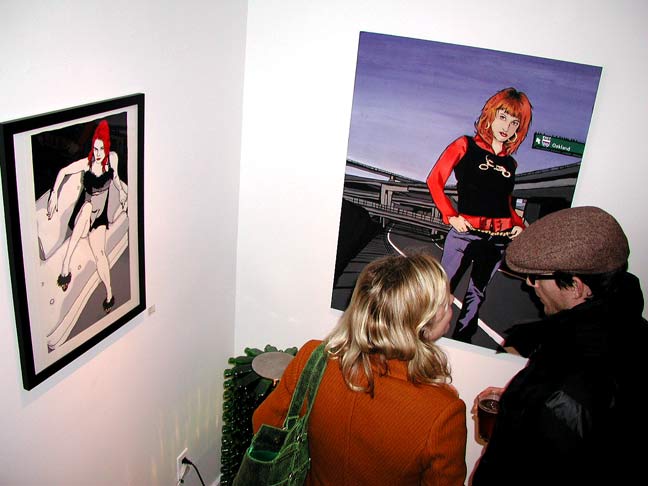 Art.


Intro.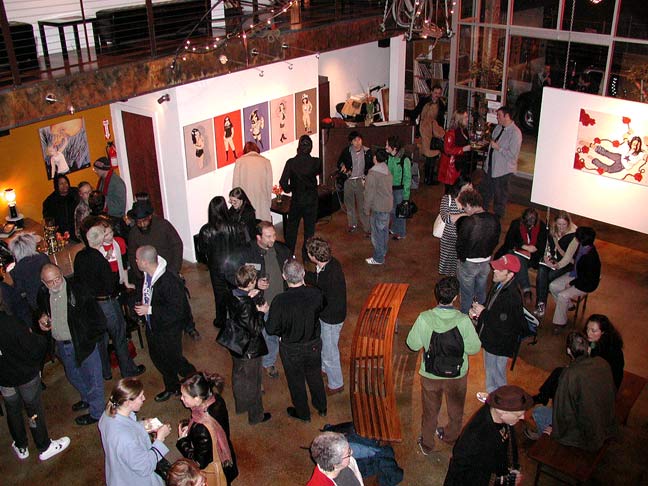 Floorplan.


***
21 Grand: The Black Dahlia Show.
Artists: Hailey Ashcraft, Leah Beck, Dale Hoyt, Jessica Ingram, Erik Mc Donald, Kirstyn Russell, Kim Weller.
Comment: Quick stop at Oakland's 21 Grand. The party's over, they're cleaning up, but the door's still open, and they let me in. The art references a notorious Hollywood slice-up glamour murder. A series of glitter-paint styrofoam forms by Kim Weller catch my eye. She calls them Expressions, they're $300 each, one's sold; they're bowed coiffures. I impose on 21 Grand Board of Directors President Darren Jenkins for a quickie pose, to which he graciously consents.
Coiffe art - President.