YERBA BUENA CENTER FOR THE ARTS
BEAUTIFUL LOSERS:
CONTEMPORARY ART AND STREET CULTURE
OPENING 07.15.04
Comment: One more step in street culture's long long recognition walk-- that's what Beautiful Losers is all about-- despite the press release's half-hearted acknowledgement that although the artists "occupy the edges of society, they are nonetheless key to the forward movement of our culture in general. The social substrate they occupy is the breeding ground for new ideas and forms of expression." I suppose a whole lot of us occupy all kinds of edges and substrates, and whose edge or substrate signifies what is not the point. The art is the point, so maybe next time let's skip the conditionals and give 'em the gravy they deserve. It won't hurt.
Street art, graffiti, hip-hop art, skateboard art, low-brow art-- whatever you call it-- has a purity about it, remarkably free of cerebral clutter, the detached intellectualization of art that's taught in way too many art schools. This art is real; it's about life. It's an invitation to understand who people are, how they live, what they do, why they do it, and what they experience along the way. Isn't that what art should be? A reflection of life as we live it rather than an elitist exercise in formulating pseudo-dense overblown jargon-riddled paradigms to lift and separate the self-proclaimed annointed from the urchins? Uh... sorry... my medication must be wearing off.
Anyway, the opening was a huge success, a testament to the art's popularity, so much so that the organizers had to close the doors, stop letting people in, and start turning them away. Pushing and shoving ensued and things almost got ugly, but the thwarted throngs eventually came to their senses, and a tense aesthetic calm prevailed. Inside, the place was so packed with style monsters that, overwhelmed by the collective unconscious, I succumbed, experienced a brief Jungian contact high, and actually felt hip for about a minute. The show was super crowded, hot, uncomfortable, and a bitch to navigate, but from what I could tell, art appreciation won big and people were liking what they saw.
Artist/Artists: Thomas Campbell, Cynthia Connolly, Brian Donnelly (KAWS), Shepard Fairey, Phil Frost, Mark Gonzales, Evan Hecox, Jo Jackson, Todd James, James Jarvis, Andy Jenkins, Chris Johanson, Spike Jonze, Margaret Kilgallen, Harmony Korine, Geoff McFetridge, Barry McGee, Ryan McGinness, Mike Mills, Stephen Powers, Clare Rojas, Ed Templeton, Romon Yang, Tobin Yelland, Jean-Michel Basquiat, Andy Warhol, Neil Blender, Henry Chalfant, Larry Clark, R.Crumb, Glen E. Friedman, Ari Marcopoulos, Raymond Pettibon, Pushead and Craig Stecyk, Dondi, DOZE, Fab 5 Freddy, Futura, Keith Haring, HAZE, Lady Pink, Pushead, Lee Quinones, SAMO, Wes Humpston.
Art.


Art.


Art.


Art.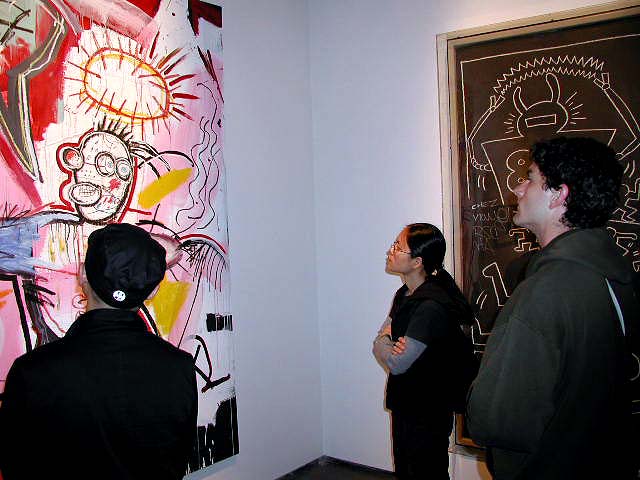 Art.


Art (Twist / Barry McGee).


Art.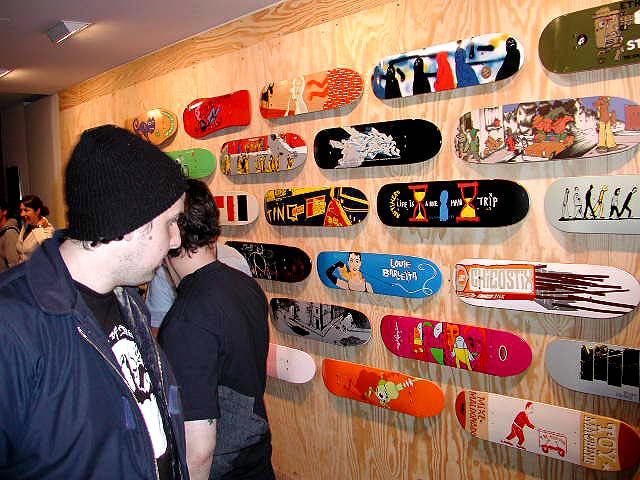 Functional art.


Functional art.


Art.


Art - artist (Shepard Fairey).


Logistics.


Logistics.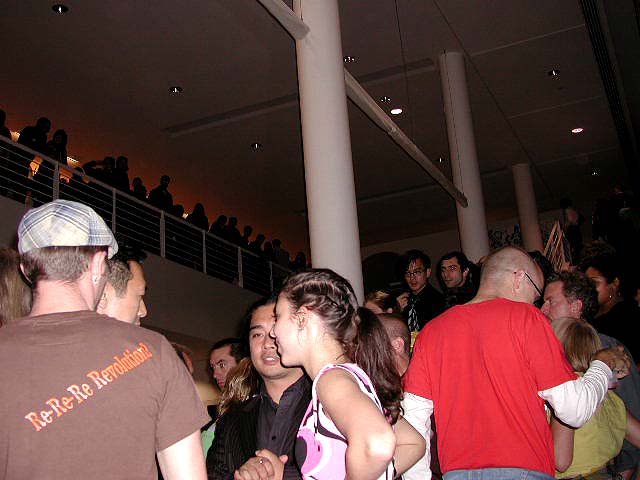 Logistics.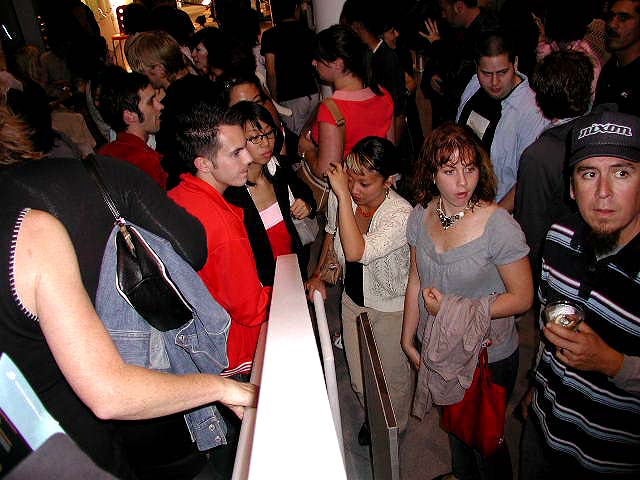 Logistics.

Yerba Buena Center for the Arts
701 Mission St.
San Francisco, CA 94103
415.978.2787