600 TOWNSEND:
PACIFIC RIM SCULPTORS GROUP
ASSOCIATION OF CLAY & GLASS ARTISTS OF CALIFORNIA
OPENING 7.31.03
Comment: Three-dimensional camaraderie.
Art: 6 populated pedestals.
Crowd: 7 metallic men.
Vibe: 7 ceramic sirens.
Artist/Artists: Joe Bologna, Lesley Cantor-Fallihee, Kent Gordon, Paul Gralen, Bela Harcos, Peter Hiers, Maru Hoeber, Ralph Holker, Stan Huncilman, William Iaculla, Barbara Jacobsohn Phelps, Jim Kitson, John Oldani, Zahava Sherez, Bryan Tedrick, Carol Wedemeyer, Bruce Bangert, Joe Battiato, Christie Beniston, Susan Brody, Jane Burton, Sam Clarkson, Bonita Cohn, Diana Crain, Tom Decker, Suzanne Kubler French, Marj Fries, Jane Grimm, Marnia Johnston, Nina Koepcke, Linda Mau, Carolyn Means, Lee Middleman, Judy Bolef Miller, Beverly Prevost, Inge Robetrts, Paula Ross, Jan Schachter, Jacqueline Thompson, Terrill Waldman, Karen Winograde, Mardi Wood, Cathryn Yoshimoto, Laura Zindel.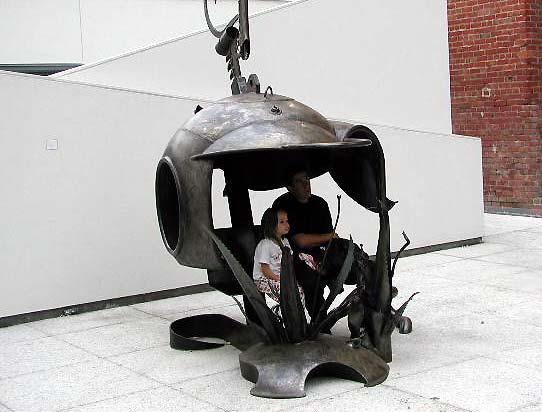 Art.


Art.


Art.


Art.


Art.

Pacific Rim Sculptors Group
510.527.8715
Association of Clay and Glass Artists of California
650.851.3754