ADOBE BOOKSHOP: GROUP SHOW
OPENING 01.30.04
Comment: As with all Adobe shows, the art looks good, albeit from a distance, that distance being straight up. Perhaps the bookshop should consider step ladders for closer inspection, or on-call chiropractors to correct misalignments incurred while enjoying the art. Speaking of art, of particular note are the sharp and misty c-prints by Sean McFarland that transform San Francisco streets into innocent little kiddie toyscapes. And a plus, not usually evident at an Adobe opening-- a price list, in case anyone's interested in buying something.
Now class... pay attention. I'm not going to name names, but several of you, and you know who you are, have gotten into the habit of showing the same art at different shows at different venues within relatively short periods of time. In the words of Walmart founder Sam Walton, or maybe to paraphrase Sam Walton-- on second thought, forget Sam Walton. Take a lesson from the hallowed annals of retailing and rotate the stock, turn the goods, trot out the new stuff, keep it fresh. You don't want to give the impression that you're not making much art, or you're not selling much art, or you've only made a few pieces you really like. And you're for sure not old enough yet to be having travelling retrospectives.
Artist/Artists: Sacha Eckes, Alena Rudolph, Christine Shields, Donal Mosher, Kottie Paloma, Sean McFarland.
Pick.


Art.


Art.


Backroom show.


Backroom show.


Art.


The usual.


The usual.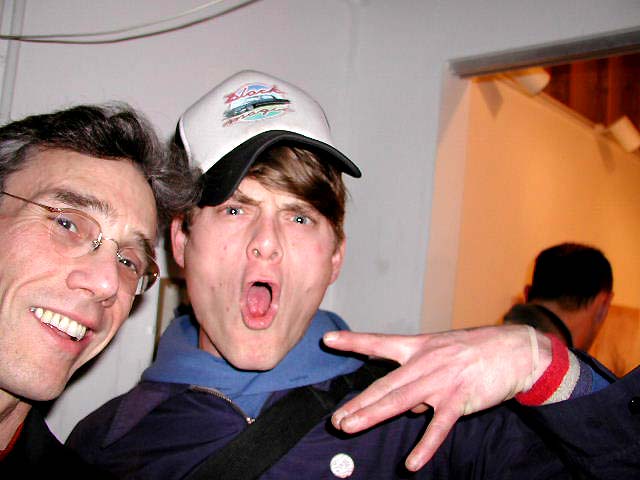 Not sure.

Adobe Bookshop
3166 16th St.
San Francisco, CA 94103
415.864.3936
Art inquiries to Eleanor Harwood;415.867.7770; eleanor99@yahoo.com