Air Float Systems: Affordable Art Packaging

For a list of fine art shippers, click Here.

Packing, crating, and shipping art is a lot cheaper and easier than it used to be, thanks to Air Float Systems of Verona, MS. Back in the old days, shipping art meant either building expensive custom crates or containers in-house, purchasing special packing materials and then custom-fitting them around the art; or hiring expensive fine art shippers to build crates for you. For over twenty years, Air Float Systems has been serving the art community with increasingly sophisticated affordable art crating and packaging solutions.
Their current product lines for shipping works of art thicker than single prints, either framed or unframed, are the humidity-resistant 350-lb. single-walled corrugated "Strongbox" crates and the 500-lb. double-walled version. "Strongboxes" come in a variety of sizes, and are capable of holding works of art as large as 62 x 62 inches and as thick as 8 inches. They're available with or without "Puncture Guard" liners made of lightweight .035 inch ABS plastic and all come filled with three layers of foam. Two convoluted foam layers protect the art, one from the top and one from the bottom, and a layer of "Perf-Pack" foam (a piece of perforated foam) can be easily customized to form a protective border around the sides of the art.
Air Float Systems was kind enough to send artbusiness.com two sample "Strongboxes," which were immediately put to the test. A 155-lb. adult was placed on top of the 350-lb unlined model, capable of holding an art piece with maximum dimensions of 14 by 19 by 2 inches. The box bent, but did not collapse, and left no indications that a full-sized adult had ever stood directly on top of it. For the 500-lb. lined version, capable of holding an art piece with maximum dimensions of 25 by 33 by 4 inches, we served up an impressive mix of three adults and two children weighing approximately 550 lbs. The box bent, but did not collapse, although it did show signs of having been used as a podium and lightly danced on. Folks-- these "Strongboxes" are strong boxes!
For prints, Air Float Systems "PrintPads" consist of four layers of 275-lb. corrugated material, the outside layers running vertically and the inside liners running horizontally, capable of holding individual prints as large as just over 30 inches by nearly 45 inches. Four adults each tried to bend our sample "PrintPad," capable of holding a print measuring nearly 17 by 22 inches, but none were successful. Once again, our failures mean your shipping successes.
Air Float containers are mailed direct from the Verona manufacturing facility and range in price from $18 for the smallest "PrintPad" to $295 for the largest lined "Strongbox," and can be purchased either singly or in cases of five or ten. Complete lists of products and prices are posted on the website. According to John Garzoli, owner of Garzoli Gallery of San Rafael, CA and expert on nineteenth century American painting, "Strongboxes" keep expensive works of art safe while being shipped and, because the boxes sustain only minor damage in transit, can be used as shipping containers a number of times.
Garzoli says that he and many other dealers in period and antique prints and works of art have used "Strongboxes" for years and rely on them in a variety of shipping circumstances. Art organizations like the National Watercolor Society and The National Park Academy of the Arts also recommend Air Float Systems to all artists for their packaging and shipping needs.
Contact Information: Air Float Systems, 110 Second Street, Verona, MS 38879. Call toll-free 1-800-445-2580, fax 1-800-562-4323, or visit their website, http://www.airfloatsys.com.

Current Features
How to Buy Art on Instagram and Facebook
More and more people are buying more and more art online all the time, not only from artist websites or online stores, but perhaps even more so, on social media ...
Collect Art Like a Pro
In order to collect art intelligently, you have to master two basic skills. The first is being able to...
Services for Artists and Collectors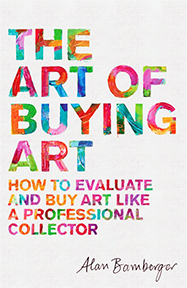 Buy the Book