Art Appraisers, Appraiser Associations

and Art Valuation.

Appraiser qualifications of Alan Bamberger >>


Q: I need several art appraisals. Can I appraise the art myself or do I need an art appraiser? Can I look at lists of selling prices for some of the artists I need appraised. Are lists of art prices just as good as appraisers? Thank you for your help.
A: If you need an art appraisal, hire a professional art appraiser who's experienced in art appraisal techniques. If you're not qualified to appraise art, don't try to appraise it yourself. That can be a very bad idea. If you need legal assistance, you hire an attorney, right? If you need medical advice, you see a doctor, right? If you need something done that you don't know how to do yourself, you hire someone who knows how to do it, right? OK. Putting accurate dollar values on art might seem like something anyone can do, but believe me, it's not. Appraising art is a science, not a guessing game.
Books, CD-ROMs or databases that list art prices may present themselves as art appraisal services, but THEY ARE NOTHING OF THE SORT. Don't believe it? Then read their disclaimers-- especially the ones on so-called art price websites. Here's a quote from one of those sites (the letters are capitalized on the site to emphasize that THE SITE IS NOT RESPONSIBLE for either their data or any mistakes you make using it-- YOU ARE): "THIS SITE AND ITS CONTENT ARE BEING PROVIDED TO YOU ON AN "AS IS" BASIS AND (this website) MAKES NO REPRESENTATIONS OR WARRANTIES OF ANY KIND WITH RESPECT TO THIS SITE OR ITS CONTENT. (this website) DISCLAIMS ALL SUCH REPRESENTATIONS AND WARRANTIES, WHETHER EXPRESS OR IMPLIED, INCLUDING, BUT NOT LIMITED TO, WARRANTIES OF MERCHANTABILITY AND FITNESS FOR A PARTICULAR PURPOSE. IN ADDITION, (this website) DOES NOT REPRESENT OR WARRANT THAT THE INFORMATION ACCESSIBLE VIA THIS SITE IS ACCURATE, COMPLETE OR CURRENT, INCLUDING, BUT NOT LIMITED TO, SUCH INFORMATION CONTAINED IN ARTIST BIOGRAPHIES, AUCTION RECORDS, SAMPLES OF ARTISTS' SIGNATURES, ARTWORKS FOR SALE, AND INFORMATION AND VALUE ESTIMATES CONTAINED IN ARTIST PRICE VALUATION REPORTS." Woah! That's not what you want to see when attempting to appraise potentially valuable works of art.
At best, database resources give you casual random ideas of what your art might be worth, and you can make big mistakes if you misinterpret their data. You see, they give you prices for other art, not your art, and since every work of art is unique, those prices often have little or nothing to do with the art you want appraised. Lists of art prices are useful only if you know how to interpret art sales data, and only when that data is interpreted in combination with additional art price resources, art reference books, retail selling prices, and a variety of other art research tools not readily available to average individuals.
In addition, art prices books, CD-ROMs and databases cover almost exclusively art that sells at auction. Much art that sells at auction is inferior in various ways. It may be damaged, badly restored, second-rate, atypical, or poor quality-- not good enough to sell at galleries-- so sellers get rid of it at auctions. This problem art sells for less than good or better quality pieces in good or better condition, but art prices you get from a list don't tell you that. They don't include condition reports, statements about how good or bad the art may have been, or other sale price explanations. All you get is a bunch of dollar amounts taken out of context-- and nothing more. If you compare your good quality art in good condition to problem art in poor condition, you can value way too low.
Here are some more reasons why lists of art prices can give you grossly innacurate ideas of what your art is worth:
Great art may sell at auction for bargain prices because the auctions are poorly publicized, or only single bidders recognize the importance of the art and buy it for far less than it's worth. If you compare your art to art that sold for bargain prices, you can value way too low.
Sometimes, no significant art by a particular artist has ever sold at auction. It is not unusual for top quality art by an artist to sell for tens of thousands of dollars or more at galleries, but for that artist to have high auction records only in the low or mid thousands of dollars. If no significant art by your artist has ever been through auction, you can value way too low.
Sometimes an artist has hundreds or thousands of auction records that range, for example, between $1000 and $200,000. If you're not a qualified professional appraiser, you'll have little or no idea where your art fits into that kind of a continuum.
In order to accurately value a work of art, you have to know how significant it is-- how great, good or not so good it is-- when compared to all other art by the artist. If your art is really good, but you don't know good it is, you can value way too low.
In order to accurately value a work of art, you have to know how historically significant it is-- whether it transcends the artist who made it-- because of when it was made, what it represents, where it was made, or similar extenuating factors. If your art is historically significant, but you don't know that, you can value way too low.
Sometimes art has value for reasons not related to the artist. For example, a painting of a World War II air raid/dogfight may be worth far more to a militaria collector than to an art dealer or collector. If you don't know assess value across various collecting disciplines, you can value way too low.
Get the point? I hope so. It's your money.
Bottom line: Art appraisers are neutral non-conflicted professionals who value art for a living, and who work on your behalf (the ones you pay for, that is, not the ones who claim to offer free appraisals). Use a qualified fee-based appraiser when you need art prices, or risk losing big money later.

Current Features
How to Buy Art on Instagram and Facebook
More and more people are buying more and more art online all the time, not only from artist websites or online stores, but perhaps even more so, on social media ...
Collect Art Like a Pro
In order to collect art intelligently, you have to master two basic skills. The first is being able to...
Services for Artists and Collectors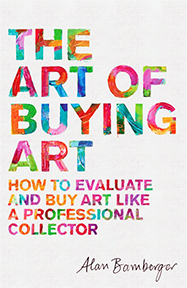 Buy the Book