Four Successful Artists at International ArtExpo California
Exhibitors expected to and did make retail sales, but more importantly, they were there to network with members of the trade and were in search of gallery representations, publishing deals, product licensing arrangements, and other art business opportunities. International Artexpo is not juried, but only serious artists and vendors tend to participate. At over $4,000 for a small booth, total show expenses easily exceeded $5,000-6,000 even for many local participants. We interviewed four exhibiting artists, all of whom make their livings selling art, and asked them to share their wisdom with working artists everywhere. Let's meet them now and find out what they had to say.
Steven Power calls himself an "ultra-realist painter of fantasy landscapes." Raised in Southern California and now living in Hawaii, Steven is a dedicated surfer who never received a formal art education, but instead learned from his father who was an automotive designer for the Art Center College of Design. He advises aspiring artists to decide whether they're producing art as a product and are going to treat it as a business or are making art for art's sake and don't care that much about the financial aspects of their careers. He also makes a distinction between "illustration art" and "fine art" and says that creating appealing subject matters is crucial to making sales.
Power reproduces his originals as giclees in limited editions of 500. He currently offers about 25 images and sells them to dealers and collectors completely framed and ready to go. He says that his editions have a proven track record of consistent sales and he provides an entire promotional package necessary for any gallery to represent and successfully sell his work. Learn more about his art at the Power Publishing Inc. website.


Susan Adams of Petaluma, California is a Renaissance woman of sorts who loved art as a child and has done everything from play in a band to hang sheet rock. She made her living as an animator and background illustrator of children's interactive CD-ROMS for more than seven years before quitting her job and setting out to make art on her own. Her watercolor still-lifes range in price up to about $2,500 and she also reproduces them as limited edition giclees costing several hundred dollars each. She has good success selling at art fairs and is currently looking to augment her income with greater gallery representation and publishing deals.
Susan's advice to artists centers around perseverance and hard work. She has always been drawn to art and says that she painted many bad paintings in order to get to the good ones. A fringe benefit of her experience as a CD-ROM illustrator is that the she has the computer skills necessary to design and publish her own promotional brochures. Visit her website for additional information.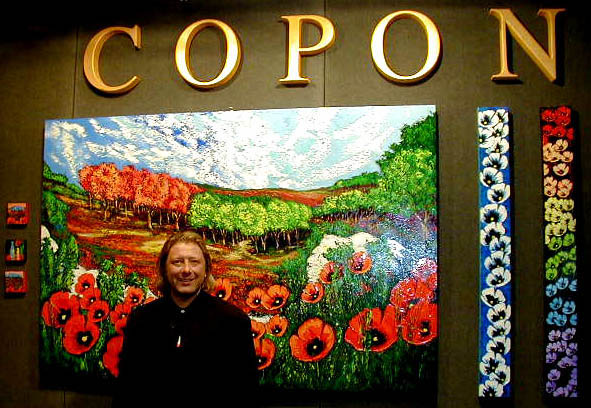 Sylvain Copon, born in France and now living in Southern California, paints and sells only originals. His bright, festive palette paintings sell for prices ranging from $100-$20,000 and he says that his combined gross sales total about $2,000,000 annually. Copon's recipe for success is his clean, disciplined lifestyle. He gets up before 5:00 AM every morning and works twelve-hour days, seven days a week. He's confident, has no shortage of personality, and he knows how to sell himself and his art.


J. Don Cook from Oklahoma City was making his first appearance at a trade show of this type. According to him, the investment was basically a roll of the dice taken to increase his chances of meeting the right people and advancing in his career. In a previous life, he was a photojournalist for 23 years and among his honors are three Pulitzer Prize nominations. His art world experience includes designing jewelry and furniture, and owning a gallery and design shop. He now creates large steel sculptures and paints on textured aluminum and clear acrylic panels.
Cook makes about a third of his sales in the Oklahoma City area. He sells art in a variety of circumstances, mainly through meeting people, and has several gallery representations, one of which is in Toronto, Canada. His advice to artists is that they remain true to their artistic impulses and avoid compromising their work. As for the business side of art, he says that artists have to keep pushing the boring, dull, nuts-and-bolts elements of selling. Those who resist the selling aspects, says Cook, have difficulty surviving as artists. Cook's email address is CooksterArt@aol.com.

Current Features
How to Buy Art on Instagram and Facebook
More and more people are buying more and more art online all the time, not only from artist websites or online stores, but perhaps even more so, on social media ...
Collect Art Like a Pro
In order to collect art intelligently, you have to master two basic skills. The first is being able to...
Services for Artists and Collectors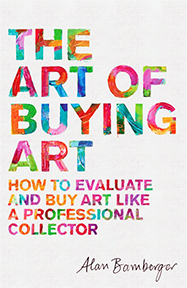 Buy the Book