Art Websites that Work
Related article: Creating Your Website Profile
Related article: Common Artist Website Mistakes
Related article: An Art Website that Makes Money
Note: The following article is interesting primarily from a historical standpoint; the internet has advanced immensely since it was written and online options and opportunities are far greater today. If you're looking for current information or articles for artists or collectors, click the links above or to the left; for a look back at the past, here you go...
***
The internet has forever changed the way we live, work, and do business. Within minutes, anyone with a computer, modem, and online service provider can visit countless millions of places they've never been to before and access information that once took days or even weeks to acquire. These radical new developments impact the art community in a variety of ways. Perhaps the two most significant are that artists now have far greater access to the art world and, if they so choose, the art world now has far greater access to them.
At the forefront of the online art revolution are a handful of websites that have transcended the individual artist or gallery web page mentality and evolved into massive clearinghouses of information. The best among them offer artists hundreds and sometimes thousands of ways to get informed, get exposure, make connections, organize their efforts, and advance their careers.
One such site is www.sculptor.org. Founder and webmaster Richard Collins brought it online in May 1996 with a couple of pages. It has since grown to one hundred pages with over 2,000 links where sculptors can obtain information on virtually any topic having to do with the discipline. (Note posted March 2008: this website has changed ownership and is substantially different than it originally was.)
Collins' mission is to define today's sculpture industry and spotlight where within that industry efficiencies can be gained. He believes that by assembling numerous resources in one place, sculptors can save money and more effectively do business. They can use the site to locate and comparison shop for supplies, service providers, and outlets for their work better than ever before. Sculptor.org has links to tools, techniques, technologies, resources, organizations, legal issues, foundries, jobs wanted or needed, conservation and preservation of sculpture, sculpture as a business, and much more.
For people who want to see what's available in the marketplace, sculptor.org has links to 300 individual sculptor pages. Collins is in the process of reviewing 500 additional individual sites for possible inclusion-- 100 belonging to artists who have asked to be linked and 400 of sculptors he's found in his own online searches. He has also linked about 100 commercial galleries and has located an additional 1000 online, but is primarily focused on individual sculptors at this time.
From a technological standpoint, perhaps the most fascinating links on the site are to machine replication services. These businesses use computers to design sculptures from scratch and also to work directly from models. They are able to scan models with 3-d scanners and either reduce, enlarge, or alter them. Finished designs can be "printed" or cut out at any time using robotic systems. Twelve such companies are currently listed.
Collins also helps sculptors establish better web presences as few are capable of doing so on their own. He's invested hundreds of pro bono hours in these online projects and as a result, sculptor.org experiences periodic financial difficulties. In order to more effectively serve the community, he's currently seeking funding and developing ways to generate onsite income.
Sculptor.org gets about 30,000 hits per month, 10,000 of which are classified as visitors-- people who view multiple pages. Although Collins does not have much in the way of hard data, he says that business is resulting from "sculptors wanted" ads placed by people and companies looking to commission family or animal portraits, public works, and commercial pieces. Special effects film companies have also advertised for sculptors. Individual sculptors report increased traffic from being linked to the site and may be getting commissions as a result. Links to foundries, tool companies, and materials suppliers also get a high number of hits and are probably making sales.
An early example of a grass roots community website, no longer operational, was the San Francisco Bay Area's www.artistresource.org. The site was not about selling art, but rather about bringing local artists together and giving them opportunities to get their art out into the public. Its mission was to create and maintain an online community for Bay Area Artists, to educate and connect people to the region's art and artists, and to promote Bay Area art. Its geographic focus was very specific, extending South to Santa Cruz, through Oakland, San Jose and San Francisco, North to Ukiah, and East to Sacramento. No events outside of this area were posted.
Artistresource.org maintained hundreds of links to information about art classes, art techniques, shows, events, jobs, articles, places to hang art (cafes, public spaces, galleries along with contact information), resources for art supplies, art classifieds, studio spaces, forums, competitions, and calls for art. Artists were able post their shows at no charge. Link exchanges between this and related sites were free.
One of the highlights of artistresource.org was their "mailing list." Every week, they emailed detailed information about ongoing shows, opening receptions, closing shows, art classes, lectures, and demonstrations to anyone who asked. Subscriptions were free-- all recipients had to do was provide their email addresses. About 1000 artists and members of the art community were subscribed. This allowed them to stay informed without ever having to log onto the website.
Artistresource received no funding and was maintained by an average of six volunteers, some of whom lived outside of the Bay Area. In exchange for volunteering or submitting articles, artists were allowed to post portfolios of their work. The site received about 3000 hits per week.
Many visitors to artistresource.org used it to keep track of and attend local art events. Art students, of which there are thousands in the Bay Area, found the site especially helpful in navigating the art community. Artists who linked experienced increased traffic to their websites and those who advertised reported positive results such as finding students for their workshops and locating studio space.
At the opposite end of the continuum from non-profit endeavors like artistresource.org is www.artnet.com. This massive for-profit site has been at the forefront of the online art business ever since it first appeared in 1989. It was originally a dial-up service for an auction record database that enabled dealers and collectors to research art prices online. It has since expanded to encompass virtually every aspect of the today's high-end art market. (Note posted March 2008: this website is bigger and better than ever, and improves every day.)
According to spokesperson Bill Fine, Artnet currently has links to 80 percent, or about 700, of the art galleries that regularly advertise in the world's major art magazines. This makes the site unquestionably the best one-stop gallery shopping center on the web. A sophisticated search engine allows visitors to access galleries in a variety of ways including by name, location, specialties, artist names, current exhibitions, and types of art. Gallery rates for an Artnet website start at $2000. Galleries that already have their own websites can link to Artnet for $1000 per year.
In addition to galleries, Artnet also hosts and maintains about 100 web pages for individual artists. Fine says that the main reasons artists use this service are to get representation, make themselves accessible to major galleries, and sell art. For $1000, an artist can post ten images along with biographical and contact information for a period of one year or 30 works for $2000. Any artist interested in establishing a presence on Artnet should read on-site testimonials beforehand and contact current users in order to assess possible advantages or disadvantages.
One of the site's most impressive features is Artnet Magazine, the internet's premier online art periodical. It's updated at the amazing rate of twenty to forty new pages per business day and contains everything from feature articles, current exhibitions, commentaries, and reviews, to detailed monthly artist horoscopes. Artnet Magazine is as sophisticated and informative as any major art publication, has acquired cyberrights to a number of the best articles and art writers around, and has hundreds of pages in its archives.
Artnet's auction record database, meanwhile, has grown to nearly 2,000,000 individual sales records of works of art by 160,000 artists. Numerous entries are accompanied by pictures much as they are in auction catalogues. This too is the best online research resource of its kind. Subscribers have unlimited access to the database for $19.95 per month, although that will likely change to a per-use fee in the near future.
Artnet has links to the world's major art fairs, museums, current exhibitions at its member galleries, chat capabilities, art services, and more. They are expanding into new areas of collecting and have begun hosting sites for dealers in antiques, ancient art, and tribal art. Two of their most recent additions are online art auctions and an art bookstore with over 12,000 titles.
The site averages 1,200,000 hits per week, about 300,000 of which are multiple page views. Substantial art sales are being made through participating galleries although dollar figures are not available. Most reported sales are to collectors searching for art by particular artists. Several individual artists have reported selling art to collectors who first saw their work online. Artnet auction selling prices average in the low to mid thousands of dollars per piece with one isolated watercolor on canvas fetching an impressive $168,000.
Here are some tips for anyone thinking about establishing an effective multi-purpose website:
* Know more than basic web design or hire someone who does.
* Keep it simple. Large text or image files and moving or spinning graphics increase download time and decrease viewer interest.
* Stay focused. Don't expand into too many unrelated areas.
* Update regularly. If viewers see the same information over and over again, they'll get bored and stop coming.
* Figure out the minimum amount of money and/or volunteer hours necessary to keep things going. Don't expect revenues to pour in from outside sources. Generating online income is difficult.
* Decide what services to offer, be specific, set a rate structure, stick to it, and make payment easy.
* Keep fees reasonable. People are reluctant to spend big dollars online.

Current Features
How to Buy Art on Instagram and Facebook
More and more people are buying more and more art online all the time, not only from artist websites or online stores, but perhaps even more so, on social media ...
Collect Art Like a Pro
In order to collect art intelligently, you have to master two basic skills. The first is being able to...
Services for Artists and Collectors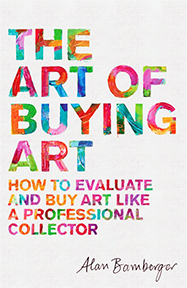 Buy the Book