ART SALES INDEX AUCTION RECORDS, 2001/2002 SEASON
CLICK FOR ART SALES INDEX 2008 REVIEW
Art Sales Index, 34rd Annual Edition, 2001/2002 Season contains 145,000 sales results for works of art by over 41,000 artists that sold at 3,000 auctions held at hundreds of international auction houses between April 1, 2001 and July 31, 2002. A typical entry includes the artist's name, birth and death dates, nationality, title of the art, dimensions in centimeters and inches, signature and date information, date of the auction, name and location of the auction house, lot number of the art in the sale, and presale estimates in the currency of the country where the auction house is located. Hammer prices are given in dollars, pounds and euros for all works of art including paintings, works on paper, drawings, miniatures, prints, photographs, and sculptures.
Auction records for each artist are divided by type of art (paintings, drawings, prints, sculptures, etc.), and then listed in order of selling price from lowest to highest. Additional features of Art Sales Index, 2001/2002 include a list of record prices attained during the 2001/2002 season (with complete details for each work of art); total turnovers in auction lots, dollars and pounds for a variety of countries; and sales totalled by nationalities of principle artists. For example, the United States again led all other countries in monetary volume of lots sold with just over a billion dollars, while the United Kingdom led in quantity of lots sold with 30,661. Works of art by 1,900 artists sold for over $15,000; 65% of all sales were under $5,000; Christie's New York was the top international auction venue with $414 in total sales followed by Sotheby's New York with $409 million.
All auctions included in the compendium are indexed at the front of the book by auction house, location, and date of sale. A list of artists who are better known by names other than their original names is also included. For example, auction records for works of art by Rembrandt Harmensz van Rijn are listed under the name "Rembrandt" rather than "van Rijn."
Art Sales Index is the oldest and one of the most respected publishers of art price data in the business. They also publish art price CD-ROMs and maintain a researchable online art price database containing 2,500,000 auction records for works of art by 250,000 artists sold at international auctions from 1950 to the present. Visit the Art Sales Index website for more information.
Art Sales Index, 34rd Annual Edition, 2001/2002 Season edited by Duncan Hislop. Art Sales Index Ltd., Egham, Surrey, England, 2002, two volumes, hardbound, 2511 pages, 8 1/2 by 12 inches. $195 (includes shipping and handling).
Available from LTB Gordonsart Inc., 13201 N. 35th Avenue, B-20, Phoenix, AZ 85029 or call 1-800-892-4622 or visit Gordon's Art Reference online.

Current Features
How to Buy Art on Instagram and Facebook
More and more people are buying more and more art online all the time, not only from artist websites or online stores, but perhaps even more so, on social media ...
Collect Art Like a Pro
In order to collect art intelligently, you have to master two basic skills. The first is being able to...
Services for Artists and Collectors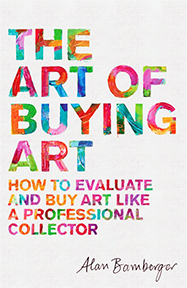 Buy the Book