JOHN BERGGRUEN GALLERY:
SQUEAK CARNWATH; PAPER TRAIL / GREGORY CREWDSON; DREAM HOUSE
OPENING 10.23.03
Comment: Carnwath-- subtle glazes soften multicolored canvases imparting grace, age and maturity. Crewdson-- bipolar Hopperites on down days; at 30K for digital c-prints, you'd better know what kind of inks, paper and printer produced them (fading is never fun).
Art: 8 tasteful portrayals for Carnwath; too bummed to rate Crewdson.
Crowd: Social strata strudel.
Vibe: 5 gold stars on the forehead for deportment.
Artist/Artists: Gregory Crewdson, Squeak Carnwath.
Art.


Art.


Art.


Art.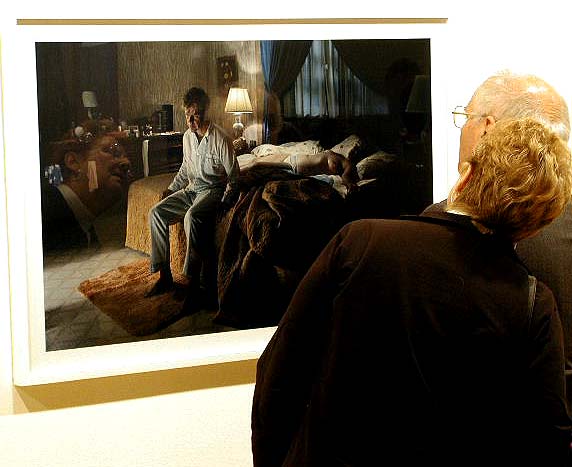 Before Lithium.


Before Carbamazepine.


Living normal art lives with proper medication.

John Berggruen Gallery
228 Grant Avenue
San Francisco, CA 94108
415..781.4629