Verify Artist Biographical Information Before You Buy Art
Q: Attached are an artist's biographical information and several scans of a painting by him that I own. The information comes from a sheet of paper on the back of the painting. You can see that the artist is very well known, has had many gallery shows, and has work in many private collections. Can you please give me its fair market value? I'm ready to sell it.
A: I've checked numerous standard art reference books and art price databases for biographical and/or price information on this artist and find nothing. That no public records exist for an artist who supposedly has these sorts of credentials is quite unusual. I can only conclude that he was minor and/or more commercial in reputation.
His resume looks impressive, but it actually says very little. It states that he's had many gallery shows but none are specified by gallery names or dates. None of his "many" private collectors are mentioned by name and no awards, honors, distinctions or other career accomplishments are listed. The bio names two significant public collections as owning his work, but I checked with those institutions and neither have any records confirming this.
Because your data is unsubstantiated by outside sources or standard art references, I must conclude that either the artist or his representatives took certain liberties when writing his resume in order to make him appear more significant than he actually is. This is not unusual, by the way. Artists can embellish their accomplishments the same way that people in other fields occasionally do when applying for jobs or trying to make sales.
From your scans, the painting appears to be competently done with good subject matter and in good condition. Assuming this to be the case, I would assign it a retail value of $300-$500 based primarily on its decorative merits.
Art buyers take note: Always use neutral outside sources like curators, reference books, databases or appraisers to confirm information provided by sellers who you're not familiar with. Make sure they give you physical proof like names, dates, prices, and locations in order to support their claims. Have them explain any discrepancies between what they tell you and publicly available data before you buy the art.

Current Features
How to Buy Art on Instagram and Facebook
More and more people are buying more and more art online all the time, not only from artist websites or online stores, but perhaps even more so, on social media ...
Collect Art Like a Pro
In order to collect art intelligently, you have to master two basic skills. The first is being able to...
Services for Artists and Collectors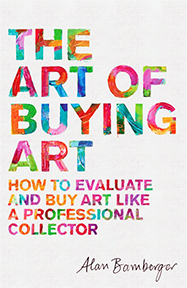 Buy the Book