BRAUNSTEIN/QUAY GALLERY
JAN KANEKO; CERAMIC SCULPTURE
OPENING 05.27.04
Comment: Big and bigger ceramics with no openings (on top, that is), so you can't use 'em for flowers or, in this case, trees. But therein lies the attraction-- the process of forming, drying, glazing, and firing pieces this large is really difficult, and few artists can do it. One mistake, one crack, one weak point, one glaze irregularity, one slip, one chip, one bump, and the whole shootin' match is in the toilet. And then there's packing, shipping, paying for packing and shipping, moving one, displaying one, mishandling one in transit, and, if you buy one, dealing with the hernia the feng shui dude gets while positioning it to balance the energies in your boudoir. On the plus side, you won't have to worry about the cat knocking it over. I overheard Ruth Braunstein quote one at $80K, which makes sense considering how many of these monsters Kaneko probably loses for each flawless one he completes. And the pieces in this show are pretty flawless.
Artist/Artists: Jan Kaneko.
Art.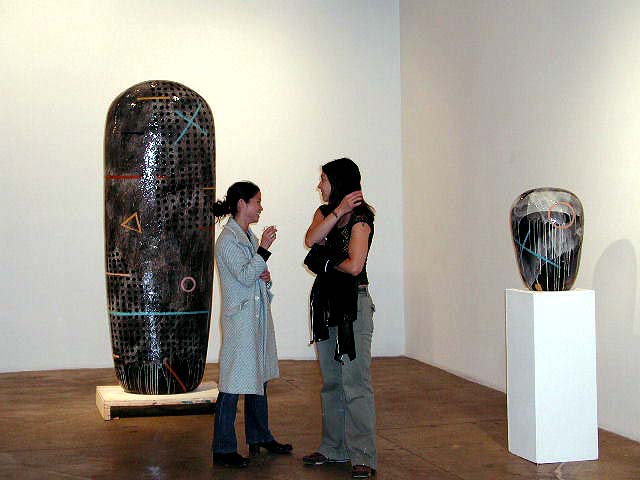 Art.


Art - proprietor (right).


Art.


Art.


Art.


Art.

Braunstein/Quay Gallery
430 Clementina St.
San Francisco, CA 94103
415.278.9850