BUILD: ALL'S FAIR; NEW WORKS BY KYLE EAGLE
OPENING 04.15.04
Comment: What a dilemma. The art is really good, but nobody's here, and San Francisco Art Openings is as much about the social aspects of art as it is about the art itself. Wait-- I've got it-- I'll ask the artist to stand next to his art, and that way, someone will be in the images. Whew. That was close. Now that I have something to talk about, Eagle's compositions are based in music, grafitti, and comic books, and he's been drawing since he was young. No art school for Eagle, which means he never took "What to Paint On 101," so he paints on old doors and the like. Is "What to Paint On 101" really all that necessary? Distinction department: The best show I've ever been to that hardly anybody came to.
Artist/Artists: Kyle Eagle.
Art - artist.


Ditto.


Uh-huh.


That's right.


You know the drill.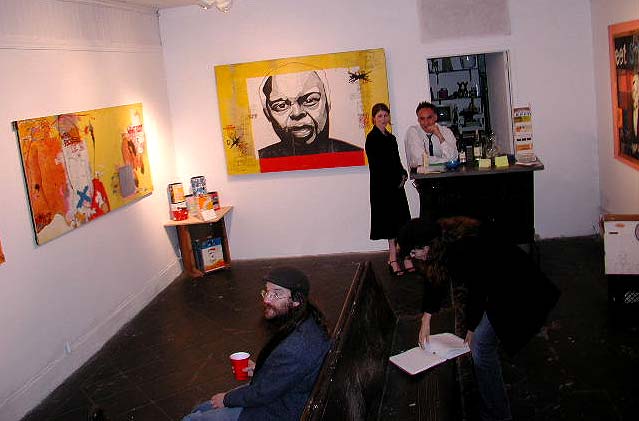 Tundra.

Build Gallery
483 Guerrero St.
San Francisco, CA 94110
415.863.3041