THE CANVAS GALLERY: CRUSH, ART INSPIRED BY LOVE
OPENING 02.13.04
Comment: A little bit of everything here. Good stuff, amateur stuff, erotic stuff, affordable stuff, overpriced stuff, all about love and its infinite forms of expression. And there's music, and atmosphere, and people meeting people, so lots of options for the optionally challenged. And a special added bonus-- if you get hungry or sleepy or sober, you can eat or drink coffee or drink wine or beer. The eat side of the Canvas is really dark, and the art side is really bright, creating somewhat of a discordant interior, especially at night. Perhaps fewer floods and more spots on the art side? Whatever the lighting, The Canvas is always fun and always eventful; stop on by next time you're in the neighborhood.
Artist/artists: Tanem, Dan Remer, Paul Hayes, Adrienne Simms, Brian Barneclo, David Ball, Ferris Plock, Judd Vetrone, Heather Luque, Susannah Bettag, Andrea Wicklund, David Newman.
Art.


Art.


Art.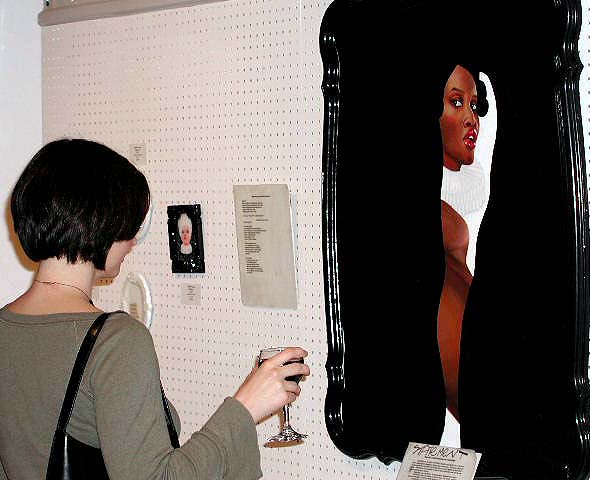 Art.


Art.


Frontage.

The Canvas Gallery
1200 9th Ave.
San Francisco, CA 94122
415.939.3310