THE CANVAS CAFE: NEW CONCEPT IN SELLING ART
A cafe that shows art by area artists is nothing new; a retail space that has a cafe on one side and an full-service art gallery on the other, like San Francisco's Canvas Gallery and cafe, is definitely new. The cafe and gallery combination, an original concept in marketing art, opened in September 2000 across the street from Golden Gate Park, and, according to Jenny Hay, associate curator of the Canvas, is successful in all respects.
Front counter with the gallery in the background.


The Canvas Gallery is owned by entrepreneur Matthew Blair, a founding partner of the restaurant chain, World Wrapps, and curated by Elliott Easterling. Blair, who loves art and whose wife is an artist, originally approached Shauna McBurney, the owner of San Francisco's Hang Gallery, with the idea of creating this unique space and the rest, as they say, is history. Now an independent gallery no longer affiliated with Hang, the Canvas primarily shows the work of emerging area artists to beginning collectors, while the cafe serves up a tasty array of soups, salads, sandwiches, coffee drinks, beer, wine, and more.
The 4,000 square-foot space consists of a central bar and serving area beneath a 30-foot high rectangular ceiling which divides the cafe section from the art gallery. Wood finishes, a fireplace, and lounge areas with couches and chairs add warmth to the spacious semi-industrial interior. Large plate glass windows look directly out onto Golden Gate Park on the cafe side. Show windows on the gallery side display a variety of art for passersby to see.
Customers relax on the cafe side of the Canvas Cafe.


The great majority of works of art at the gallery are priced at $1000 or less with the least expensive pieces starting at around $40 and the average per-piece price ranging between $400 and $800. The Canvas Gallery features nightly entertainment including readings, art openings, Jazz, Electronica, and Indie films. Adds Jenny Hay, the gallery's mission is to show people how they can incorporate progressive art into their lifestyles and homes. Their clientele includes seasoned collectors, new collectors who learn about the gallery by word-of-mouth, and people who come in off of the street for food or drink and end up leaving with more. She adds that the gallery is always looking for new or emerging artists from the Bay Area and beyond to exhibit.
The interesting aspect of this experiment in art retailing is that the cafe service attracts a number of people who do not ordinarily visit art galleries, but once at the Canvas Gallery, find themselves in a comfortable and non-intimidating space full of art. Since they've already bought food or drink, they can look at the art guilt-free and not feel obligated to buy anything or speak with gallery personnel. This creates an atmosphere conducive to selling art to people who have never before been in art-buying situations-- and it's working. First-time buyers are responsible for a significant percentage of the Canvas Gallery's sales.
See pics from the Canvas Gallery Art Opening, February 13, 2004.
The Canvas Gallery
1200 9th Ave (at Lincoln)
San Francisco, CA 94122

Current Features
How to Buy Art on Instagram and Facebook
More and more people are buying more and more art online all the time, not only from artist websites or online stores, but perhaps even more so, on social media ...
Collect Art Like a Pro
In order to collect art intelligently, you have to master two basic skills. The first is being able to...
Services for Artists and Collectors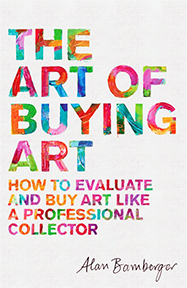 Buy the Book