CITY ART GALLERY: OPENING RECEPTION; 03.05.04
Comment: This is an artist owned and operated gallery where members pay to show their art. The cover charge gets you wall space along with an art/artist community of sorts focusing on exposure, feedback, experience, networking, display, similar basics and, hopefully, sales. According to the gallery's membership brochure, front room wall space costs $60-$150 per month-- not too much of a ding if that's what you have to do to get your art out there before the public. Even if you don't sell anything, you still get an education and if you're just starting out, education should be high on your list of priorities. The artists price their own work, so some prices make sense while others invite incredulity. Good luck!!
Artist/Artists: Jim Myrick, Jo Boyer, Brian Behnke, Terry Kekaha, Michael Barbee, Sergio Alcanfor, Katie Gilmartin, Penny Sur, Mariana Rogowicz, Garrett Robinson, Andrzej M. Karwacki, Will Russell, Dan Lydersen, Daniel Schroyer, Adam Krammer, Ayu Tomikawa, Diane Rollins Feissel, tym Tschneaux, Aaron Krug.
Art.


Art.


Art


Art.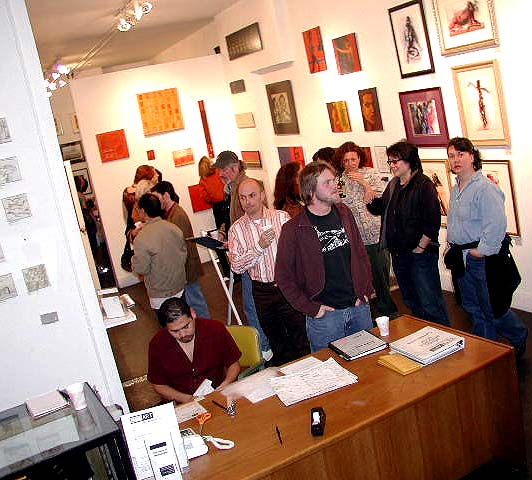 Feel.


Frontal.

City Art Gallery
828 Valencia St.
San Francisco, CA 94110
415.970.9900