Art Picks From eBay, Number 10

Cowboy Artist Olaf Wieghorst Painting on eBay
This is the tenth in our instructional series of articles that focuses on how to dissect and analyze the ways that works of art are sometimes described for sale on the internet auction site, eBay. eBay does not actively police their auction offerings, but rather depends on emails from dealers, collectors, experts, buyers, and potential buyers to notify them of problems relating to particular works of art. Any seller can describe any work of art in any manner that he or she chooses, and as long as no one complains, that art sells to the highest bidder. As a result, eBay and similar online auction sites are among the more dangerous places for uninformed or inexperienced collectors to buy original art.
This installment's auction item is described below. ArtBusiness.com credits the seller, by way of eBay, as the source of all of the following information and images. ArtBusiness.com comments and questions appear in red italics throughout the eBay seller's description. Grammar, spelling, and punctuation are as they appeared in the original for sale listing. ArtBusiness.com at no time implies, makes, or intends to make any claims or express any opinions regarding the authenticity of any works of art that appear in this series.
Seller's headline:
Important Indian Painting Wieghorst
ArtBusiness.com comment: The title states that the item up for auction is an important painting by an artist named Wieghorst.
Seller's description: Here is the best of the best!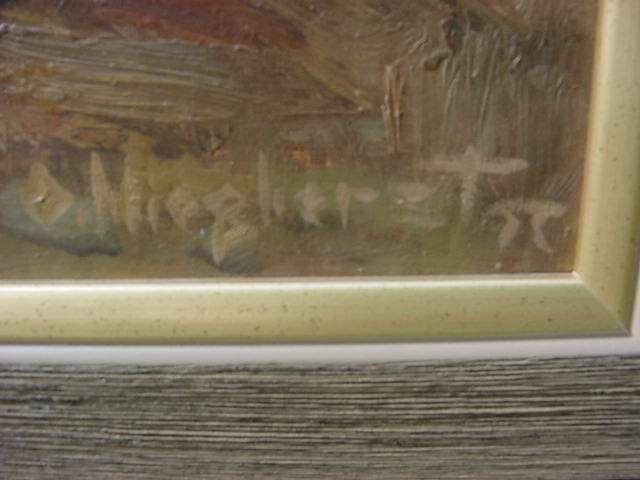 ArtBusiness.com comment: The seller does not indicate which Wieghorst expert has determined this painting to be one of the artist's best.
Seller's description continued: Very large oil on canvas applied to masonite. This American artist Olaf Carl Wieghorst 1899-1988, is signed on front lower right. It is also signed on the back and titled War Party.
ArtBusiness.com comment: The seller confirms that this painting is by Olaf Carl Wieghorst, a significant American painter of Western subjects. The seller also indicates that the painting is a large oil on canvas that has been backed with masonite, signed on the front and also signed and titled on the back.
Research into Wieghorst's career and artistic output shows that the overwhelming majority of his paintings are oils on canvas, not oils on canvas applied to or backed with masonite or any other types of board. Since this painting is backed with masonite, a procedure usually performed later in a painting's life for restoration or strengthening purposes, does this mean that Wieghorst had the canvas backed under his supervision before he titled it? Or did he make an exception and paint on a blank canvas that had already been backed with masonite? Or did he paint the original on canvas, sell it, and later return to sign and title the back after a restorer had laid it down on masonite?
Seller's description continued: The sight size is 37 1/2 by 49.
ArtBusiness.com comment: Research into Wieghorst's career and artistic output shows that the overwhelming majority of the artist's paintings are standard sizes such as 20 by 24, 24 by 30, and 28 by 38 inches. Research shows that the largest Wieghorst painting illustrated in William Reed's monograph on the artist (Northland Press, Flagstaff, AZ, 1969) is 28 by 38 inches. Research shows that the painting up for auction here is larger than any of the over 160 Wieghorst paintings, drawings and watercolors that have sold at major American art auctions over the past ten years.
Seller's description continued: This artist's work for this size and his best to date estimate fair market value is $60,000-80,000.
ArtBusiness.com comment: If the fair market value for a Wieghorst painting of this size and quality is $60,000-$80,000, then the seller should expect it to sell at or near that range. Will the seller sell if the high bid is far below that range? Let's wait and see.
The illustration below is also included in this seller's item description.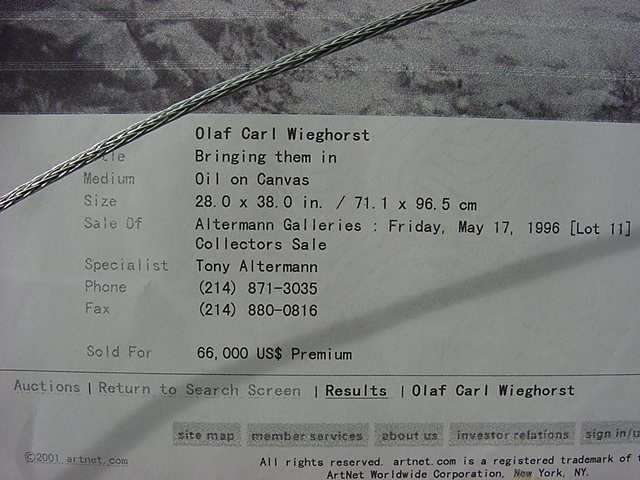 ArtBusiness.com comment: This image appears to be have been taken from a computer screen. The painting it describes is not the painting that the seller is selling. Why a piece of picture hanging wire is in the foreground of this image is not clear. No explanation is given by the seller as to why this image is included in this item's description.
This sale is a "private" auction. Private auctions hide the identities of competing and winning bidders. ArtBusiness.com recommends that potential buyers avoid private auctions unless they are experienced collectors and skilled at recognizing the work of the artists they bid on. ArtBusiness.com also recommends that eBay eliminate private auctions.
Sold for $11,000 with 18 bids. Stay tuned for our next "Art Pick from eBay."

Current Features
How to Buy Art on Instagram and Facebook
More and more people are buying more and more art online all the time, not only from artist websites or online stores, but perhaps even more so, on social media ...
Collect Art Like a Pro
In order to collect art intelligently, you have to master two basic skills. The first is being able to...
Services for Artists and Collectors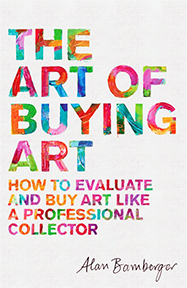 Buy the Book