Art Picks From eBay, Number 15
Seller is Selling Jackson Pollock
Online Art Auction Buying Tips
Related Topic: Art Provenance: What It Is and How to Verify It
This is the fifteenth in our instructional series of articles that focuses on how to dissect and analyze the ways that works of art are sometimes described for sale on the internet auction site, eBay. eBay does not actively police their auction offerings, but rather depends on emails from dealers, collectors, experts, buyers, and potential buyers to notify them of problems relating to particular works of art. Any seller can describe any work of art in any manner that he or she chooses, and as long as no one complains, that art sells to the highest bidder. As a result, eBay and similar online auction sites are among the more dangerous places for uninformed or inexperienced collectors to buy original art.
This installment's auction item is described below. ArtBusiness.com credits the seller, by way of eBay, as the source of all of the following information and images. ArtBusiness.com comments and questions appear in red italics throughout the eBay seller's description. Grammar, spelling, and punctuation are as they appeared in the original for sale listing. ArtBusiness.com at no time implies, makes, or intends to make any claims or express any opinions regarding the authenticity of any works of art that appear in this series.
Seller's headline:
Jackson POLLOCK 1912 EXPRESSIONIST Oil LISTED
ArtBusiness.com comment: The title states that the item up for sale is a Jackson Pollock oil painting.
Seller's description: (The seller) will be offering items from the estate of (Name of deceased) of (Location of estate).
ArtBusiness.com comment: The seller should be able to provide documents confirming the above statement. Anyone bidding on an item as important as a Jackson Pollock oil painting MUST have tangible proof of the stated history of the painting in question BEFORE placing a bid.
Seller's description continued: Up for auction is a SUPERB oil on board by Renowned American expressionist painter Jackson Pollock, born 1912.
ArtBusiness.com comment: The seller states neither the name nor the qualifications of the individual who has judged this painting to be superb.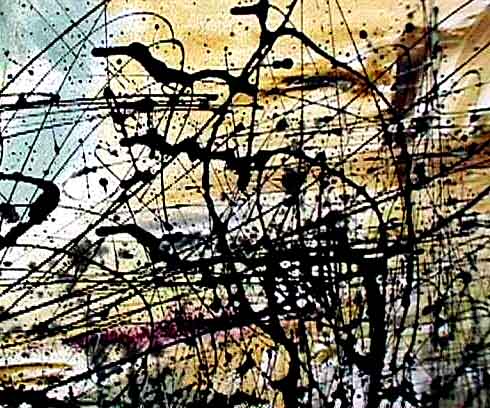 Seller's description continued: The painting depicts an expressive gestural scene, featuring His idea of "freed generation" Jackson applied paint with energetic circular motions so that his work exuded physical energy. This also reflected his own turbulent, manic-depressive personality.
ArtBusiness.com comment: The seller appears knowledgeable about this painting as well as about the art and psychology of Jackson Pollock, and may well be qualified to judge the painting as superb.
Seller's description continued: This painting was left to the (Deceased's) estate, by a close friend (Friend's name) a (place where friend worked) photographer. (This friend) did some photography work for Pollock, During the 30-40's. Pollock, like many other artists could not pay for such services, As he really never made any money till 1956' -Pollock (Like anyone [seller's parenthetical]) gave this work to (The friend) as a means of payment for services provided, In 1996 (The friend) past away, leaving (The deceased) this original Pollock painting! EVERY work (The friend) ever received in his years of Artist Photography -was given Directly by the artist themself.
ArtBusiness.com comment: This very specific information MUST be verified with tangible proof by anyone bidding on this painting BEFORE placing a bid. This proof should include documentation of where the photographer lived, where and when he photographed Pollock, where the photographs are either published or located, and where and under what circumstances he left the painting to the painting to the deceased (he must have really really liked the deceased).
Seller's description continued: So yes, this painting is a 100% Authentic.
ArtBusiness.com comment: The above statement assumes, of course, that the history of the painting, as stated by the seller, can be verified beyond doubt. Additionally, the painting must be included in the JACKSON POLLOCK CATALOGUE RAISONNE, a massive four-volume-plus-supplement set of books published in 1978 detailing the life and work of this important artist. It can also be used to research the relationship that Pollock had with the photographer and document the circumstances under which Pollock gave him the painting. If this painting is not included in the catalogue raisonne, it would represent a major rediscovery in American art.

Seller's description continued: Clearly Signed bottom middle left Jackson Pollock -Have fun bidding, Low Reserve!
ArtBusiness.com comment: Competing in a public forum to own a major work of art by Jackson Pollock is an extremely serious proposition, and probably not "fun" for most bidders. Exhaustive research, documentation, and consulting with appropriate experts as well as with the seller is necessary in order to confirm the seller's story, and that the painting is authentic as stated.
Seller's description continued: ARTIST: Jackson Pollock b.1912 AMERICAN EXPRESSIONIST Oil -LISTED
TITLE: "Black Pouring"
MEDIUM & SIZE: Oil on Board 20.5" x 30"
SIGNED:
CONDITION: Good
CONDITION REPORT: If I was grading the condition of this painting on a scale of 1-10, I would give it a 9.0 No crazing, Slight Nicks, Normal Wear, Needs a good cleaning!
ArtBusiness.com comment: The above title and exact dimensions of the art are more than enough information to locate the painting in the Jackson Pollock Catalogue Raisonne.
Seller's description continued: Born in Cody, Wyoming to Scotch-Irish parents, Jackson Pollock was dubbed "Jack the Dripper" ("Time" magazine 1956) for his revolutionary technique of gestural painting that freed generations of American artists from academic strictures. He used dissonant, garish colors, and applied paint with energetic circular motions to large canvases so that his work exuded physical energy....... On August 27, 1956, he died in a one-car auto crash, in which one other female passenger was also killed. He had been a turbulent soul, stilled by the alcoholism that so dominated his life.
ArtBusiness.com comment: The seller provides a four-paragraph biography of the artist, abbreviated here, presumably for anyone interested in bidding on the painting who doesn't know who Jackson Pollock is. The seller does not credit the source of this information, but much of it appears word-for-word on this website.
Seller's description continued: ...... All items are sold "as is", "where is" and ALL sales are final unless incorrectly stated.....
ArtBusiness.com comment: Any bidder MUST ask the seller to fully clarify this confusing statement just in case the painting turns out to be other than as it has been represented.
Bidded up to $15,600.00 with 62 bids. Item did not sell as seller's reserve was not met. Stay tuned for our next "Art Pick from eBay."

Current Features
How to Buy Art on Instagram and Facebook
More and more people are buying more and more art online all the time, not only from artist websites or online stores, but perhaps even more so, on social media ...
Collect Art Like a Pro
In order to collect art intelligently, you have to master two basic skills. The first is being able to...
Services for Artists and Collectors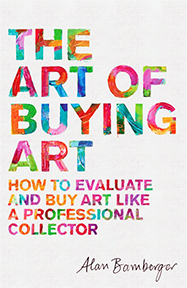 Buy the Book