Art Picks From eBay, Number 11

Pablo Picasso on eBay; with Provenance
Related Topic: Art Provenance: What It Is and How to Verify It
This is the sixteenth in our instructional series of articles that focuses on how to dissect and analyze the ways that works of art are sometimes described for sale on the internet auction site, eBay. eBay does not actively police their auction offerings, but rather depends on emails from dealers, collectors, experts, buyers, and potential buyers to notify them of problems relating to particular works of art. Any seller can describe any work of art in any manner that he or she chooses, and as long as no one complains, that art sells to the highest bidder. As a result, eBay and similar online auction sites are among the more dangerous places for uninformed or inexperienced collectors to buy original art.
This installment's auction item is described below. ArtBusiness.com credits the seller, by way of eBay, as the source of all of the following information and images. ArtBusiness.com comments and questions appear throughout the eBay seller's description. Grammar, spelling, and punctuation are as they appeared in the original for sale listing. ArtBusiness.com at no time implies, makes, or intends to make any claims or express any opinions regarding the authenticity of any works of art that appear in this series.
Seller's headline:
Picasso Original Artwork w/Picasso Letter
ArtBusiness.com comment: The title states that the item up for sale is an original work of art by Picasso accompanied by a letter from the artist.
Seller's description: Pablo R. Picasso, "Reclining Nude (Study for "Nude with Drapery"), ca.1907", Charcoal on Paper, 45 cm X 35 cm, Signed "Picasso".
ArtBusiness.com comment: The seller provides information about the art including when it dates from and what work of art it was a preliminary study for.
Seller's description continued: This drawing is in good condition, some damage at the edges, slight yellowing and age discoloration. This drawing is one of several studies for Nu a la draperie 1907. Many are in private collections, one is at the Muse Picasso Paris, MP547.
ArtBusiness.com comment: The seller repeats specifics about the drawing and mentions other studies for the same painting, one of which is in the collection of the Muse Picasso Paris (the number probably being the reference number of the drawing in that collection). For comparison purposes, here's an image of the painting, Nu a la Draperie.
Seller's description continued: This drawing was given/sold by Picasso to Douglas Cooper (1911-1984) a well known art curator, critic and historian. Picasso and Mr. Cooper were well known friends and collaborators. This drawing was purchased in Monte Carlo by the current owner from Mr. Cooper in Aug. of 1979.
ArtBusiness.com comment: The seller gives an ownership history of the drawing from Picasso to Douglas Cooper to the current owner who purchased the drawing directly from Cooper in 1979.
Seller's description continued: This drawing is part of a collection that was donated to Ecco Corps, a non-profit conservation cooperation operating in South Africa.
ArtBusiness.com comment: Wait a minute-- is the "current owner" the person who bought it in 1979 or Ecco Corps?
Seller's description continued: All proceeds from this sale are to fund Ecco Corps community conservation efforts in South Africa.
ArtBusiness.com comment: The Ecco Corps website (which has, since this writing, disappeared from the internet) is registered to an individual at the same Florida address that the seller wants payment for this drawing to be sent. The website consists of several pages, the longest of which is the "Programs" page. The text of this page is virtually identical to that of an online TIME Magazine article. The most noticeable difference between the two is that the word "TIME" in line one of the article's third paragraph on the TIME website has been changed to "Ecco Corps" on the Ecco Corps website.
Seller's description continued: Included with this artwork is an original letter from Picasso to Douglas Cooper specifically referencing this drawing as a gift to D. Cooper. The letter is signed and dated. Also included: A letter from the current owner giving the history of the artwork and provenance will accompany this sale. A certified copy of a letter from Paloma Picasso referencing an exhibit of this collection will also accompany this drawing. To protect the integrity of the documents, NO Copies of these documents will be sent to anyone other than the winning bidder.
ArtBusiness.com comment: The seller states that the drawing has provenance in the form of several letters, but that NO ONE CAN SEE IT UNTIL THE SALE IS OVER, and then ONLY THE BUYER GETS TO SEE IT. So how can prospective bidders evaluate this provenance if they can't see it? And how does not showing the provenance "protect its integrity?"
Seller's description continued: (The seller provides shipping and payment information.)
ArtBusiness.com comment: This sale is a "private" auction. Private auctions hide the identities of competing and winning bidders and inhibit communications of any sort between eBayers. ArtBusiness.com recommends that potential buyers avoid private auctions unless they are experienced collectors, skilled at recognizing the work of the artists they bid on, and/or have some familiarity with the sellers. ArtBusiness.com also recommends that eBay eliminate private auctions.
Sold for $7,300.00 with 11 bids. This seller sold two other Picasso drawings with similar ownership histories, also to benefit Ecco Corps. The three sales combined totalled nearly $17,000. Stay tuned for our next "Art Pick from eBay."

Current Features
How to Buy Art on Instagram and Facebook
More and more people are buying more and more art online all the time, not only from artist websites or online stores, but perhaps even more so, on social media ...
Collect Art Like a Pro
In order to collect art intelligently, you have to master two basic skills. The first is being able to...
Services for Artists and Collectors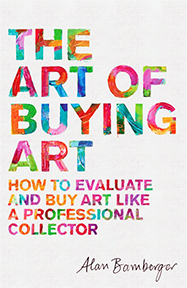 Buy the Book