Art Picks From eBay, Number 18; Willem de Kooning Abstract Expressionist on eBay
Related Topic: Art Provenance: What It Is and How to Verify It
This is the eighteenth in our instructional series of articles that focuses on how to dissect and analyze the ways that works of art are sometimes described for sale on the internet auction site, eBay. eBay does not actively police their auction offerings, but rather depends on emails from dealers, collectors, experts, buyers, and potential buyers to notify them of problems relating to particular works of art. Any seller can describe any work of art in any manner that he or she chooses, and as long as no one complains, that art sells to the highest bidder. As a result, eBay and similar online auction sites are among the more dangerous places for uninformed or inexperienced collectors to buy original art.
This installment's auction item is described below. ArtBusiness.com credits the seller, by way of eBay, as the source of all of the following information and images. ArtBusiness.com comments and questions appear in red italics throughout the eBay seller's description. Grammar, spelling, and punctuation are as they appeared in the original for sale listing. ArtBusiness.com at no time implies, makes, or intends to make any claims or express any opinions regarding the authenticity of any works of art that appear in this series.
Seller's headline:
WILLEM DE KOONING ORIGINAL DRAWING
ArtBusiness.com comment: The title states that the item up for sale is an original drawing by the important abstract expressionist painter Willem de Kooning.
*** Image removed at the request of the seller ***
Seller's description: This is one of the rarest abstract drawings by Willem de Kooning ever offered here on eBay. It is a hand drawn original, not a lithograph or a print. The medium is pastel/charcoal on paper and measures 16.50" x 13.25", signed upper left. The motif is abstract, circa early 1950's.
ArtBusiness.com comment: Sounds impressive-- a rare original de Kooning drawing, good sized, and signed. The seller does not tell why or according to whom this drawing is rare.
Seller's description continued: Contemporary art experts have confirmed this to be an authentic abstract drawing by de Kooning during this time period.
ArtBusiness.com comment:What experts? The seller gives no names. You need those names (and their qualifications to evaluate de Kooning's art) from the seller BEFORE you bid.
*** Image removed at the request of the seller ***
Seller's description continued: This has perfect provenance, including paperwork from the original owner, who was given the artwork by the artist himself. I acquired this piece along with another de Kooning as part of a lot. As some of you may know, the other de Kooning was sold recently here on eBay.
ArtBusiness.com comment:What provenance? The seller does not give details. You need to see that provenance in its entirety BEFORE you bid.
Seller's description continued: As the photos show, this work of art is in good condition with very little foxing, few smudges or wrinkles, if any. It has been properly stored and protected for many years.
*** Image removed at the request of the seller ***
ArtBusiness.com comment:The seller provides more information about the condition of the drawing.
Seller's description continued: All provenance and names released only to the high bidder to preserve privacy of families.
ArtBusiness.com comment:Oh great!! The seller has the provenance, but won't show it to you unless you're the high bidder. All preserving of privacy aside, THE PROVENANCE MUST BE SEEN, EVALUATED AND VERIFIED BEFORE YOU PLACE A BID. You can't blindly take the seller's word that he has provenance, but just won't let you see it. THE PROVENANCE IS AS IMPORTANT TO SEE AND EVALUATE AS THE DRAWING ITSELF.
Seller's description continued: It comes beautifully framed and matted in museum-quality wooden frame with acid free, archival materials and UV protective plexiglass.
ArtBusiness.com comment:It comes framed. That's nice.
Seller's description continued: All sales finalized with payment via bank wire transfer or certified check within three days of auction's end.
ArtBusiness.com comment:Does "all sales finalized" mean that all sales are final? Sure sounds that way. The seller says nothing about you being able to inspect the art or evaluate the provenance or get your money back if something's not right. Furthermore, the seller only accepts a wire transfer, certified check, or money order as payment. ALL OF THESE OPTIONS ARE LIKE SENDING CASH. If, for any reason, you decide to contest the sale, you could have a really really really hard time getting your money back.
Seller's description continued: I'll ship anywhere in the world via FEDEX, privately insured and professionally packaged. Bid privately and with confidence. If you have five postive feedbacks or less, you must first e-mail with permission to bid. This is very important, so please abide by the rules. I welcome any questions regarding this auction whatsoever. Thank you, good luck and have a nice day.
ArtBusiness.com comment:I have several questions. Can I see the provenance? Do you offer a moneyback guarantee? What experts are you referring to? Will you agree to my using an established online escrow service approved of by eBay so that I can safely inspect the art and evaluate the provenance before formally completing the sale?
This sale is a "private" auction. Private auctions hide the identities of competing and winning bidders and inhibit communications of any sort between eBayers. ArtBusiness.com recommends that potential buyers avoid private auctions unless they are experienced collectors, skilled at recognizing the work of the artists they bid on, and/or have some familiarity with the sellers. ArtBusiness.com also recommends that eBay eliminate private auctions.
Bid to $17,500 with 32 bids. Item did not sell because the seller's reserve price was not met. Stay tuned for our next "Art Pick from eBay."

Current Features
How to Buy Art on Instagram and Facebook
More and more people are buying more and more art online all the time, not only from artist websites or online stores, but perhaps even more so, on social media ...
Collect Art Like a Pro
In order to collect art intelligently, you have to master two basic skills. The first is being able to...
Services for Artists and Collectors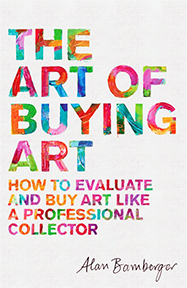 Buy the Book