Art Picks From eBay, Number 2; Jackson Pollock by eBay Seller: Buyer Bidding Tips
This is the second in our instructional series of articles that focuses on how to dissect and analyze the ways that works of art are sometimes described for sale on the internet auction site, eBay. eBay does not actively police their auction offerings, but rather depends on emails from dealers, collectors, experts, buyers, and potential buyers to notify them of problems relating to particular works of art. Any seller can describe any work of art in any manner that he or she chooses, and as long as no one complains, that art sells to the highest bidder. As a result, eBay and similar online auction sites are among the more dangerous places for uninformed or inexperienced collectors to buy original art.
This installment's auction item is described below. ArtBusiness.com credits the seller, by way of eBay, as the source of all of the following information and images. ArtBusiness.com comments and questions appear in red italics throughout the eBay seller's description. Grammar, spelling, and punctuation are as they appeared in the original for sale listing. ArtBusiness.com at no time implies, makes, or intends to make any claims or express any opinions regarding the authenticity of any works of art that appear in this series.
Sellers' headline:
"ABSTRACT OIL PAINTING-JACKSON POLLOCK-NR"
ArtBusiness.com comment: The headline appears to state that this is an oil painting by Jackson Pollock. "NR" stands for "no reserve." These sellers require a minimum opening bid of $500 which means that the painting sells to the highest bid at or over that amount. People who own Jackson Pollock oil paintings are not ordinarlily inclined to place them up for sale on eBay under circumstances similar to this one.
Seller's description:
-ABSTRACT EXPRESSIONIST OIL PAINTING-
-JACKSON POLLOCK-
SIGNED * 17" X 41" * OIL ON MASONITE * NO RESERVE!
ArtBusiness.com comment: The sellers repeat that this painting is by Jackson Pollock and introduce the fact that it is signed by Pollock.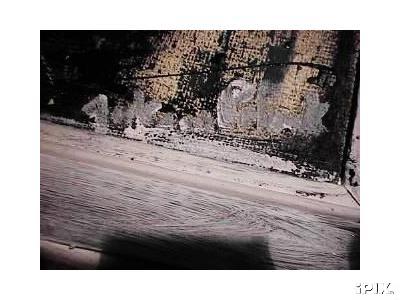 ArtBusiness.com comment: The sellers could have at least put the painting on a blanket rather than directly on the ground.
Sellers' description continued: This provocative abstract expressionist painting is clearly a fine example of the artist's style...incorporating many subtle idiomatic references, to icons and symbols, often seen in his early work....with dynamic brushstrokes characteristic of the action painting technique that dominates his style.
ArtBusiness.com comment: The sellers appear to be knowledgeable about Jackson Pollock, and qualified to comment on his career and style of painting.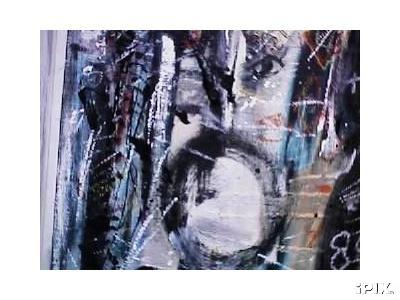 Sellers' description continued: Measuring 17" x 41", it is framed in a wooden frame that shows lots of wwar. The painting shows age, and is largely comprised of oil, oil crayon and enamel on masonite. Signed lower right. There is no additional paperwork or documentation to accompany this painting, which was acquired from the estate sale for Palm Beach Art & Pawn.
ArtBusiness.com comment: Palm Beach Art & Pawn are not recognized dealers in the works of Jackson Pollock.
Sellers' description continued: Locally, Marvin Aronson was known as the premier pawn borker who would facilitate Palm Beach residents who had run into "financial reverses"...thus pawning their jewelry, antiques and art When Marv passed away, the tradition was discontinued as the store was closed and the unclaimed items were sold to settle the estate.
ArtBusiness.com comment: The sellers are possibly attempting to establish a connection between the stature of this pawnbroker, the general wealth of the Palm Beach community, and the Jackson Pollock painting. The painting was apparently "unclaimed pawn."
Sellers' description continued: We are not art experts, and have not had this piece evaluated by a professional qualified to make a certifable assessment.
ArtBusiness.com comment: If these sellers are not art experts, what qualifies them to make observations such as the ones made in the opening sentence of their description? Furthermore, why would anyone who suspects that they own a Jackson Pollock painting, potentially worth millions of dollars, not show it to a qualified art expert?
Sellers' description continued: Thus, we can make no actual representation regarding age, title, authorship, provenence, authenticity, value, history, condition, et.al....and offer it "as is".
ArtBusiness.com comment: Why state that the painting is signed by Jackson Pollock and comment about its Pollock-like characteristics if they can make absolutely no representations regarding any aspect of the painting?
Sellers' description continued: We will venture to say that the pieces from this lot have enjoyed excellent receptivity from the high bidders, as the feedback may reflect. Please include shipping and insurance valuation fees. Thanks!
ArtBusiness.com comment: Sold for $3,075.00 with 31 bids. Stay tuned for our next "Art Pick From eBay."

Current Features
How to Buy Art on Instagram and Facebook
More and more people are buying more and more art online all the time, not only from artist websites or online stores, but perhaps even more so, on social media ...
Collect Art Like a Pro
In order to collect art intelligently, you have to master two basic skills. The first is being able to...
Services for Artists and Collectors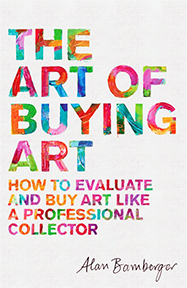 Buy the Book