Art Picks From eBay, Number 20; Rockwell Kent Painting Watercolor on eBay
This is the twentieth in our instructional series of articles that focuses on how to dissect and analyze the ways that works of art are sometimes described for sale on the internet auction site, eBay. eBay does not actively police their auction offerings, but rather depends on emails from dealers, collectors, experts, buyers, and potential buyers to notify them of problems relating to particular works of art. Any seller can describe any work of art in any manner that he or she chooses, and as long as no one complains, that art sells to the highest bidder. As a result, eBay and similar online auction sites are among the more dangerous places for uninformed or inexperienced collectors to buy original art.
This installment's auction item is described below. ArtBusiness.com credits the seller, by way of eBay, as the source of all of the following information and images. ArtBusiness.com comments and questions appear in red italics throughout the eBay seller's description. Grammar, spelling, and punctuation are as they appeared in the original for sale listing. ArtBusiness.com at no time implies, makes, or intends to make any claims or express any opinions regarding the authenticity of any works of art that appear in this series.
Seller's headline:
ROCKWELL KENT (1882-1971)"VERMONT" WATERCOLOR
ArtBusiness.com comment:The title states that the item up for sale is a watercolor titled "Vermont" by well-known American artist and illustrator Rockwell Kent.
Seller's description: I am offering this watercolor by Rockwell Kent The size is 20"x26". The condition is good, there is no restoration. The frame and matt are original. The watercolor is signed lower right, ROCKWELL KENT, and dated 1921.
ArtBusiness.com comment: This is a mass-edition reproduction print of the oil on canvas painting, Mt. Equinox, Winter, measuring 33 1/4 by 43 1/2 inches, painted by Rockwell Kent in 1921, and in the permanent collection of the Art Institute of Chicago.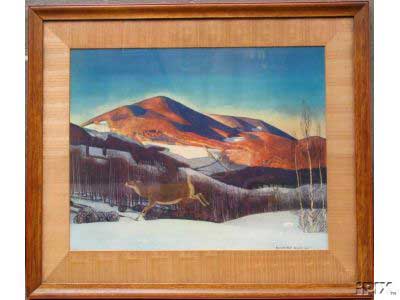 This sale is a "private" auction. Private auctions hide the identities of competing and winning bidders and inhibit communications of any sort between eBayers. ArtBusiness.com recommends that potential buyers avoid private auctions unless they are experienced collectors, skilled at recognizing the work of the artists they bid on, and/or have some familiarity with the sellers. ArtBusiness.com also recommends that eBay eliminate private auctions.
This seller has a 100% positive feedback rating.
Sold for $25,600 with 51 bids. Stay tuned for our next "Art Pick from eBay."

Current Features
How to Buy Art on Instagram and Facebook
More and more people are buying more and more art online all the time, not only from artist websites or online stores, but perhaps even more so, on social media ...
Collect Art Like a Pro
In order to collect art intelligently, you have to master two basic skills. The first is being able to...
Services for Artists and Collectors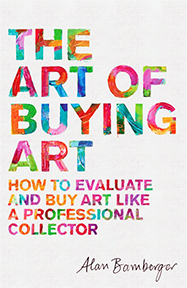 Buy the Book