Art Picks From eBay, Number 21; William H. Johnson, African American Artist Painting on eBay
This is the twenty-first in our instructional series of articles that focuses on how to dissect and analyze the ways that works of art are sometimes described for sale on the internet auction site, eBay. eBay does not actively police their auction offerings, but rather depends on emails from dealers, collectors, experts, buyers, and potential buyers to notify them of problems relating to particular works of art. Any seller can describe any work of art in any manner that he or she chooses, and as long as no one complains, that art sells to the highest bidder. As a result, eBay and similar online auction sites are risky places for uninformed or inexperienced collectors to buy original art.
This installment's auction item is described below. ArtBusiness.com credits the seller, by way of eBay, as the source of all of the following information and images. ArtBusiness.com comments and questions appear in red italics throughout the eBay seller's description. Grammar, spelling, and punctuation are as they appeared in the original for sale listing. ArtBusiness.com at no time implies, makes, or intends to make any claims or express any opinions regarding the authenticity of any works of art that appear in this series. Any opinions expressed in this series are those of independent experts who are not affiliated with ArtBusiness.com.
Seller's headline:
Fine Painting Afro-American Artist
ArtBusiness.com comment: The title states that the item up for sale is a painting by an African American artist.
Seller's description: - FRENCH VILLAGE HOUSES - -WILLIAM H. JOHNSON- This oil on board was done in 1928. The painting is in the new style adopted by Johnson in 1927 when he moved to France. He was influenced by Cezanne & Soutine.
ArtBusiness.com comment: William H. Johnson is a significant African American artist who painted both here and abroad. The seller states that this particular painting dates from 1928, but does not tell how he knows this, nor does he tell how he concludes that "the painting is in the new style adopted by Johnson in 1927."
Seller's description: The houses look packed or bunched together like an accordion in the style of the Fauve painters. The size is 20 x 28 inches singed by the artist. The frame was also painted by the artist to match the painting. There is another painting in the Fauve style on the back side. (See photo below). This painting is not signed.
ArtBusiness.com comment: The seller provides neither the name nor qualifications of the expert who compares the style of this painting to that of "accordion bunching," popularized by the Fauves.
Seller's description: This item is being sold as is; your purchase is a final sale. Please make careful observations using the photos below and decide your highest bid from them, and the description provided.
ArtBusiness.com comment: Hey bidders-- see that? YOUR PURCHASE IS A FINAL SALE.
Seller's description: Full provenance will be provided to the buyer.
ArtBusiness.com comment: How about providing full provenance now? If you've got it, show it. That's what Christie's, Sotheby's and every other major auction house on the planet does.
According to Steve Turner of Stever Turner Gallery in Beverly Hills, "This painting bears no resemblance to anything that William H. Johnson ever created." Turner organized the travelling museum show "William H. Johnson: Truth Be Told," co-authored the book by the same name, and has personally owned over sixty William H. Johnson paintings.
Seller's description: There will be no exchange.
ArtBusiness.com comment: Hello again bidders. Just in case you didn't notice the first time, the seller reiterates that there ain't no way you're gettin' your money back if you buy this painting.
This seller has a 100% positive feedback rating.
Sold for $10,100.51 with 20 bids. Stay tuned for our next "Art Pick from eBay."

Current Features
How to Buy Art on Instagram and Facebook
More and more people are buying more and more art online all the time, not only from artist websites or online stores, but perhaps even more so, on social media ...
Collect Art Like a Pro
In order to collect art intelligently, you have to master two basic skills. The first is being able to...
Services for Artists and Collectors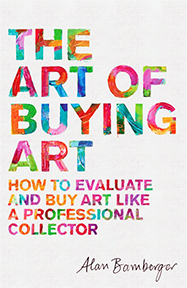 Buy the Book