Art Picks From eBay, Number 22; Maynard Dixon, California American Artist Art on eBay
Related Topic: Art Provenance: What It Is and How to Verify It
This is the twenty-second in our instructional series of articles that focuses on how to dissect and analyze the ways that works of art are sometimes described for sale on the internet auction site, eBay. eBay does not actively police their auction offerings, but rather depends on emails from dealers, collectors, experts, buyers, and potential buyers to notify them of problems relating to particular works of art. Any seller can describe any work of art in any manner that he or she chooses, and as long as no one complains, that art sells to the highest bidder. As a result, eBay and similar online auction sites are risky places for uninformed or inexperienced collectors to buy original art.
This installment's auction item is described below. ArtBusiness.com credits the seller, by way of eBay, as the source of all of the following information and images. ArtBusiness.com comments and questions appear in red italics throughout the eBay seller's description. Grammar, spelling, and punctuation are as they appeared in the original for sale listing. ArtBusiness.com at no time implies, makes, or intends to make any claims or express any opinions regarding the authenticity of any works of art that appear in this series. Any opinions expressed in this series are those of independent experts who are not affiliated with ArtBusiness.com.
Seller's headline:
MAYNARD DIXON, AMERICAN, DESERT VIEW, PASTEL
ArtBusiness.com comment: The title states that the item up for sale is a pastel desert view by important Western American artist Maynard Dixon.
Seller's description: THE LEADING DESERT PAINTER OF THE AMERICAN WEST AND OF EARLY 20th-CENTURY WESTERN LIFE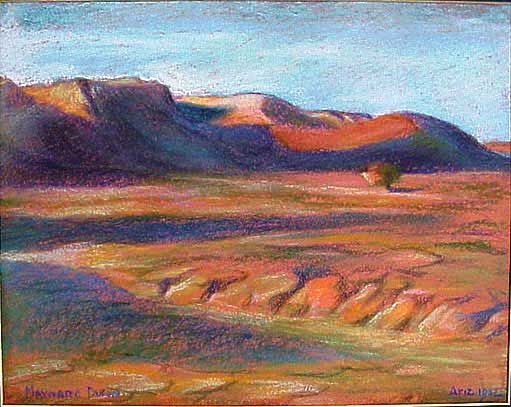 ArtBusiness.com comment: The seller refers to Dixon in superlatives in order to emphasize the importance of this artist.
Seller's description: This brilliant Western landscape succeeds in capturing the beauty and sensitivity of Western America with superb artistic skill and honest vision. It is Dixon's uniquely modern style that gives the West a new language of expression that is both exciting and exhilarating and yet delivers strong messages with the utmost simplification. Maynard's superlative skills as an illustrator are brought into the mix, and he emerges with his own incomparable images in his own style. These images, such as the landscape depicted here, reflect those Dixon saw in his travels and his sojourns in and around the West, characterized by the qualities of clarity, honesty and of course, beauty. One only has to gaze upon this majestic picture to understand Maynard Dixon's vision of the West and of early 20th-century Western life.
ArtBusiness.com comment: The seller seems to know Dixon's work and points out aspects of the landscape being sold here as characteristic of Dixon's style of art. The text of the above paragraph appears to be taken in large part from two pages on two web sites. One is this Maynard Dixon bio page on the Bingham Gallery website, and the other is this Maynard Dixon bio page on the website of The Thunderbird Foundation for the Arts, a nonprofit organization dedicated to furthering Maynard Dixon's legacy.
Seller's description: MAYNARD DIXON, American, 1875-1946, is considered the leading desert painter and was easily the most successful Westerner painting the Southwest. He is known for his architectural structuring of bold masses combined with dynamic composition and vibrant coloring. Born in Fresno, California, Dixon began sketching at the age of 10. He was fascinated with the Old West. After receiving encouragement from his idol, Frederic Remington, for a sketchbook he had sent, the artist enrolled at the San Francisco Art Association's School of Design in 1891. He soon became disenchanted with formal training and left school to travel throughout Arizona, New Mexico and Southeast California. These trips eventually encompassed every state in the West. From these field trips and the insights they produced, he evolved a mastery of his material and a highly distinctive style. He became a prominent figure in bohemian life, working as a cowpuncher and wrangler. After the San Francisco earthquake of 1906 destroyed Dixon's early work, he moved to New York City and worked as an illustrator. From 1907 to 1912, he submitted his art to national magazines such as Scribner's and Harper's Monthly. He died of asthma in 1946 near Tuscon at the age of seventy-one.
ArtBusiness.com comment: This information appears to be taken in large part from this Maynard Dixon bio page on the Calabasas Art & Antiques website.
Seller's description: Pastel on paper; size: 8-3/8" x 10-3/4"; overall size with frame: 17" x 19-1/4"; Frame: silver wood; Signed: "Maynard Dixon" lower left and inscribed "Ariz. 1902" lower right; Condition: no visible defects;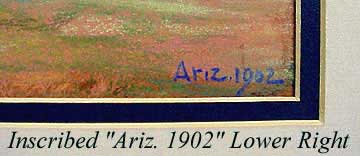 ArtBusiness.com comment: The seller provides the dimensions of the pastel and frame, signature and date locations, and condition information.
Seller's description: Provenance: From a consignment shop in Kingman, Arizona;
ArtBusiness.com comment: THIS IS NOT PROVENANCE. THIS IS WHERE THE PASTEL WAS FOUND.
Seller's description: Because no detailed provenance was known, in our qualified opinion, we are selling this artwork as "attributed to" the artist. For further clarification please review the explanation of our cataloguing terms which can be found by clicking on "me" next to our Ebay ID on the seller's line in the listing.
ArtBusiness.com comment: Oh. So now it's not by Maynard Dixon. It's only attributed to Dixon.
Seller's description: We do guarantee on a money-back basis that this is a pastel on paper and not a print nor a mechanical reproduction. If judged, in writing, by a qualified conservator, who is a member of the American Institute of Conservation, that it is not a pastel on paper, it may be returned within one week of receipt for a full refund of purchase price.
ArtBusiness.com comment: Great. It's a pastel. You can buy a modestly priced desert pastel by a decent artist just about anywhere for a couple of hundred dollars or less.
Speaking of qualified people, Paul Bingham, owner of Bingham Gallery, Founder and President of The Thunderbird Foundation for the Arts, and one of the foremost Maynard Dixon authorities in America, makes the following observations about this pastel: "Very doubtful that it is right. The signature is too perfect. Dixon signed mainly in cursive in 1902. The art is definitely suspect; much too pretty for Dixon."
Curious that the seller appears to have visited both of Bingham's websites, but did not contact Bingham regarding the pastel.
Seller's description: PLEASE ASK QUESTIONS BEFORE BIDDING since there are no returns accepted under this classification. Placing a bid on this auction shall confirm that you have read and accepted our conditions of sale and definition as applied to this listing.
ArtBusiness.com comment: Sorry, winning bidder. You ain't gettin' yer money back. Hope you read this far.
This sale is a "private" auction. Private auctions hide the identities of competing and winning bidders and inhibit communications of any sort between eBayers. ArtBusiness.com recommends that potential buyers avoid private auctions unless they are experienced collectors, skilled at recognizing the work of the artists they bid on, and/or have some familiarity with the sellers. ArtBusiness.com also recommends that eBay eliminate private auctions.
This seller has a 100% positive feedback rating.
Sold for $3550 with 41 bids. Stay tuned for our next "Art Pick from eBay."

Current Features
How to Buy Art on Instagram and Facebook
More and more people are buying more and more art online all the time, not only from artist websites or online stores, but perhaps even more so, on social media ...
Collect Art Like a Pro
In order to collect art intelligently, you have to master two basic skills. The first is being able to...
Services for Artists and Collectors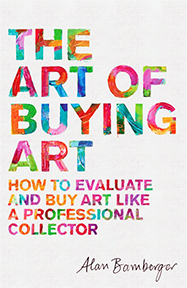 Buy the Book