Art Picks From eBay, Number 3; Albert Bierstadt on eBay: Western Art Buyer Buying Tips
This is the third in our instructional series of articles that focuses on how to dissect and analyze the ways that works of art are sometimes described for sale on the internet auction site, eBay. eBay does not actively police their auction offerings, but rather depends on emails from dealers, collectors, experts, buyers, and potential buyers to notify them of problems relating to particular works of art. Any seller can describe any work of art in any manner that he or she chooses, and as long as no one complains, that art sells to the highest bidder. As a result, eBay and similar online auction sites are among the more dangerous places for uninformed or inexperienced collectors to buy original art.
This installment's auction item is described below. ArtBusiness.com credits the seller, by way of eBay, as the source of all of the following information and images. ArtBusiness.com comments and questions appear in red italics throughout the eBay seller's description. Grammar, spelling, and punctuation are as they appeared in the original for sale listing. ArtBusiness.com at no time implies, makes, or intends to make any claims or express any opinions regarding the authenticity of any works of art that appear in this series.
Seller's headline:
"Bierstadt 1870 Oil Canvas Tahoe California"
ArtBusiness.com comment: The headline appears to state that the seller is offering an oil on canvas painting of Lake Tahoe, CA painted in 1870 by Albert Bierstadt.
Seller's description: Albert Bierstadt. School of.
ArtBusiness.com comment: The first few words in the description state that the painting is not by Bierstadt, but rather of the "school of" Bierstadt. In auction parlance, the phrase "school of" refers to works that are, in the best judgement auction house specialists, by students or followers of the artist. The specialist who determined this painting to be "school of Bierstadt" is not named.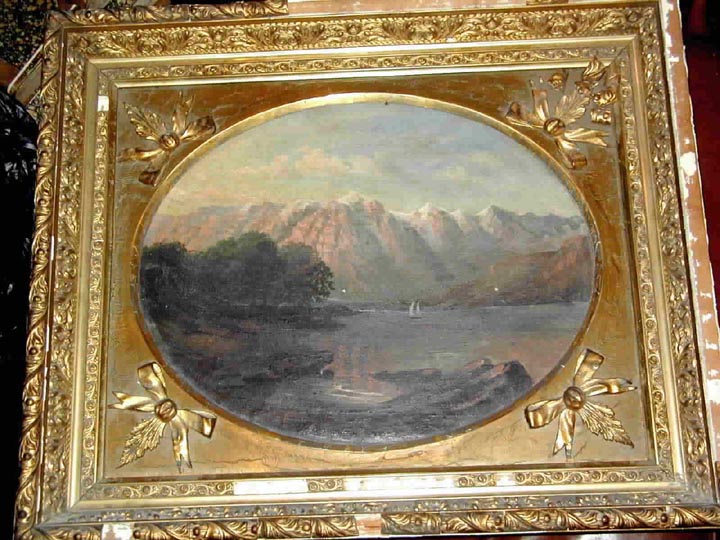 Seller's description continued: 19th century Oil on Canvas, Sierra Nevadas, California, Lake Tahoe. circa 1870.
ArtBusiness.com comment: The subject matter of the painting is stated to be Lake Tahoe, CA. The date is now circa 1870 rather than exactly 1870. The seller does not state how he arrived at these conclusions.
Seller's description continued: 20 by 24 inches in a superb antique period frame gilt with oval window. There are pieces of gilt gesso lacking to the outer rim of the frame, else a superb frame.
ArtBusiness.com comment: The frame is in poor condition, is missing large pieces of gesso, appears to have been painted over in places, and will cost hundreds of dollars to restore.
This oil was acquired at Westmoreland Place estate in 1998, the mansion also possessed various Tiffany items and a superb oil by Harry Chase.
ArtBusiness.com comment: The estate that a painting comes from is not usually relevant unless that information contributes directly to the painting's history, quality, or authenticity. For example, a previous owner's name is relevant if he was known for the quality of his art collection. The fact that other significant items were in the same estate with this painting is also not relevant, but tends to impress naive bidders.
Seller's description continued: The canvas is in all original condition without in painting or restorations. It pictures snow capped Sierra peaks over what I assume to be Lake Tahoe and is indicative of the work of the Western Master, Albert Bierstadt, who along with Thomas Moran spent much time painting the California mountains.
ArtBusiness.com comment: Wait a minute. Is the seller sure that the mountains are in the Sierra Nevada range, but only assuming the body of water is Lake Tahoe? First he says the body of water is Lake Tahoe; now he only assumes that it is. This description is, at best, confusing.
The specialist who concluded that this painting is "indicative of the work of... Bierstadt" is not named.
Seller's description continued: If this work could be authenticated as an original Bierstadt, one could suggest a price of 100,000 or more. However, we guarantee it is mid 19th century and all original, highly decorative. Very low reserve. Good luck.
ArtBusiness.com comment: Does "Good luck" mean "Good luck trying to authenticate the painting?" Why wouldn't the seller try to authenticate it himself if it potentially had a value of $100,000 or more?
Mid-19th century means circa 1850. Is the painting from 1870, circa 1870, or circa 1850?
The seller completes his description with the following information about Bierstadt and his brother, most likely taken word-for-word out of a book. This data is totally irrelevant to the painting, but it impresses naive bidders.
Seller's description continued: Albert Bierstadt was born at Solingen, near Dusseldorf, Germany in 1830. When he was only two years old, his parents moved to Massachusetts. At the age of 23, he returned to Dusseldorf to study art where he learned the academic treatment of subject and light, precision and naturalism (seen in River Landscape ) that is characteristic of Bierstadt's work. Returning to the United States in 1857, he "traveled through the West on six different occasions between 1859 and 1889,"1 the years during which River Landscape was painted.
Bierstadt's brother was a photographer and accompanied the artist on some of his excursions across the continental United States. Bierstadt himself made many photographs of the splendor and grandeur that so overwhelmed him in his travels. He in turn was determined to portray those grandiose landscapes to residents of the East. He also was known to change his mind about his landscapes, or alter them by painting over mountain ranges, changing the 'location' of an individual work (possibly to suit a prospective buyer?). That practice of over-painting can be seen in the painting at Sheldon where the reappearance through the paint, or 'pentimento' of a small deer can be seen in the foreground.
Bierstadt was a Luminist, or second-generation member of the Hudson River School of landscape painting, and he founded the Rocky Mountain School of landscape painting.
ArtBusiness.com comment: Sold for $1009.00 with 9 bids. Stay tuned for our next "Art Pick From eBay."

Current Features
How to Buy Art on Instagram and Facebook
More and more people are buying more and more art online all the time, not only from artist websites or online stores, but perhaps even more so, on social media ...
Collect Art Like a Pro
In order to collect art intelligently, you have to master two basic skills. The first is being able to...
Services for Artists and Collectors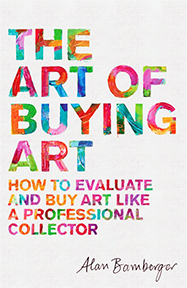 Buy the Book