Art Picks From eBay, Number 4; Maxfield Parrish on eBay: Art Bidding Buying Tips
This is the fourth in a series of articles that focuses on how works of art are sometimes described for sale on the internet auction site, eBay. eBay does not actively police their auction offerings, but rather depends on emails from dealers, collectors, experts, buyers, and potential buyers to notify them of problems relating to particular works of art. Any seller can describe any work of art in any manner that he or she chooses, and as long as no one complains, that art sells to the highest bidder. As a result, eBay and similar online auction sites are among the more dangerous places for uninformed or inexperienced collectors to buy original art.
The fourth auction item in this series is described below. ArtBusiness.com credits the seller, by way of eBay, as the source of all of the following information and images. ArtBusiness.com comments appear in red italics throughout the eBay seller's description. Grammar, spelling, and punctuation are as they appeared in the original for sale listing. ArtBusiness.com at no time implies, makes, or intends to make any claims or express any opinions regarding the authenticity of any works of art that appear in this series.
Seller's headline:
MAXFIELD PARRISH, AMERICAN, TAJ MAHAL GOUACHE
ArtBusiness.com comment: The headline states that the seller is offering gouache by Maxfield Parrish.
Seller's description: MAXFIELD PARRISH, AMERICAN, TAJ MAHAL GOUACHE
ArtBusiness.com comment: The seller repeats the headline.
Seller's description continued: The artist's characteristically brilliant and unorthodox use of color manages to make the architectural wonder of the Taj Mahal even more magnificent. This is an exquisite example of the artist's landscape work.
ArtBusiness.com comment: The seller points out why this gouache is a typical, if not superior, example of Parrish's work.
Seller's description continued: MAXFIELD PARRISH, American, 1870-1966, was born in Philadelphia and was encouraged by his father from a very young age to develop his talent for drawing and painting. From 1892 to 1894 he studied at the Pennsylvania Academy of Fine Arts. In 1906 he was elected a member of the National Academy of Design. In addition to his landscapes and murals, he illustrated many books and magazines.
ArtBusiness.com comment: For anyone not familiar with Maxfield Parrish, the seller provides some basic biographical information.
Seller's description continued: Watercolor and Gouache; sight size: 13" x 18"; overall size with frame: 22" x 26"; Frame: a period wood frame is painted to match the art work; Signed; "Maxfield Parrish", lower left (although not typical, this style of signature has been found in several examples in the literature);
ArtBusiness.com comment: Uh oh. The signature is "not typical" of Parrish? Not to worry-- the seller goes on to state that Parrish signed this way from time to time.
Seller's description continued: Condition: no visible defects; Provenance: Sold as a framed print at Newark Antique Market, England; Shipping cost: $35.00 plus mandatory insurance.
ArtBusiness.com comment: The fact that this gouache sold as a print at an antique market is NOT provenance. All this tells us is where the piece sold and that the previous seller mislabeled it. True provenance is information, generally ownership history, directly relating to a work of art's quality, authenticity, and significance.
Seller's description continued: Since we do not have any provenance, and we could not find this image in any of the literature, we are selling this work of art as "manner of" the artist.
ArtBusiness.com comment: First, the seller gives the art's provenance and then says he has no provenance. As if that's not ridiculous enough, he now says that he's selling this work of art as "manner of" Parrish-- not as a Parrish!! So why the headline, descriptive, and biographical information strongly implying that this work of art is by Maxfield Parrish?
Note: In auction terms, "style of" or "manner of" means that in the best judgement of auction house specialists, a work of art looks like that of a particular artist, but is possibly done at a later date.
Seller's description continued: We do guarantee that this is a watercolor/gouache and not a print nor a mechanical reproduction.
ArtBusiness.com comment: Great. After all that verbiage, all that's being sold is a watercolor/gouache (which started out as just a gouache) that looks like a Maxfield Parrish, but was possibly done at a later date.
Seller's description continued: CONDITION: Please note many of the works we offer are old and may have been restored or may have defects that come with years of age and use. In the descriptions we give we try to give our general opinion of the condition of the work, but these remarks are solely our opinions and are not intended to be exhaustive nor all inclusive. Consequently, all our works are sold with all existing defects of condition, regardless of whether these defects are or are not noted in the description.
ArtBusiness.com comment: This statement means that the buyer gets the art with all of it's defects and condition problems, whether or not the seller mentions them.
Seller's description continued: Please ask questions before bidding.
About Our Switch To Private Auctions:
PLEASE NOTE THAT A PRIVATE SALE IS FOR YOUR PROTECTION AND HERE IS WHY:
(1) We were warned early on by well meaning eBay veteran sellers that failing to list our auctions as "private" would result in unscrupulous dealers spamming (sending unsolicited email come-ons), or just generally interfering with our auctions, as well as compiling mailing lists of our customers, etc.. We thanked them for their concern but ignored their friendly warnings.
(2) At at live auction, you do not know who is bidding against you and you do not know the winning bidder's details. A private sale is no different than a live auction situation.
They were right. At the behest of some of our regular bidders, and other dealers who like to bid on our auctions (but don't want everyone else to know it), we have switched to private auctions. We know this presents some difficulty to bidders who like to see who they are bidding against so they can plan their winning strategy accordingly, but it just couldn't be helped. We hope you understand and appreciate our efforts to keep your user information, email address, and what you are bidding on confidential..
ArtBusiness.com comment: This sale is a "private auction." In a private auction, bidders do not know each other's identities. If all of the above is true, why aren't all online auctions private? Several difficulties with private auctions are mentioned below.
If a work of art is not accurately described by a seller or appears problematic in some way, outside observers cannot send cautionary emails to bidders.
Sellers who employ "shill bidders" to artificially raise final selling prices are more difficult to spot. Although shill bidding is illegal on eBay and other online auctions, it still takes place.
Note: The seller is incorrect in stating that a private online auction is no different than a live auction. At live auctions, auction house specialists normally inspect and approve all works of art before they are placed up for sale. At online auctions, no such inspection and approval process exists.
Seller's description continued: To find out if you are high bidder: Click on "My eBay" and sign in. Click on "Items I'm Bidding On" and if your bids are in green color you are the high bidder and if the sale has ended and it is in green you are the winning bidder.
If you are an under bidder and are still interested in the item being sold in the event the high bidder does not complete the sale, please Email us after the sale and advise us of your continued interest.
ArtBusiness.com comment: If you contact the seller as an under-bidder and find out that you can buy the art, you have to accept the seller's explanation about why the high bidder failed to complete the sale. Since a private auction prevents you from knowing who the high bidder is, you can't contact him or her for their side of the story.
Seller's description continued: Please review our "TERMS AND CONDITIONS" and our "STANDARD CATALOGUING TERMS" before bidding on our items. These can be found by clicking on the "me" symbol located on the Seller's line of the listing. You will be deemed to have accepted these terms, conditions and standard cataloguing terms if you bid on any of the items listed on (this seller's) Ebay auctions.
ArtBusiness.com comment: Always make sure you read ALL terms or conditions stated by a seller regardless of where online they're posted.
The amount of terms, conditions, and explanations used by this seller is far in excess of those found in typical online sellers' descriptions.
Sold for $3,549.99 with 23 bids. Stay tuned for our next "Art Pick From eBay."

Current Features
How to Buy Art on Instagram and Facebook
More and more people are buying more and more art online all the time, not only from artist websites or online stores, but perhaps even more so, on social media ...
Collect Art Like a Pro
In order to collect art intelligently, you have to master two basic skills. The first is being able to...
Services for Artists and Collectors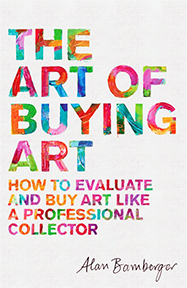 Buy the Book