Art Picks From eBay, Number 5; Marc Chagall Paul Grimm California Art Artist on eBay
This is the fifth in our instructional series of articles that focuses on how to dissect and analyze the ways that works of art are sometimes described for sale on the internet auction site, eBay. eBay does not actively police their auction offerings, but rather depends on emails from dealers, collectors, experts, buyers, and potential buyers to notify them of problems relating to particular works of art. Any seller can describe any work of art in any manner that he or she chooses, and as long as no one complains, that art sells to the highest bidder. As a result, eBay and similar online auction sites are among the more dangerous places for uninformed or inexperienced collectors to buy original art.
The fifth and sixth auction items in this series are described below. ArtBusiness.com credits the sellers, by way of eBay, as the source of all of the following information and images. ArtBusiness.com comments appear in red italics throughout the eBay seller's description. Grammar, spelling, and punctuation are as they appeared in the original for sale listings. ArtBusiness.com at no time implies, makes, or intends to make any claims or express any opinions regarding the authenticity of any works of art that appear in this series.
First Item:
Seller's headline:
Big PAUL GRIMM Mountain Lake oil painting
ArtBusiness.com comment: Paul Grimm was a Southern California landscape artist, now fairly collectible, best known for his paintings of desert landscapes.
Seller's description: This is one of several paintings that were purchased at an estate sale in Florida over the weekend. This piece measures 25.5x33.5 (31x39 framed). No craquelure, rips, tears. Beautiful Gold frame in Excellent Condition. Signed by the artist on the back in ink: "Mountain Lake" Paul Grimm.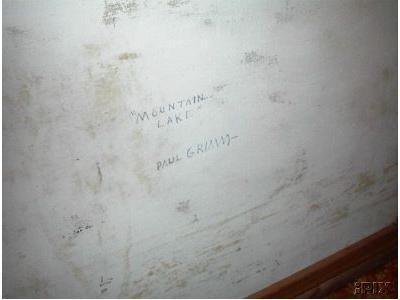 ArtBusiness.com comment: Paul Grimm customarily signed his paintings on the front. A Grimm painting signed only on the back is unusual. As a buyer, exercise caution whenever you are offered a work of art that is signed in a manner not typical of the artist.
Seller's description continued: There is no provenance for this piece, deceased owner's daughter had no informaiton on any of the paintings that were purchased. Reserve is $500.00. $30.00 for shipping..
ArtBusiness.com comment: This painting has no provenance and is signed differently than the way that the artist normally signed.
Sold for $910.01 with 14 bids.
***
Second Item:
Seller's headline:
Marc Chagall Watercolor Painting
ArtBusiness.com comment: The headline states that the item to be auctioned is a watercolor painting by Marc Chagall.
Seller's description continued: Marc Chagall watercolor painting on heavy paper.
ArtBusiness.com comment: The seller repeats the fact that the item up for auction is a Marc Chagall watercolor.
Seller's description continued: This appears to be a Shakespearean figure, possibly Hamlet. It is signed in the lower right hand corner "Marc Chagall"..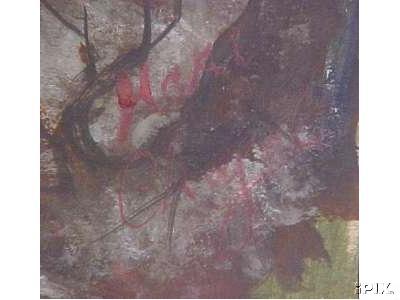 Seller's description continued: It is double matted with linen matting and gold fillet.
ArtBusiness.com comment: The quality of a work of art's frame, mat, or brass nameplate (when present) may or may not have anything to do with the quality, nature, authenticity, or origin of that art. Never automatically assume that just because a work of art is beautifully framed or otherwise presented that it is genuine, important, significant, or possesses any other distinguishing characteristics.
Seller's description continued: This is a very beautiful piece, that pictures cannot do justice. The image size is 9 1/2" x 16". The frame size is 23" x 31 1/2".
ArtBusiness.com comment: As the old saying goes, "Beauty is in the eye of the beholder." The only time that such a value judgement should be taken seriously is when it is made by an expert on the artist who has seen and examined the work of art in question.
Seller's description continued: Please email all questions before the end of the auction.
I have not had this item evaluated by an expert or anyone qualified to make an assessment. I am not an art expert, but this item has been in the family for years. I am selling this item "as is" with no representation on age, value, provenance, history etc.
ArtBusiness.com comment: The seller's title and opening sentence both state that this work of art is a watercolor by Marc Chagall. Now he says that he is selling it "as is" with no guarantees whatsoever.
People who own works of art that they suspect may be by famous artists normally do everything in their power to get them authenticated. That this seller has not sought expert opinions is unusual.
The fact that this watercolor has been in the seller's family for years tells us nothing. First of all, we don't know how many years he's talking about. Second, unless the family is known for their collection of modern masters or is otherwise known and respected in established art circles, the statement is irrelevant. Third, we do not know where the watercolor was before it was in the seller's family.
Sold for $999.99 with 12 bids. Stay tuned for our next "Art Pick from eBay."

Current Features
How to Buy Art on Instagram and Facebook
More and more people are buying more and more art online all the time, not only from artist websites or online stores, but perhaps even more so, on social media ...
Collect Art Like a Pro
In order to collect art intelligently, you have to master two basic skills. The first is being able to...
Services for Artists and Collectors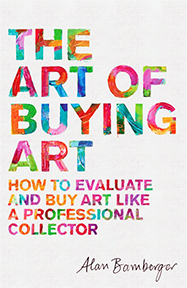 Buy the Book