Art Picks From eBay, Number 7; N. C. Newell Convers Wyeth Illustration Art on eBay
This is the seventh in our instructional series of articles that focuses on how to dissect and analyze the ways that works of art are sometimes described for sale on the internet auction site, eBay. eBay does not actively police their auction offerings, but rather depends on emails from dealers, collectors, experts, buyers, and potential buyers to notify them of problems relating to particular works of art. Any seller can describe any work of art in any manner that he or she chooses, and as long as no one complains, that art sells to the highest bidder. As a result, eBay and similar online auction sites are among the more dangerous places for uninformed or inexperienced collectors to buy original art.
This installment's auction item is described below. ArtBusiness.com credits the seller, by way of eBay, as the source of all of the following information and images. ArtBusiness.com comments appear in red italics throughout the eBay seller's description. Grammar, spelling, and punctuation are as they appeared in the original for sale listing. ArtBusiness.com at no time implies, makes, or intends to make any claims or express any opinions regarding the authenticity of any works of art that appear in this series.
Seller's headline:
N.C. WYETH, AMERICAN, ILLUSTRATION, GOUACHE
ArtBusiness.com comment: The title states that the item up for auction is a gouache illustration by famous American illustrator N. C. Wyeth.
Seller's description: A STORYBOOK TALE COME TO LIFE
The artist's narrative style of painting effectively describes a scene most likely out of a novel, of which he illustrated many. A demon spirit or genie is released from his vessel sanctuary though it seems not to surprise the bearded man on the beach. Rather, these characters appear familiar with each other and perhaps in conflict with their master/servant relationship. One's imagination is inspired by such artistry.
ArtBusiness.com comment: The seller appears to propose that N.C. Wyeth created this scene "most likely" for a novel, "of which he illustrated many." The seller does not, however, identify which novel the illustration "most likely" appeared in.
Seller's description continued: NEWELL CONVERS WYETH, American, 1882-1945, was a prolific and popular illustrator of numerous books including, Treasure Island, Robinson Crusoe, and Last of the Mohigans. He was the father of artist Andrew Wyeth. After detailed research we were unable to determine the title of the illustration or where it may have been published.
ArtBusiness.com comment: The seller provides basic information about Wyeth's career, but is unable to determine either the title of the illustration or where it was published. This conflicts with the statement above that the illustration was "most likely" done for a novel.
Seller's description continued: Gouache and body white (mixed media) on illustration type paper board; sight size: 9-1/8" x 9"; overall size with frame: 20-1/4" x 20-1/4"; Frame: gold wood; Signed: "N.C.WYETH", lower left; Condition: no visible defects; Provenance: Purchased from a charity shop. The gouache was donated to benefit a charity shop in Okeechobe, Florida. There were no papers or provenance available.; Shipping cost: $35.00 plus mandatory insurance for domestic USA only. Shipping to other countries will be quoted upon request.

ArtBusiness.com comment: The provenance of this illustration is that it has no provenance. The fact that an item was purchased at a "charity shop" does not constitute provenance in any way shape or form. Provenance has to do with a work of art's previous ownership and exhibition history.
Seller's description continued: Since we have no further provenance, we are selling this work of art as "attributed to" the artist. An explanation of our cataloguing terms can be found by clicking on "me" next to our eBay ID on the seller's line in the listing. Placing a bid confirms that you have read and accepted our conditions of sale and definitions as applied to our listing.
ArtBusiness.com comment: The seller now states that the gouache is not by N.C. Wyeth, but is instead attributed to the artist.
According to the seller's "me" page, "attributed to" is defined as "In our opinion probably a work of the period of the artist which may be in whole or part the work of the artist." First of all, nowhere does the seller say what qualifies him or her to make the above attribution, either in terms of his or her art dealing experience, art education, trade references, or any other art-related accomplishments. Secondly, if you substitute the words "this might not be" for "probably" and the words "may or may not be" for "may be," the attribution statement now reads "In our opinion, this might not be a work of the period of the artist which may or may not be in whole or in part the work of the artist." These word substitutions illustrate how little weight an attribution statement actually carries.
Seller's description continued: We do guarantee that this is a gouache (mixed media) on board and not a print nor a mechanical reproduction.
ArtBusiness.com comment: So all the seller guarantees is that the art is a "gouache (mixed media) on board" and not a reproduction.
Seller's description continued: This work is guaranteed to be as we described it in this Ebay listing. If judged, in writing, by a qualified and recognized expert that it is substantially not as described it may be returned within one week of receipt for a full refund of purchase price. Upon its return, in the same condition as when it was sent, we will issue a full refund less shipping and insurance costs.
ArtBusiness.com comment: In other words, if you buy this art, it turns out not to be a "gouache (mixed media) on board," and you find an expert who'll state in writing that it's not a "gouache (mixed media) on board," you can get your money back.
Seller's description continued: CONDITION: Please note many of the works we offer are old and may have been restored or may have defects that come with years of age and use. In the descriptions we try to give our general opinion of the condition of the work, but these remarks are solely our opinions and are not intended to be exhaustive nor all inclusive. Consequently, all our works are sold with all existing defects of condition, regardless of whether these defects are or are not noted in the description. We do the best we can in describing condition - see our feedback for confirmation - but descriptions of condition are subjective and are not guaranteed - no returns will be allowed and no refunds offered for reasons of condition.
Please ask questions before bidding.
ArtBusiness.com comment: The above terms are extreme, especially since potential buyers can't personally inspect the art. Regardless of how many questions the winning bidder asks about condition problems or damage, and regardless of how accurately the seller answers them, the winning bidder has no recourse for returning the art if it turns out to have condition problems that either he or the seller overlooked.
Seller's description continued: Why we have chosen to use Private Auctions:
(1) At the request of some of our regular bidders, and other dealers who like to bid on our auctions (but don't want everyone else to know it), we have switched to private auctions. We know this presents some difficulty to bidders who like to see who they are bidding against so they can plan their winning strategy accordingly, but it just couldn't be helped. We hope you understand and appreciate our efforts to keep your user information, email address, and what you are bidding on confidential..
(2) At at live auction, you do not know who is bidding against you and you do not know the winning bidder's details. A private sale is no different than a live auction situation.
ArtBusiness.com comment: Private auctions also inhibit communications between users regarding either dealings that they've had with particular sellers or ways that particular sellers represent their merchandise. ArtBusiness.com recommends that bidders avoid private auctions unless they are experienced collectors and skilled at recognizing the work of the artists they bid on.
Furthermore, this seller's claim that private sales on eBay are the same as live sales at public auction houses is totally untrue. For one thing, all you have to do at a public auction is look around the room either to see who's bidding against you or to see who the winning bidders are. Regarding phone bidders, all contact information on all bidders is on file with the auction houses conducting the sales and, in the overwhelming majority of cases, any bidder with a legitimate concern can contact any other bidder with little difficulty. Depending on the circumstances of a request to make contact, an auction house may initially serve as an intermediary between bidders.
Sold for $1576.00 with 24 bids. Stay tuned for our next "Art Pick from eBay."

Current Features
How to Buy Art on Instagram and Facebook
More and more people are buying more and more art online all the time, not only from artist websites or online stores, but perhaps even more so, on social media ...
Collect Art Like a Pro
In order to collect art intelligently, you have to master two basic skills. The first is being able to...
Services for Artists and Collectors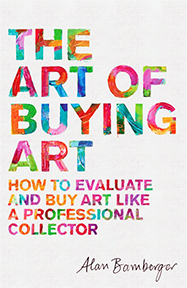 Buy the Book