Art Picks From eBay, Number 8; American painting eBay Art Bidding Tips
This is the eighth in our instructional series of articles that focuses on how to dissect and analyze the ways that works of art are sometimes described for sale on the internet auction site, eBay. eBay does not actively police their auction offerings, but rather depends on emails from dealers, collectors, experts, buyers, and potential buyers to notify them of problems relating to particular works of art. Any seller can describe any work of art in any manner that he or she chooses, and as long as no one complains, that art sells to the highest bidder. As a result, eBay and similar online auction sites are among the more dangerous places for uninformed or inexperienced collectors to buy original art.
This installment's auction item is described below. ArtBusiness.com credits the seller, by way of eBay, as the source of all of the following information and images. ArtBusiness.com comments appear in red italics throughout the eBay seller's description. Grammar, spelling, and punctuation are as they appeared in the original for sale listing. ArtBusiness.com at no time implies, makes, or intends to make any claims or express any opinions regarding the authenticity of any works of art that appear in this series.
Seller's headline:
IMPORTANT 100 YEARS OLD AMERICAN PAINTING HOR
ArtBusiness.com comment: The title states that the item up for auction is an important American painting that's 100 years old.
Seller's description: A VERY WELL DONE ( MUSEUM QUALITY REALLY ) 100 YEARS OLD PAINTING DEPICTING HORSES .
ArtBusiness.com comment: The seller states neither the name nor the qualifications of the authority who considers this painting to be "very well done" and "museum quality." Any claims regarding the importance of a work of art must be substantiated in order to be taken seriously.
Seller's description continued: ABSOLUTELY HANDPAINTED ON ARTISTS ACAMEDY BOARD , WITH BRUSH STROKES ACCURATE AND TRUE TO LIFE , YOU FEEL LIKE YOU ARE LOOKING AT TWO HORSES IN THE PASTURES LIKE REAL LIFE .
ArtBusiness.com comment: The art is "absolutely handpainted," but subsequent remarks relating to the accuracy of the brush strokes and the feelings that the painting imparts to viewers are subjective and unsubstantiated and, as such, should be disregarded. How an "absolutely handpainted" work of art compares to a work of art that is only "handpainted" is not addressed.
Seller's description continued: GOOD CONDITION WITH A SCRATCH IN THE MIDDLE AS YOU CAN SEE IN MY IMAGES , WITH A NICE ORIGINAL LABEL ON BACK FROM THE PERIOD. MEASURING A NICE 14" X 11" , WITH NO RESTORATIONS. PLEASE NOTE THAT THIS LOOKS TO BE THE WORK OF AN IMPORTANT ARTIST GIVEN THE HIGH QUALITY AND DETAIL , AS WELL AS THE TRUE DEPICTION OF FORM.
ArtBusiness.com comment: The seller continues to make subjective and unsubstantiated remarks regarding the significance of the artist and the quality of the art. How a work of art that measures "a nice" 14 by 11 inches compares to a work of art that measures only 14 by 11 inches is not addressed.
Seller's description continued: THE HORSE SUBJECT IS ALSO VERY NICE AND DESIREABLE , AND IT CAME FROM A VERY GOOD ESTATE HERE IN THE ****** ( NOT SEEN THE LIGHT OF DAY FOR THE LAST 40 YEARS AS THIS WAS PUT AWAY IN THE ATTIC IN THE EARLY 1960'S ) .
ArtBusiness.com comment: How long a work of art spends in an attic and/or how "good" an estate it comes from have no bearing whatsoever on its either its quality or importance.
Seller's description continued: THE HOME ALSO HAD FINE OLD MASTER IMPRESSIONIST ORIENTALIST HUDSON RIVER AND NUDE EROTIC PAINTINGS ;
ArtBusiness.com comment: The quality or significance of a work of art has no relation to the quality of other works of art found in the same home or estate.
Seller's description continued: I THINK THIS WORK IS AS GOOD AS ANY PAINTING THAT WAS IN THIS ESTATE.
ArtBusiness.com comment: Unless a seller is qualified to judge how good a work of art is, and states his or her qualifications, opinions about how good a work of art may or may not be should be disregarded.
Seller's description continued: ( I WILL BE AUCTIONING OTHER WORKS FROM THIS ESTATE IN THE COMING WEEKS ) .
ArtBusiness.com comment: As of this writing, an eBay search of this seller's recent sales activity lists a total of 42 auctions as either completed or in progress. The word "museum" appears in 28 of those items' headlines, the word "rare" in six, and the word "important" in four.
Sold for $305.00 with 16 bids. Stay tuned for our next "Art Pick from eBay."

Current Features
How to Buy Art on Instagram and Facebook
More and more people are buying more and more art online all the time, not only from artist websites or online stores, but perhaps even more so, on social media ...
Collect Art Like a Pro
In order to collect art intelligently, you have to master two basic skills. The first is being able to...
Services for Artists and Collectors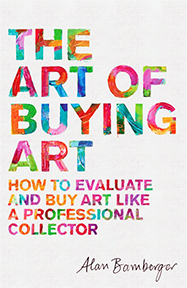 Buy the Book