How to Spot and Identify

a Facsimile Book Dust Jacket
Rare dust jackets mean big bucks in the antiquarian book business. For example, a first edition of The Great Gatsby or The Maltese Falcon in good condition without a dust jacket (also spelled dustjacket) sells for about $2000; with dust jacket in fine condition, about $100,000. Not surprisingly, those stakes inspire enterprising book dealers to print realistic and convincing facsimile dust jackets for certain jacketless titles using the latest digital technologies.
Reputable booksellers identify facsimile dust jackets as such. Even though these copy-jackets have no collectible value, they improve the appearance of jacketless books (while protecting them), and that may translate to greater salability in the marketplace. Problems arise, however, when less scrupulous booksellers apply rare or uncommon facsimile jackets to jacketless books, do not identify them as such, and attempt to price and sell the books as though they're in their original dj's. The sellers either say nothing about the jackets unless buyers ask, or in worst case scenarios, deliberately misrepresent facsimilies as originals.
The good news is that facsimile dust jackets are not hard to identify. To begin with, go to Radio Shack and buy a pocket microscope. Their current model sells for $9.99, is battery-powered, and lights and magnifies at either 60X or 100X, although 32X magnification is more than adequate for identification purposes. Learn to use it by alternatively magnifing digitally printed surfaces and then offset lithographic surfaces such as those of old dust jackets. Compare the two. You'll begin to see significant differences almost immediately.
Briefly, the great majority of digital or ink jet printing is done by shooting or "jetting" ink onto paper. Solid ink jet printed color fields, no matter how large or small, appear relatively uniform when magnified. The great majority of offset lithographic printing is done by pressing ink directly onto paper. When pressed onto paper, ink tends to be pushed out, gather, and is generally thicker at the edges of printed color fields then in the interiors. Consequently, uniform solid color fields printed by offest lithography, no matter how large or small, appear to have thicker, more defined borders or edges when magnified. Note: With respect to dust jacket examination, border and edge differences are most apparent with older jackets, and less so with jackets published in recent years.
Under magnification, the microscopic ink dots and resultant dot patterns that make up printed images provide additional clues to a dust jacket's origins. Ink jet dots are generally smaller than vintage offest lithographic dots; sometimes much smaller. Individual dots on surfaces printed by ink jet also appear random, whereas dot patterns on surfaces printed by offset lithography tend to be geometric and regular with well-defined rows, sometimes combining into well-defined circular patterns. Differences between ink jet and offset dots are most apparent in areas made up of more than one color, those where one color progressively lightens or darkens, those where one color transitions into the next, and at edges or borders of solid color fields.
The edge of a dust jacket also provides clues to its origin. The edges of many original dust jackets have irregularities that reproduce on ink jet copies. For example, a small tear or abraded area reproduced from an original onto a facsimile may not match the paper that the facsimile is printed on. In other words, the jacket looks torn or abraded, but the paper it's printed on is in perfect condition. A less reputable seller may try to hide reproduced edge wear by cutting a facsimile down, so exercise caution whenever a jacket is smaller than its book.
Additional pointers:
* Look at the back of the jacket. If the jacket is forty years old, but the paper looks fresh, new, and uniform in color, particularly at the edges, you could be looking at a facsimile.
* Study the creases of the jacket. Original jackets often show signs of wear at the creases, wear that may be absent on a facsimile. Crease wear from an original may also reproduce on a facsimile, so make sure that any visible crease wear is consistent with wear to the paper that the jacket is printed on.
* If, after all of your inspections, you're still not sure what you're looking at, ask the seller whether the jacket is an original or a facsimile. And get the answer in writing, along with a moneyback guarantee if the jacket turns out not to be an original.
* Buy from established dealers, especially if you're new to book collecting. Dealers who belong to the Antiquarian Booksellers Association of America and/or the International League of Antiquarian Booksellers abide by strict codes of ethics, and are among the most qualified, established, experienced, and reputable booksellers in the world to do business with.

Current Features
How to Buy Art on Instagram and Facebook
More and more people are buying more and more art online all the time, not only from artist websites or online stores, but perhaps even more so, on social media ...
Collect Art Like a Pro
In order to collect art intelligently, you have to master two basic skills. The first is being able to...
Services for Artists and Collectors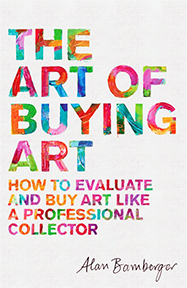 Buy the Book