Should Artists Pay for Publicity or Media Exposure?
Q: I'm emailing you because an online art magazine offered to do a feature on me and my art. Part of the package is that I buy a full-page display ad showing my work. The ad can either be purchased by me, someone who represents me, an art patron, or a gallery where I show. Should I do it?
A: Any time you are asked to pay for any type of publicity or exposure that's normally free, watch out. Likewise for anytime you are asked to pay for publicity by complete strangers who contact you from out of nowhere. No matter how flattering the invitation might be, how much they say they love your art, or how great they think you are, this is not how getting exposure in the art world works. Whether the offer is to appear on a website or online publication, be included in a hard-copy magazine, or have your work posted on social media, you want that appearance to be based on your accomplishments as an artist or the merits of your art, not on your ability to pay.
To begin with, art magazines, websites, or other forms of exposure with editorial policies that link article or image content to paid advertisements are not generally taken seriously in the art community. At worst, the artists that magazines like this tend to feature are selected entirely on their abilities to pay rather than on the quality of their art. A quick way to see whether this might be one of those publications is to go through some recent back issues to see whether they pair articles and advertisements on a regular basis. If they do, a quick Google search of the artists in question will likely reveal whether they have impressive enough credentials and accomplishments to warrant the coverage or not. Most knowledgeable collectors who read magazines where the buy-an-ad/get-an-article arrangement is in effect have little difficulty figuring that out and tend to regard any such coverage mainly as forms of paid advertising as opposed to serious recognition for the art.
In other words, exposure without a significant resume or list of accomplishments is not likely to get you anywhere fast. There has to be a reason for a publication to write about you (and for their readers to read about you) other than the fact that you're an artist and you make art. Read any artist feature in any established art magazine or website and you'll quickly realize how true this is. Those articles talk as much about the artists' successes and achievements as they do about their art, sometimes even more. Another point to keep in mind about exposure in general is that you need to get it on a regular basis for anyone to start paying attention. One isolated article will be quickly forgotten. You have to be in the news regularly (or advertise regularly) for any kind of name recognition to begin taking hold.
Artists who are attracted to pay-for-coverage types of offers often think they can advance their art careers faster simply by getting their art pictured or written about, and that where they get the exposure doesn't really matter as long as they get it. They also tend to believe that all they have to do is get their art seen, regardless of where, and they'll instantly get the recognition they deserve. But that's not how things work. There's no skipping steps in the art world. Artists still get attention for their art and accomplishments the old fashioned way-- over time and with dedication, commitment, hard work, and an ongoing track record of successes. Recognition and the attention that comes with it have to be earned, not paid for. It's that simple and no more complicated.
Rather than pay for exposure, best procedure is to go after more genuine forms of publicity for your art, aka the kind where your art does the talking rather than your bank account.
* Maintain an up-to-date website and post regularly on social media. These are excellent ways of gauging interest in your art, keeping everyone informed of what you're up to, and showing how serious you are being an artist.
* Seriously consider every offer to show your work (assuming you're not being asked to pay), participate in established juried shows, seek gallery representation, apply for commissions and grants, and get your art seen in communities where you live and work.
* Get to know experienced artists who are established in their careers and who might be willing to give you insight into how the art world works and what it takes to become successful.
* The better you get at making art and the more art you make, the more shows and other forms of exposure you get, the more people will see your art on a regular basis, and the greater the chances that you'll be noticed by those in positions to write articles about you or otherwise feature your art.
Throughout your career, people will try to extract money from you in exchange for all kinds of promises of fame, fortune and recognition. My advice is to walk the other way and let the fame and fortune come as you earn it. No matter what anyone tells you, there's no quick and easy way to make a name for yourself in the art world or to shortcut the process. So save your money, work hard, never stop making your art, and rest assured that one day you will receive the recognition you deserve.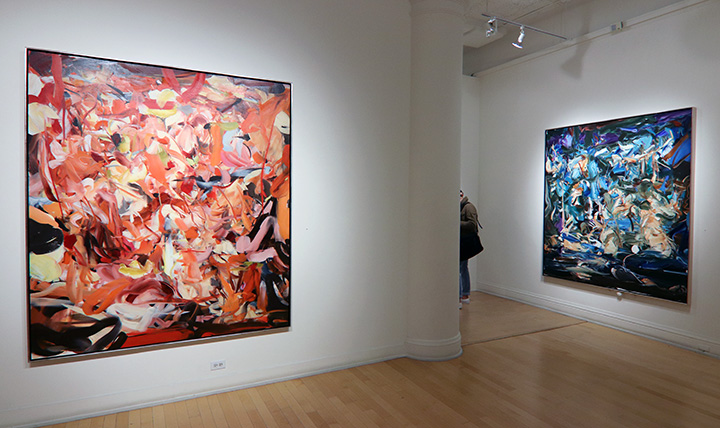 (art by Sherié Franssen)


Current Features
How to Buy Art on Instagram and Facebook
More and more people are buying more and more art online all the time, not only from artist websites or online stores, but perhaps even more so, on social media ...
Collect Art Like a Pro
In order to collect art intelligently, you have to master two basic skills. The first is being able to...
Services for Artists and Collectors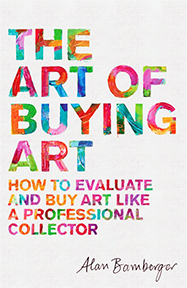 Buy the Book