FTC ART COLLECTION:
MARS-1; TOY RELEASE
OPENING 05.08.04
Comment: Mario Martinez, better known as Mars-1, is a rising talent, well-known among grafitti fans, skateboarders, and streetwise hipsters, and one who the established art community will soon have to remove from its ignore list. He's best known for his paintings of alien-like beings floating in artistic outer space. His latest work shows progressive refinement of detail and mastery of color, creating serene visions of other-world harmony. "That's nice. Now let's party 'til we're catatonic!!!" The evening celebrates a limited edition vinyl figure, an extraterrestrial play pal, designed by Mars-1, and produced by Strangeco, Recon, and Three Zero. It's sixty bucks and, for you speculators, may likely ascend in value as fast as Mars-1 does in his career.
Artist/Artists: Mars-1 (Mario Martinez).
Art.


Art (vinyl figure).


Artist (left).


"Excuse me, but you're standing on my doppelganger."


Art.


Art.


Vinyl.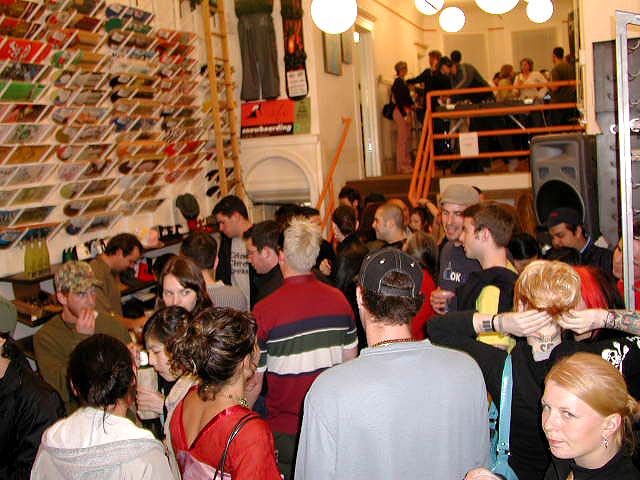 Frolic.


Frontal.

FTC Art Collection, Skateboarding
1632 Haight Street
San Francisco, CA 94117
415..626.0665