Seybold Seminars San Francisco: Giclee Update 2000
Read the latest giclee update, posted September 11, 2003
:
Seybold Seminars San Francisco: Giclee Update 2003
.
The top companies, the latest technologies and softwares, and the best new machines and materials in the world of digital publishing were on display at the Seybold Seminars annual trade show in San Francisco this past September. The event is a major national gathering for those involved in digital media in any form. Most of the exhibits center on commercial business applications, but digital fine artists and fine art publishers were also able to meet with manufacturers of inks, papers, imaging equipment, experts, consultants, and even a handful of artists themselves.
Once again, industry advances are good for the arts on a variety of fronts. General trends in the production of digital fine art prints, also known as giclees, are towards eliminating dot matrix patterns, improved printing speeds, increased resolutions, improved color definition, and increased usage of six-color printers over those that print in only four.
More pigmented inks are coming onto the market and are beginning to take precedence over dye-based inks because they can withstand a wider variety of climates and viewing conditions. Basically, pigmented inks last substantially longer than dye-based before significant fading takes place. Dye-based inks remain capable of printing on a wider range of media and producing better quality images, but the trade-off is that those images begin to degrade in relatively short periods of time. Visual differences between dye-based and pigmented products are minimal, however, and not readily noticeable to average viewers.
High quality pigmented inks are being developed not because the digital fine art print industry wants longer lasting images, but due to demands for relatively weatherproof billboards, building signage, and other forms of outdoor advertising. Related advances in papers and other printing surfaces specially designed to accept these inks benefit digital fine art printmakers as well as commercial concerns. Companies manufacturing pigmented inks include Hewlett-Packard, Lyson, ENCAD , and Roland DGA (who insists on carding you at the website door-- no cookie/no lookie). Lyson's Lysonic Fine Art Papers are also worth checking out.
Digital fine artists use special oversized printers to produce their finished prints. These long tube-like machines stand on the floor and print in widths averaging from 24 to 60 inches. The best models produce amazingly accurate images that are pretty much indistinguishable from photographs. Ink jet dots and color irregularities have been nearly eliminated and are difficult to detect even under magnification. For artists, images produced on equipment that prints in either continuous tone or close to it are definitely the way to go. Make sure you compare and contrast a variety of publishers' finished products before getting serious about hiring anyone to produce your prints.
The new printer creating the most interest this year for digital fine artists is the Epson 9000. Its high resolution, six-color ink system produces state-of-the-art photographic quality images. Other machines worth looking into are the Roland Hi-Fi Jet, the talk of the show last year, and those produced by a company not in attendance at Seybold-- Mutoh America Inc. For those of you thinking about buying a printer rather than hiring a publisher, prices average in the $10,000-$20,000 range, but some of the more aggressive companies have begun to price under the $10,000 benchmark. Mutoh in particular expects to ship models that print in both 24-inch and 36-inch widths with six-color ink sets in early 2000. Both are priced low enough to compete with current four-color, large-format printers from Hewlett-Packard and ENCAD.
A notable exception in competitive pricing is ColorSpan's Giclee PrintmakerFA which costs about $30,000 by itself and runs $40,000 or more with contract and software. The big boxy machine is capable of using pigmented inks and prints on a greater variety of media than competing printers-- some as thick as 24 ml. Paper is mounted and printed on a large rotating drum rather than fed through a thin opening typical of most conventional printers.
For fans of Iris prints, used Iris printers are coming onto the market at prices comparable to lower priced new models from other companies and, in spite of their age, they still produce superior images. Brand new Iris printers remain high-end, costly, and were once again conspicuously absent from the Seybold show. According to industry insiders, they still can't print with colored pigmented inks. This doesn't seem to dampen the spirits of the publishers who use them, however, as ads touting Iris prints consistently pepper arts trade publications. Maybe publishers want to stick with what they've got rather than completely retool with new equipment, but the fact remains that Iris prints don't last as long as those produced with pigmented inks. My personal recommendation for artists as well as collectors is to avoid them until they solve their problems.
The best one-stop resource for current information on ink, printer, and paper longevity data is Henry Wilhelm of Wilhelm Imaging Research, Inc. Results of his latest studies are continually posted on his website. According to Wilhelm, digital fine artists and fine art publishing companies must consider three factors when shopping the marketplace-- inks, papers, and to a lesser extent, printers. Various brands of inks print differently on different papers and printers produce different quality images depending what inks and papers they're using.
Anyone serious about producing high quality fine art images has to evaluate each specific ink, paper, printer, and the resulting finished product all at once. Various brands cannot be freely interchanged under the assumption that they'll work equally well, look equally good, or last equally as long in one combination as they will in another. When negotiating with a publisher, make sure you see samples of finished products produced with the ingredients you've selected before signing any contracts.
The International Association of Fine Art Digital Printmakers is another organization worth getting in touch with for current trade information in spite of the number of times their website attempts to set a cookie in your computer (note posted 11.5.01: the website is not accessible). They post news and press releases, technical information, and names and contacts for galleries that show digital fine art and for companies that publish it. PEI, which stands for Photo>Electronic Imaging, is a magazine that focuses on the artier side of digital technologies and includes everything from how-to articles and product reviews to features on artists. To a lesser extent, Digital Fine Art Magazine is worth taking a look at and is indicative of the interest in the medium, but it's pretty much fluff at this point and doesn't address industry issues in any great depth.
Digital artist organizations are also a great way to stay on top of the industry. Two that exhibited at Seybold are Digital Atelier (email Bonny@Lhotka.com for information) and Graphic Arts Association. Digital Atelier, based in Boulder, CO, is a loosely knit group of artists who not only create digital art, but also conduct research on emerging technologies for themselves as well as for developers who want feedback from the artist perspective. The Graphic Arts Association is a grass-roots organization active primarily in the San Francisco Bay area. Their eleven chapters host over 130 lunch meetings per year where artists and graphic designers can network with other people in the industry. According to one of their members, thousands of jobs have resulted from these get togethers.

Current Features
How to Buy Art on Instagram and Facebook
More and more people are buying more and more art online all the time, not only from artist websites or online stores, but perhaps even more so, on social media ...
Collect Art Like a Pro
In order to collect art intelligently, you have to master two basic skills. The first is being able to...
Services for Artists and Collectors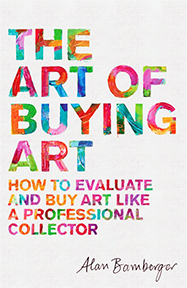 Buy the Book