Seybold Seminars San Francisco: Giclee Update 2001
Read the latest giclee update, posted September 11, 2003
:
Seybold Seminars San Francisco: Giclee Update 2003
.
Late every summer, Seybold Seminars San Francisco becomes the center of world for showcasing the latest advances in publishing technologies. This year's show ran from August 27-31 at Moscone Convention Center and for digital fine artists and artists who reproduce their originals as limited edition digital fine art prints (or giclees), the news could not be better. The three major industry developments are that printer prices continue to plummet, pigmented inks continue to improve in terms of stability and longevity, and the most advanced printers now print in six to eight colors as opposed to the traditional four.
Wide-format printer prices are now so low that, for the first time, artists can consider buying and operating their own equipment rather than farm printing needs out to fine art publishers. Whereas at last year's Seybold show, average printer costs ranged from $20,000 to over $40,000, the latest equipment is now available for $10,000-$20,000 in most cases, and, sometimes, for even less than that.
The bargain surprise of the show (and my personal favorite) comes from EPSON. For $5,500-$6,000, you can own and be up and running on the EPSON Stylus Pro 7500. It accepts media as wide as 24 inches, prints in six colors, has 1440 x 720 dpi resolution, and uses the latest EPSON Archival Inks (pigmented) which are capable of lasting 200 years on a variety of media. The 7500 can print on media as thick as 1.5 mm including canvas, posterboard, watercolor paper, and photographic papers (all supplied through EPSON. If you require wider prints, the EPSON Stylus Pro 9500 offers the same features as the 7500, but prints as wide as 44 inches and costs about $11,000.
If you've got a little more money to spend and are looking for either a larger sized printer or a step up in technology, Roland DGA Corporation is certainly worth checking out. Their top-of-the-line Hi-Fi JET PRO Models FJ-400 and FJ-500 employ the new V8 Printing Technology (variable droplet) and can print in eight colors with dpi resolutions as high as 1440 x 1440. Both models accept media as thick as 1 mm including canvas, PQM Concorde Rag Fine Art Paper, canvas textured paper, and more (all available from Roland). The FJ-400 can print on media as wide as 44 inches and the FJ-500, as wide as 54 inches. Both use Roland pigmented inks which can last as long as 120-130 years depending on the media. Costs of the FJ-400 and FJ-500 are about $20,000 and $22,000 respectively (prices include stand, 8-cartridge ink sets, and a "Take Up System" that rolls finished prints rather than lets them fall from the machine).
By owning your own printer (either alone or with fellow artists), you can take total control over what your finished prints look like. Forget about going back and forth with fine art printing companies over details, and eliminate middlemen. Additional benefits include no confusing contracts to sign, no signing away reproduction rights, and no disputes over royalties. If you regularly produce giclee prints, the equipment will pay for itself in no time. And the printers are easy to use-- in most cases, you simply connect them to your computer, learn how to use the software (tech support is provided by the manufacturers), and you're ready to go.
Several additional notes:
For technical data about how long different inks last on a variety of media before noticeable fading occurs, visit Henry Wilhelm's website, wilhelm-research.com. His fade test results are recognized throughout the digital fine art industry.
DigitalAtelier.com, which bills itself as a "printmaking studio for the 21st century," was again exhibiting at Seybold and, this time, they were demonstrating how to print directly onto silk and then design one-of-a-kind personalized clothing or "digital textile customization," as they call it. DigitalAtelier artists work in both traditional and digital mediums. Their website is definitely worth a visit.

Current Features
How to Buy Art on Instagram and Facebook
More and more people are buying more and more art online all the time, not only from artist websites or online stores, but perhaps even more so, on social media ...
Collect Art Like a Pro
In order to collect art intelligently, you have to master two basic skills. The first is being able to...
Services for Artists and Collectors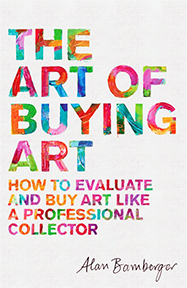 Buy the Book