Seybold Seminars San Francisco: Giclee Update 2003
Seybold Seminars San Francisco showcases the latest advances in digital publishing technologies. This year's show, a shadow of it's peak-dotcom self, runs from September 8-11 at Moscone Center West, and for digital fine artists, photographers, artists who incorporate digital techniques into their art, and artists who reproduce their originals as limited edition digital fine art prints (also known as giclees), it's still worth a visit. The combined trade show and seminar format continues to provide digital artists with current news, product and application innovations, and seminars.
Unfortunately, the section of the show where digital artists display and talk about their art has vanished. HP exhibited a modest selection of digital images artistically interpreting aerial photography, but that was about it. This show is not about art, though, but rather about products used to make it, especially wide-format printers, and the companies that make them, which this year has narrowed to a duel between EPSON and HP.
In virtually every category that serious digital artists care about-- image quality, affordability, versatility, and ink technology-- EPSON, the Aaron Burr of this mismatch, soundly trounces HP. EPSON printers feature 2880 X 1440 dpi, seven-cartridge pigmented ink technology (including light and dark black), and print longevities of up to 80 years for color images and over 100 years for black and whites. The ultra-affordable EPSON Stylus Photo 2200 stands out once again, priced at only $699 and capable of producing images as large as 13 by 44 inches or, for the average user, borderless 4 by 6 inch photos.
EPSON wide-format printers offer the same high-resolution images as the 2200 plus the ability to print on an ever-increasing array of media including canvas. Artbusiness.com continues to recommend two free-standing EPSON printers, the Stylus Pro 7600 with an MSRP of $2995, and the Stylus Pro 9600, at an MSRP of $4995. The 7600 prints images as wide as 24 inches and the 9600 maxes out at a healthy 44 inch print width. The Stylus Pro 10600, reduced $2000 in price from last year to an MSRP of $7995, also maxes at 44 inch widths, and is capable of using a wider range of inks than the 7600 and 9600 (not the light black, though), but is more for speed, prepress, and signage than fine art.
The HP designjet series is also worth a look, particularly if you have to print wider than 44 inches. The 5500 UV 60-inch model, built for UV inks, has an MSRP of $18,495 ($10,495 for the 42 inch model). The 5500ps UV 60-inch model with built-in Adobe PostScript 3 RIP weighs in at an MSRP of $22,500 ($13,995 for the 42 inch model). Drawbacks to these printers are that they only use 6-ink technology, print no higher than 1200 X 600 dpi, and, of course, cost more. But the HP people are quick to point out that these shortcomings have deterred neither Peter Max, Thomas Kinkade, nor The National Gallery of Britain from using them. Go figure.
Pics from the event: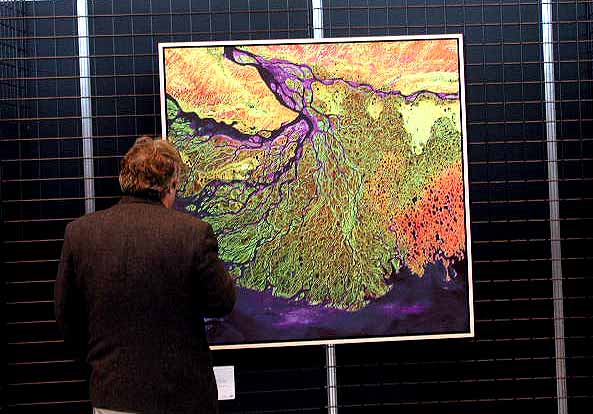 Airy art from HP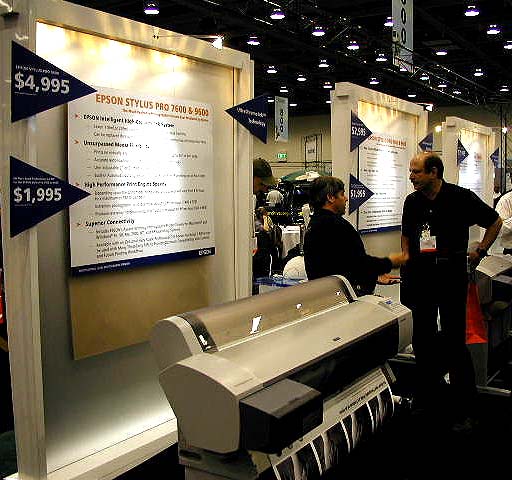 EPSON'S big gun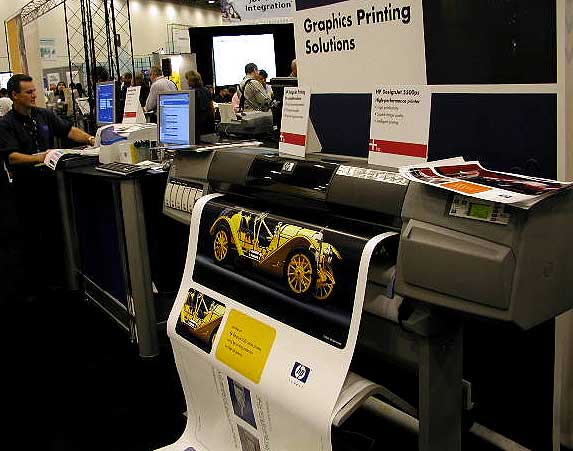 HP's longer-but-that's-about-it challenger
For a technical look at the world of digital prints, inks, and printers, visit Henry Wilhelm's website, wilhelm-research.com.
For a rundown on the San Francisco show, visit the Seybold San Francisco 2003 website.

Current Features
How to Buy Art on Instagram and Facebook
More and more people are buying more and more art online all the time, not only from artist websites or online stores, but perhaps even more so, on social media ...
Collect Art Like a Pro
In order to collect art intelligently, you have to master two basic skills. The first is being able to...
Services for Artists and Collectors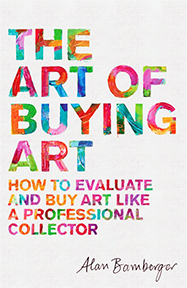 Buy the Book