HEATHER MARX GALLERY: DANA DEKALB; SOCIAL STUDIES
OPENING 11.20.03
Comment: Odd art. Bits of surreal, strange, fantasy, naive, beige, regionalism, Hopper; isolated people with blank expressions on their faces doing mildly unsettling things in lonely landscapes (imagine Ralph Nader and Yasser Arafat sharing a baloney sandwich at a cotillion-- on second thought, don't). Neatly painted, textured and glazed, imparting richness, depth, and atmosphere, but still weird.
Art: 7 dream scenes.
Crowd: 6 Bransten spillovers.
Vibe: 6 curious bystanders.
Artist/Artists: Dana DeKalb.
Art.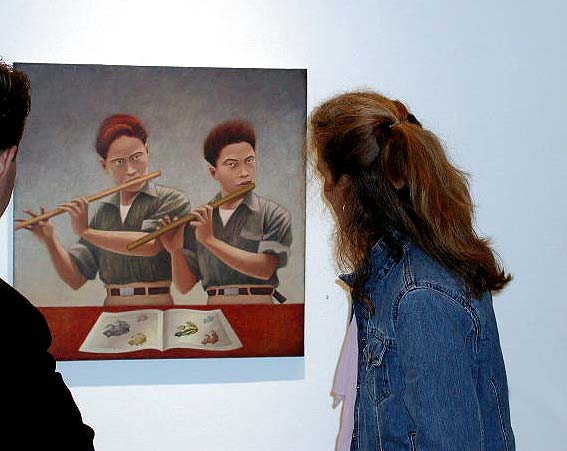 Art.


Art.


Art.


Art.


Art.

Heather Marx Gallery
77 Geary Street
San Francisco, CA 94108
415.627.9111