MISSION ARTS PARTY:
TRIPLE BASE GALLERY, ARTO TECH GARAGE, THE LIL' GARAGE, PORFILIO IS
HAPPENING 01.16.04
Comment: Pulse from Mission deep includes art, music (Latino, Brazilian, other), dance, "live painting," poetry, party, and more, as a handful of spaces unite once a month to form a mini-culture zone. The art is a mix, the artists younger, with Triple Base, an artist studio doubling as a small gallery, showing the most sophisticated stuff; Porfilio Is, a warm easy meeting scene, showing a compentent but somewhat pricey variety-pak; and Auto (Arto) Tech Garage, a genuinely unique space showcasing art, live music, car parts, vehicles on lifts, good crowd. The Lil' Garage, barely larger than a compact car, rounds out the scene along with its annex, The Back Room Bunker, a twisty walk through a tiny door at the garage rear (watch your head), down a winding concrete path, past the plumbing, over an old door laid down to cover who-knows-what, and into a subterranean mini-venue with live music, overhead pipes (watch your head), and fresh sheetrock. Improving nightlife through art.
Artist/artists: Various.
Here it is.


Lil' Garage - Lil' table.


Auto (Arto) Tech curator.


Arto Tech interior.


Arto Tech overview.


Porfilio Is.


More Porfilio.


More Porfilio.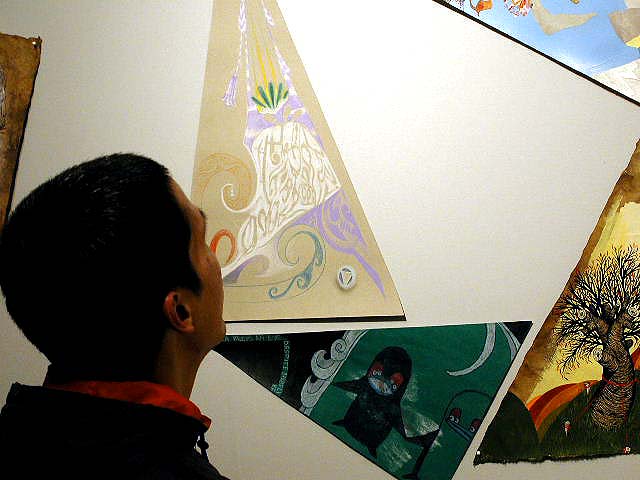 Triangle art at Triple Base.


Triple Base frontage.

Triple Base Studio and Gallery
3041 24th Street
San Francisco, CA 94110
415.643.3943
Auto Arto Tech
3166 23rd Street
San Francisco, CA 94110
415..377.9121
The Lil' Garage & The Back Bunker
"Right next to Arto Tech Garage"
Porfilio Is (Mission Art House)
2698 Folsom St.
San Francisco, CA 94110
415..826.2402
Wanna go to the next Mission Arts Party? Email Sfmap@hotmail.com