Pay a Company to Market Your Art?
Q: I'm in contact with a company that markets art and artists. For several thousand dollars, they create a mailer that includes a color brochure, an 8 by 10 inch photograph of my work, a cover letter and a resume. They give me several hundred mailers for my own use and they also mail out over 500 to dealers, galleries, publishers, consultants and others who they tell me will have an interest in my work. The also say they send to an email list with several thousand more names. For a lot less money, I can put together my own mailer. And for a lot less money than that, I can continue to post and advertise on social networking websites. Which do yo think I should do?
A: To begin with, the days of artists promoting themselves and their art by mail are at best numbered (I happen to think they're over). All mail does is clutter up the office. These days, hardly anything beats a good website for introducing and presenting your art and in fact, websites have taken over the functions of old-fashioned artist portfolios. In combination with all the social networking options now available to artists, hard-copy letters, announcements, brochures, postcards and packets make little if any sense. Online you can reach everyone everywhere; with mailings, your audience is limited to the size (and more importantly-- quality) of your mailing list. That said, plenty of artists still believe in mailers-- as my mailbox so attests-- so for those of you who do, kindly read on.
Right off the top, I have a hard time believing that over 500 dealers, galleries, publishers and consultants will be interested in any artist's art unless that artist is really really famous. And if an artist is really really famous, the last thing they need is new people to market their art. What they probably need is more art because they most likely can't meet the demand for all the collectors who want it now. So I'm immediately suspicious of any such offer. But if you still want to pursue this, avoid the temptation to get carried away with all the promises and investigate the situation first.
Speak with a representative of this company and check their references the same way you would anyone else who you are thinking about doing business with. Find out how many artists they've promoted in this manner. Request names of at least ten, contact at least five personally, and find out whether they're satisfied with the results. A respected established marketing firm with a successful track record won't hesitate to provide references. If they're at all reluctant to answer your questions or are only willing to give out a name or two, think seriously about taking your business elsewhere.
Ask the artists they refer you to how much new business they got as a direct result of this company's mailings and emailings. Find out whether or how quickly they recouped their initial investments. Ask how the firm is to do business with in terms of promptness, cooperation, quality of work, customer satisfaction and so on.
In addition to providing artist references, have the company send you samples of mailers and emails they've created for other artists so you can see the quality of their work firsthand. Once again, if they refuse, it's probably a good idea to end the conversation. If they do provide you with samples, look over the similarities and differences between mailers. Mailers and emails that all look pretty much the same in terms of layout, wording, and other respects mean that the company is not individually customizing, but rather running an assembly line type of operation. It also means the names on the their mailing and emailing lists are likely receiving identical mailer after identical mailer or identical email after identical email, and are probably not taking the company or its artists very seriously. Variety and customization between mailers and emails is what you're looking for.
Lastly, ask for names of at least ten dealers or galleries in your city or region that the company regularly mails or emails to and find out how likely they are to respond, whether they pay any attention to them, or whether they even receive them in the first place. If the company is at all hesitant here, it's probably best not to do business with them. As an aside, I once asked a company that claimed distribution to over 10,000 international dealers, collectors, critics and other influential art people for names of galleries in San Francisco that were on their mailing list. They sent me a list which included galleries that hadn't been in business for over 20 years, dead people, and galleries that had changed addresses multiple times since they were at the addresses on the mailing list. It was also completely unfocused and included all kinds of galleries selling all kinds of art. In short, the list was practically useless.
Now assuming you're able to reach the contacts they give you, ask whether the company's mailers and emails are received individually artist-by-artist or bulked together (the more artists are grouped together in a single mailing or email announcement, the less attention each artist receives). Find out how many artists they've received information about, how many they've contacted, how much business has resulted and how successful those relationships have turned out to be. Look for signs that the company is respected and regarded as a quality resource for introducing new artists who they go on to represent or otherwise show at their galleries.
Regarding producing and distributing your own mailer, this is only a good idea if you enjoy designing promotional materials, are good at it, and willing to take on the numerous responsibilities involved in distributing them. You may save money, but you'll be investing plenty of time writing and laying out your brochure, finding a company to produce it, having it printed, locating names of potential customers, doing mailings, making follow-up calls, and so on. Plus the fact that these days, email newsletters, brochures or announcements are so much cheaper and easier. And as mentioned at the top of the article, mailings make less and less sense the more the Internet evolves as the primary means for artists to reach new audiences with their art.
If after all this, mailers are sounding less and less appealing, save your time and money and continue making contacts the old fashioned in-person way and invest some serious time in upping your profile and audience on the Internet. There's no quick fix; you just have to keep at it, get to know as many art people as possible, approach them when doing business seems to make sense, and don't let rejections get you down. In most cases, galleries, representatives, curators, consultants, publishers and collectors are no more responsive to slick mailings than they are to email announcements or clean, well organized, easy-to-navigate websites that effectively present your art, resume, bio and other relevant information. These people know what types of art they're looking for regardless of its packaging or presentation (assuming basic neatness, clarity and organizational requirements are met) and don't expect expensive or sophisticated marketing campaigns. Getting your art out there takes great dedication and loads of hard work, but keep at it and sooner or later good things will happen.
(art by Mario Martinez aka Mars-1)

Current Features
How to Buy Art on Instagram and Facebook
More and more people are buying more and more art online all the time, not only from artist websites or online stores, but perhaps even more so, on social media ...
Collect Art Like a Pro
In order to collect art intelligently, you have to master two basic skills. The first is being able to...
Services for Artists and Collectors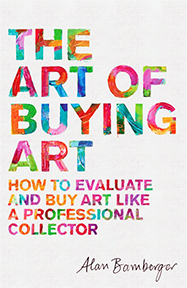 Buy the Book