PHOTO SAN FRANCISCO OPENING NIGHT
photo san francisco 2001, the second annual San Francisco Photographic Print Exposition, is being held July 26-29, 2001 at the Herbst Pavilion at Fort Mason Center, directly on San Francisco Bay. The show opened Thursday July 26 with a preview party to benefit The SoMa Partnership, a nonprofit organization that offers pre-employment training to qualified homeless residents who are recovering from alcoholism or drug dependency. Plenty to eat and drink, great chit-chat, complimentary Golden Gate Bridge view, the finest in vintage and contemporary photographic images, superior people-watching, luminaries galore, miscellaneous hors d'oeuvres and beverages, and even a little buying and selling made the evening a complete success.
This important exhibition features 75 top international dealers of vintage and contemporary photography coming from as far away as Czechoslovakia to show exquisite images from all time periods and of all disciplines. Highlights include a lecture by Richard Misrach; on-site collecting seminars with Tim B. Wride, Associate Curator of Photography, Los Angeles County Museum of Art, Amanda Doenitz, Photography Specialist, Christie's Los Angeles, and John Bennette III, private collector; and a panel discussion on collecting moderated by Douglas Nickel, Curator of Photography, San Francisco Museum of Modern Art.
For dealers and collectors alike, thousands of photographs are available for sale with prices ranging from under $100 for images by minor photographers or decorative photogravures to over $200,000 for masterworks by the most famous photographers of all time. Most dealers exhibit a wide range of images, but at the same time specialize in particular photographers, time periods, or geographical regions. Participants and attendees include:
Jiri Jaskmanicky and Rene Roubik of the Czech Center of Photography, Prague, Czechosolovakia, dealers exclusively in Czech photograhy of all time periods.


Susan Hertzig of Paul M. Hertzmann, Inc., San Francisco, (not necessarily in that order), client unidentified, under the watchful eyes of Bourke-White's 'Fazenda Rio das Predas,' 1936, $25,000.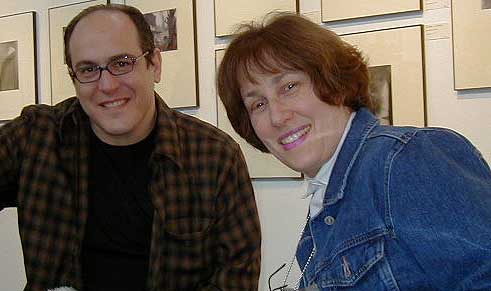 Steve Turner, Beverly Hills gallery owner, and Victoria Dailey, author, publisher, and influential analyst of Southern California cultural history, checking out the offerings at William Schaeffer Gallery, Chester, CT.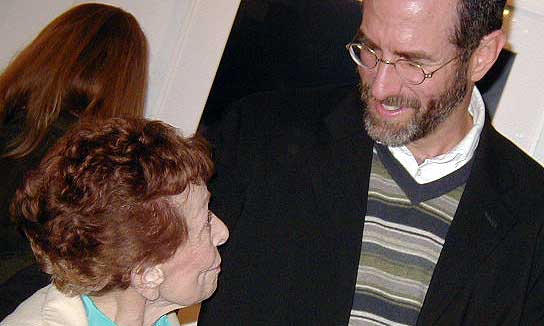 Ruth Bernhard, who introduced her autobiography, Between Art and Life, a memoir and recipe for elderly enjoyment, is cornered by an effusive admirer.


Stephen Daiter of Chicago, flanked by Gyorgy Kepes, Untitled 1939-41, $6500.
Refreshment review: Plenty of cheeze, not enough knives.