Davenport's and Gordon's-- Best Art Price Reference Books; Who's Who in American Art-- Best Contemporary American Artist Dictionary
CLICK FOR DAVENPORT'S 2009/2010 EDITION REVIEW
Davenport's Art Reference & Price Guide justifiably bills itself as "the comprehensive and authoritative book on international artists providing auction dates, prices plus biographical data for over 175,000 artists." Now in its twelfth year, it has matured into one of the most consulted art reference books anywhere. When someone asks me about an artist I'm not familiar with, Davenport's is often the first book I check.
The great advantage of Davenport's is that it's a convenient one-stop shop for both price information and biographical data. No other single reference provides so much so fast. Back in the old days, art researchers had to check artist indexes and price compendiums separately in order to accomplish the same amount of work. This is no longer the case and consequently, a number of once prominent artist indexes are gently fading into the background.
Editor R.J. Davenport's criteria for artists to be listed in his book are that their art has either sold at auction houses that produce catalogues and publish results or that they are listed in at least one of the major artist dictionaries and encyclopedias that Davenport has chosen to index. The great majority of entries include artists' full names, birth and death dates, nationalities, specialty subject matters, sample selling prices, dates of sales, names of sellers, brief biographical information, and dates indicating the most recent years that information was updated.
Keep in mind that Davenport's is a price guide and not an auction record compendium. Its purpose is to provide brief overviews rather than complete market information. In order to accurately assess an artist's current market status, it should be used carefully and in conjunction with comprehensive auction record indexes, art gallery sales records, and sources of more detailed biographical information.
The only weak point of Davenport's is that some artists values are given as price ranges rather than actual auction sales. Davenport acknowledges this in his introduction and notes that these ranges "should be considered with skepticism because of lack of information." Other than that, the book is fantastic. If you can only afford to buy one major art reference this year, seriously think about making it Davenport's Art Reference & Price Guide.
Davenport's Art Reference and Price Guide, 1997/98 Edition edited by R.J. Davenport, Davenport's Art Reference, Camarillo, CA, 1997, 2 volumes, hardbound, 1730 pages, 9 by 12 inches, $175. Available from Davenport's Art Reference, 1048 Palmetto Way, #A, Carpenteria, CA 93013 or phone 1-805-684-0109.
***
For twenty years, Gordon's Art Reference, Inc. has published the best print price references available. Their flagship publication, Gordon's Print Price Annual is considered by experts the world over to be the leading guide to print prices at auction. It records all major sales of old master, modern, contemporary and Japanese fine prints; illustrated books and books with original graphics, vintage posters, and decorative prints like maps and botanicals. The current edition, Gordon's Print Price Annual 1997 contains 37,006 entries of prices realized and buy-ins for prints sold at auctions worldwide during 1996.
Several significant differences place Gordon's above other auction record compendiums that also catalogue print sales. These include providing descriptions of condition, margins, image, and verso; grouping identically titled prints together rather than spreading them throughout an artist's price results according to sale date, translating titles when necessary so that titles of identical images all appear in the same language, and cross-indexing prints by title and catalogue raisonne number. If you're serious about prints, Gordon's Print Price Annual is the only way to go.
Gordon's is also reintroducing Lawrence's Dealer Print Prices, last published in 1994. Lawrence's 1997 contains over 35,000 retail print prices obtained from dealer catalogues around the world. Many of these prints are currently available for sale and thousands are priced at under $100. Not only does this book make a perfect reference for comparing retail prices to auction results, but it also serves as a huge mail order catalogue that can be used to shop for prints or subscribe to dealer catalogues from around the world. In no other field of antiques or collectibles can you find a single reference that catalogues so many actual retail prices.
For you photography collectors, Gordon's International Photography Price Annual 1997contains over 5,000 entries of photographs sold or bought-in at auction worldwide in 1996. Entries are organized by photographer and image title and include information about signatures, negative and print dates, selling prices in three currencies, and whether or not images are titled or annotated. The price of this reference is a reasonable $65.
Gordon's also publishes CD-ROM's for those of you who prefer computer research over book research and would rather have hundreds of thousands of records at your fingertips than tens of thousands. All CD-ROM's are available for both Windows and Macintosh.
Gordon's Print Price Annual, 1997 edited by Jane Ballard, Gordon's Art Reference, Inc., Naples, FL, hardbound, 1340 pages, 8 3/4 by 11 1/4 inches, $225. Available from Gordon's Art Reference, Inc., 306 West Coronado Rd., Phoenix, AZ 85003-1147 or phone toll-free 1-800-892-4622.
***
Who's Who in American Art is the number one biographical reference for quick, concise, and accurate data about living American, Canadian, and Mexican artists. The 1997-1998 edition contains 362 new entries and 11,200 revised and updated listings. Biographies are arranged alphabetically, cross-indexed by geographic location and professional classification, and include information like exhibitions, awards, commissions, collections that own the art, publications that the artists have either written or appeared in, contact information, and teaching positions. A necrology is provided at the end of the book, cumulative from 1953, so that artists who were once listed but no longer are can be located in previous editions.
Who's Who in American Art is not only good for locating artist biographical data, but also for finding out about art related professionals like writers, curators, historians, conservators, and consultants. Those of you who have art for sale can even use the WWAA to read about and locate major collectors. Addresses and/or contact information is provided for all listees.
Anyone selected for possible inclusion in WWAA is subjected to stringent application and examination processes. Unlike a number of other biographical directories, no amount of money can buy you an entry here. Among the acceptance requirements that must be met, qualifying professionals must either hold positions of responsibility or have attained significant achievements in their fields.
Unless you're dealing in contemporary American art full-time, WWAA may be somewhat of a luxury purchase for your home or shop reference library, but you should certainly have access to one through your local public, college, university, or art museum library.
Who's Who in American Art, 1997-1998, 22nd Edition, Marquis Who's Who, New Providence, NJ, 1997, hardbound, 1515 pages, 8 3/4 by 11 1/4 inches, $210. Available from Marquis Who's Who, Reed Elsevier New Providence, PO Box 31, New Providence, NJ 07974 or call toll-free 1-800-521-8110.

Current Features
How to Buy Art on Instagram and Facebook
More and more people are buying more and more art online all the time, not only from artist websites or online stores, but perhaps even more so, on social media ...
Collect Art Like a Pro
In order to collect art intelligently, you have to master two basic skills. The first is being able to...
Services for Artists and Collectors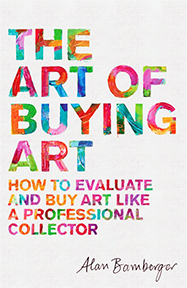 Buy the Book