PUNCH PRESENTS GALLERY
RAW STICHES, 2 X 2 PAINTINGS ON DENIM
OPENING 12.18.03
Comment: Group show consisting exclusively of works of art on 2 x 2 square foot pieces of denim, most stretched on stretcher bars like canvas; mostly paintings, mostly good, several outstanding, a few ho-ho-ho-hummers. Prices all over the place. Another positive contribution from Punch Presents in conjunction with 55DSL.
Art: 8 dungaree delights.
Crowd: Too early to tell, but promising.
Vibe: Stylish turntablist tuneology.
Artist/Artists: Derrick Hodgson, Michael Sieben, Anton Lopez, Travis Millard, Rich Colman, Ben Woodward, Max Lawrance, Robert Mars, David Choe, Scott Herskovitz, Andrew Jeffrey Wright, SSUR, Maya Hayuk, Daniel P, Andy Howell, Deanne Cheuk & Andre Wiesmayr, Craig Metzger, Rik Catlow, Keren Richter, Anthony Yankovic, Keith Shore, Thom Lessner, Tiffany Bozic, Justin Kauffmann, Chris Yormick, Matt Rodriquez, Buff Monster, Sam DeLaRosa, Issac Lin, Jen Leong, Jim Houser, Tyler Paulhus, Deth P Sun, Damon Soule, Bradie Shemke, Brandy Flower, Kamau Patton, Ha Ha, Neckface, Cody Hudson.
Art.


Pick.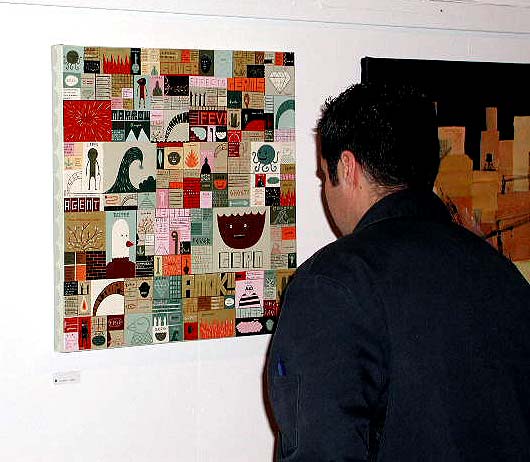 Pricey pick.


Art.


Art.


Art.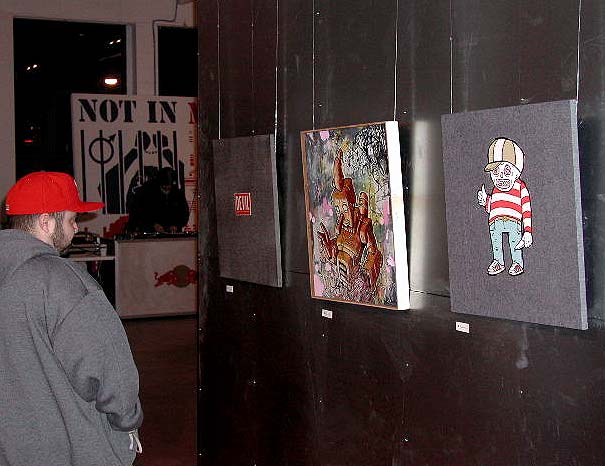 Art.


Spread.

Punch Gallery
155 10th St.
San Francisco, CA 94103
415.522.5555