Rene di Rosa (1919-1010)


NAPA, CA-- October 4, 2010. Di Rosa, a public museum and sculpture park, regrets to announce the passing of beloved founder Rene di Rosa. Mr. di Rosa died at age 91 on the evening of October 3, 2010 at his home in Napa. His legacy of support for artists in Northern California is carried on through his extensive art collection and 217 acre estate in the Carneros region of the Napa Valley which opened to the public in 1997.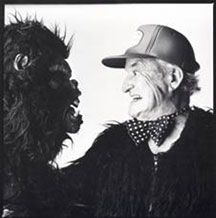 Rene and Gorilla (photo c/o Jock McDonald)


A legendary philanthropist, art collector, and vineyardist, Rene di Rosa was born May 14, 1919 in Boston--the only son of Maude Cupples Scudder and Italian Consul Gustavo di Rosa. He graduated from Yale University where he served as editor of the Yale Daily News. After serving in the US Navy, Rene moved to Paris where he hoped to write the "great American novel." The book failed to materialize, but life on the Left Bank sparked his lifelong admiration for artists, and he purchased his first painting before returning to America and settling in San Francisco. He took a job as general assignment reporter for the San Francisco Chronicle.
During the late 1950's, Rene took a lively interest in the North Beach art community associated with "the Beats" in San Francisco. His interest in the arts was nourished by the independence and iconoclasm of that era. Rene di Rosa followed his passions, freely ignoring fashions, trends, or the opinions of art world experts and remained true to his personal vision during the ensuing five decades of acquiring what is considered the most significant holding of Bay Area art in the world. During his life he served on the board of the San Francisco Museum of Modern Art, the National Advisory Board of the Whitney Museum of American Art, and was the recipient of many honors and awards for his patronage, including an Honorary Doctorate from the San Francisco Art Institute.
Rene di Rosa was also a pioneer grape grower in the Napa Valley, and later became active in environmental movements and philanthropy. In 1960, he purchased a 450 acre parcel in the southern reaches of the Napa Valley in an area that subsequently was accorded the Carneros appellation. In a region that had been forgotten after prohibition, Rene turned his Winery Lake Vineyard into one of the finest California vineyards, fetching some of the highest prices for its grapes. He converted the historic stone winery on the property into a residence, moved in as a permanent Napa resident, and filled it with art.
Rene took viticulture classes at the University of California at Davis where he would often wander into the art department. There he met many of the artists who have become the backbone of the di Rosa collection. Such well-known artists as Robert Arneson, Roy De Forest, Manuel Neri and William T. Wiley were young art teachers at Davis when they first met di Rosa in the mid 1960s. The intense creativity and spirit at Davis also included students of these artists such as John Buck, Deborah Butterfield, David Gilhooly, Bruce Nauman, and Richard Shaw.
Robert Hudson, Rene di Rosa, Robert Arneson, William Wiley (photo c/o Jock McDonald)


In 1974 Rene married Veronica Pridham McDonald, a Canadian-born painter and sculptor. She shared his passion for art, entertaining, and Winery Lake, and the couple continued to add works by old friends and new discoveries to their house and grounds. In 1982 they created the Rene & Veronica di Rosa Foundation, with thoughts of someday making their home into an art and nature preserve. The vineyards and Winery Lake's reputation flourished, and in 1986 di Rosa sold the planted half of his property to Seagram (owner of Sterling Vineyards and Mumm Napa Valley). Freed from the responsibilities of farming and with a substantial nest egg from the sale of the vineyards, di Rosa continued his quest for emerging and undiscovered talent while acquiring the necessary use permits and developing a building program for housing the collection and making it available to the general public.
In March 1997 the di Rosa Preserve, now known as di Rosa, opened its doors for the first time, becoming incorporated as an independent non-profit organization in 2000. Open space easements were established with the Land Trust of Napa Valley, protecting the property's open spaces from development in perpetuity. Today di Rosa offers a year round program of changing exhibitions, lectures, and educational activities in the four gallery buildings and exquisite grounds surrounding the lake. Rene di Rosa retired from his role in day to day management with the birth of the nonprofit museum in 2000 and continued to serve as Chairman of the Rene & Veronica di Rosa Foundation Board of Directors.
Rene di Rosa is survived by first cousin Rosalie Ewing of St. Louis and step children Andrea Flaa of Vancouver, B.C. and Jock McDonald of Pasadena, CA. He is gratefully acknowledged by the many artists and art lovers whose lives he has deeply influenced. Services will be private but a public celebration of his life and legacy at di Rosa is being planned for a later date to be announced. In lieu of flowers, contributions to di Rosa would be appropriate and greatly appreciated. Condolences and donations may be mailed to: di Rosa, 5200 Sonoma Hwy, Napa, CA 94559 or contact ann@dirosaart.org.

Current Features
How to Buy Art on Instagram and Facebook
More and more people are buying more and more art online all the time, not only from artist websites or online stores, but perhaps even more so, on social media ...
Collect Art Like a Pro
In order to collect art intelligently, you have to master two basic skills. The first is being able to...
Services for Artists and Collectors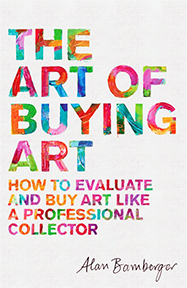 Buy the Book