Sell Your Art

At Online Auctions

Like eBay - Selling Tips
(Note: This article was originally written for collectors who buy and sell art at online auctions, but the version here is written especially for artists who want to sell their own art at online auctions. Artists interested in this topic should also read You Can't Sell Your Art Until You Learn How to Sell It.)
***
These days, millions of works of art are for sale online, many of them at online auctions-- over 7 million listed on eBay alone, with many thousands listed by the artist-- which means the competition to sell is intense and international. Smart artists with online auction selling experience are aware of this competition as well as of their odds for success and have developed various strategies and techniques to minimize competition, maximize the number of people who see their listings, encourage bidding, and bank the bucks when the time comes to cash buyers' checks.
The most important aspects of successfully auctioning your art online are knowing how to photograph it, describe and present it, and understanding who might like it and how much they'd be willing to pay. As in the bricks-and-mortar world of galleries, art fairs, direct sales, and auction houses, this involves honestly evaluating your art's quality, significance, and most salable characteristics. You also need to have a reasonable idea of its desirability and value in the marketplace. How do you do this? By researching comparable works of art on auction sites BEFORE placing yours up for sale.
You see, basic details about your art like how much it's worth in the marketplace along with information about you, the artist, are essential to effective selling, and must be presented in ways that give it the best exposure and attract the most bids. Not knowing how to present and describe what you're selling, or being incomplete in your descriptions, or providing poor photographs, can substantially reduce the number of people who see it as well as reduce the price it will ultimately sell for.
Even though you may already have a sense of what your art sells for in retail settings, now you have to do comparison research at online auctions and estimate what it might sell for there. Auction and retail prices are not necessarily the same. Your goal is to familiarize yourself with the auction market for your type of art, how much it generally sells for, and how more successful sellers present and describe their art. The following pointers will help you present your work and maximize your online auction bottom line.
Initial Research
Focus your research on art that's being sold directly by the artists. On eBay for example, search strings "art from artists" or "art by artist" or go to the page "https://www.eBay.com/b/Artist-Listed-Art-Paintings/551/bn_78175639" to focus your search. You can also experiment with other search strings to limit your results to artists selling their own art.
Next, make a list of keywords you think might accurately describe your art. These might include your name; the city, state, region, or country where you live; the type of art you make, the subject matters, materials, mediums, and other pertinent details. One-by-one, type these keywords into an online auction search engine like on eBay, for example, and see what kinds of art comes up (on eBay, you can narrow your matches by selecting specific types of art in the "Category" section at the left of the results window and limit them to ART or even types of art). Pay the most attention to those search terms that bring up good selections of art that's similar to yours, especially by artists who are selling successfully.
Also check to see what keywords artists who sell well use in their descriptions; you'll probably come across some pretty good ones that you hadn't thought of. If they accurately describe your art, add them to your list. Searching one keyword at a time at the start will likely get you hundreds or thousands of matches per search. Eliminate those keywords that don't show art similar to yours; keep those that do. Gradually narrow your keyword selection to those that work best for your art. Use those that bring up the most similar works to yours.
The next step is to start combining your best keywords into searches and seeing what kinds of art come up in the results. Your goal is to make sure your art appears in the same search results as similar artist-direct art, especially art that sells well. This process may take a while, but the upside is that refining your keyword list assures that serious buyers will see your work.
If you spend any time at all on auction sites like eBay, you'll realize that successful sellers have not only refined their keywords to ones that work, but have developed effective descriptions as well. The quicker you how to work keywords into descriptions of what you're selling, the better. This is how you attract the most viewers, and more importantly, the most potential buyers.
Listing Your Art: The Title Line
No matter where or what you're selling, the title line is the most critical part of your auction listing and the best advertisement for your art. On eBay, for example, the title line can have a maximum length of 80 characters. Use every single one of those characters wisely. Well-chosen title lines are what drive lookers, bidders, and buyers to your art. The most descriptive words from your keyword list should be in every item title line.
Pack your title line with as many keywords as possible. Try different combinations in order to make the most sense and get the most words into the limited space available-- and come as close to the allowable 80 characters as possible. If you only use 40 of the 80 characters, for instance, you reduce the number of people who will see your art. The more well-chosen keywords you can fit into your title line, the more viewers will see your art. It's that simple. Your art likely appeals to more than one type of buyer so what you are doing here is making sure your keyword selection takes as many buyers as possible into account. For example, a painting of a sailboat might be described with keywords that appeal to both nautical enthusiasts and art buyers.
Avoid use of space-wasters like "rare," "fantastic," "important," or "famous" in your title line. They may look great and make your art seem special, but they're words that serious bidders and buyers hardly ever type into search engines when looking for art. Every single title line word you use should provide specific information about your art, not generalities.
Grammar doesn't count in title lines, but spelling does. Avoid words like "the," "and," and other connectors that may please your English teacher, but only waste space and don't help people locate your art. Misspell a keyword, however, and you can lose hundreds of potential viewers, so make especially sure everything's spelled right. And never abbreviate important keywords in title lines; most people do not search using abbreviations.
If you're not that well-known and are just starting out at online auctions, focus your title line on the type of art you create and the keywords that accurately describe it rather than taking up precious space with your name. For example, a little-known artist just starting out might use a title line for a painting of a coastal scene that reads "Pawley's Island Beach Marsh Pier Coast Art Oil Painting" rather than "Pawley's Island Beach Painting Herbert Williams Artist." Don't worry-- you can talk at length about who you are, your credentials and what you've accomplished as an artist in the description portion of your listing. When you become better known, then make sure to include your name in every title line because at that point, buyers will be searching specifically for art by you.
Setting Minimum Opening Bids and Reserves
Researching prices is a key part of your research. Start by studying relevant completed sales as well as current ongoing sales to see what sells and what doesn't. You can see recently completed sales results for any search on eBay by locating the "Show only" option towards the bottom of the "Categories" column to the left of the search results and clicking "Completed listings" (sold prices appear in green; unsold prices in black; prices with green lines through them mean a "best offer" below the asking price was accepted).
You can refine price results further by clicking "Sold listings" to see only what sells. Other auctions sites have options for viewing completed sales as well. Completed sales give you the most accurate idea of what your art will likely sell for and show which artists are actually selling it. You'll also see what art didn't sell, and begin to get a sense of what price ranges and asking prices appear reasonable and make sense for your art. Sales in progress are worth watching too, not in terms of final selling prices, but more for learning how bidding progresses on particular works of art.
As you continue with your "completed sales" research, you'll gradually get an idea of what art similar to yours sells for online, how common it is, how many different artists are selling it, and how much competition you'll likely have when the time comes to list your art and set your minimum bids. To do this on eBay, go to the "Sort" box on the right just above the search results and arrange those results in order of descending selling price, from highest to lowest. Arranging the art in highest-to-lowest order shows not only which art and artists get the highest prices, but also what types of title lines, descriptions, compositions, mediums, and images help fetch those prices-- and more importantly, how the most successful artists present and describe themselves and their art.
By now, you should have a pretty good idea of what art like yours sells for. A good strategy is to set your minimum opening bids and "reserves" (the lowest price you're willing to sell for) at somewhat less than the amounts you see similar art and artists selling for, but not so low as to compromise how seriously people take our work (you'll get a better feel for what these values should be as you get more experienced listing and selling work).
Most artist-direct art at online auctions sells in lower price ranges, so keep that in mind. The lower you can afford to set your minimum bids and reserves, particularly if you're just starting out, the more affordable and competitive your art appears, and the more bids it will likely attract. Setting minimum opening bids or reserve prices too high often discourages bidding and scares bidders away-- so don't do that. You want bidders to feel that if they participate, they'll at least have a chance to win your auctions, possibly even at attractive and affordable prices.
Offering smaller works at affordable prices is generally a good idea especially if you're new to online auction selling. Artists who ask for too much money often fail to sell, worse yet, dozens and sometimes hundreds of bidders watch it fail too. Bidders generally like to buy from artists who sell. Seeing art sell is ALWAYS better than seeing it fail to sell. Bidders tend to remember art and artists when they see the art come up for sale again and either bid or don't bid based in part on past sales results. If they see your art hasn't been selling, they may bid low or not bid at all. So do whatever you have to do to make sure your art sells.
Timing Your Auction
Time the end of your auction so that bidding closes when most people are at home and available such as Sunday, Monday, or Tuesday during the early to mid evening hours. Some bidders use special software to automatically place final bids or have eBay place automatic bids for them so they don't have to be present when sales end. But many bidders still sit in front of their computers or are on their phones as sales end and may bid manually at the last second especially if they really like what they're bidding on. The more potential bidders who are able to be online at the close of your auction, the higher the final bids tend to be.
Use the longest time duration available for your online auctions (eBay has various length options for auctions ranging from one to ten days). You want to give people as much time as possible not only to find your art, but also to learn more about it and you, and decide how much they want to spend. The more people who have a chance to see and bid on your art, and the more comfortable they feel about bidding, the more money the art tends to sell for. As you get more experience and develop a better sense of who's buying what for how much, you might also include an option to "Buy it now" at a certain price, allow bidders to make offers, or list your art at fixed prices.
Showing Images of Your Art
Use good clear accurate images to show your art. Bidders want to see details. Show the entire piece, a detail shot or two, and any other important or standout or special areas of your work that people generally ask to see or like to see. Even include images of the back, base or edges if you think those might help. Good quality images help sell your art better and, most importantly, net you higher prices. So make them look professional. Also, keep background noise to a minimum-- showing the art against a plain background is preferable. And if it's framed or comes with other display options, show everything-- frames, stands, pedestals, etc. You can even show what it looks like on display in an interior.
Every image should be beautiful. Avoid blurry photos or ones that are too small, have flash glare, reflections, or other viewing problems. Poor quality images can actually work against you. People who can't clearly see what they're bidding on tend either to bid low or not bid at all. And make sure your images magnify clearly so bidders can get a good idea of what your art looks like closer up when they choose the magnifying option.
Describing Your Art
Be truthful when you describe your art. Accurately describe the work, talk about it in the best most enticing ways possible. Never misrepresent, bend the truth, play with words, or deliberately leave out important information or details. Stick to the facts. Avoid making statements about the importance or significance of your art unless you can back them up with facts. Keep the tone of your description upbeat, call readers attention to the what your buyers generally like the most about your work, and don't talk down to bidders or place numerous restrictions on how they should behave, when they shouldn't bid, or how or when they are allowed to contact you. In other words, be as open, welcoming and accessible as possible. The easier you are to reach, the better.
Facts about yourself, your career and your art are always good to include. For example, provide brief information about what galleries or shows you've participated in, what part or parts of the country you've shown in, any awards or distinctions you've received, how much your art typically sells for, how much of it you sell, and so on. This information is especially important if you're less well-known and are introducing people to your art for the first time.
Include all dimensions, mediums, weights, and other relevant significant physical characteristics of your art in your descriptions. If your art requires special handling or maintenance or is unique in other regards, explain that. Covering these details up front shows that you have your act together, and increases bidder confidence.
Explain how you pack and ship. Know how much your art will cost to ship and include those dollar amounts in your descriptions. Also explain exactly how you ship, who's responsible for what costs, approximately how much those costs are, and so on. You don't want to shock winning bidders after the fact with shipping bills of hundreds of dollars, for example. Remember that most shippers charge by distance shipped as well as by size and weight so do your shipping research in advance, include a price range in your description if necessary, and make sure your expenses are covered.
Encourage bidders to ask as many questions as possible. You not only want them to get to know you as an artist and a person, but also to be fully informed about what they are bidding on before they bid. This minimizes the chances of misunderstandings after an auction ends. Answer all inquiries thoroughly, completely and quickly. Save all email correspondences between you and various bidders during the course of each auction. Having these may come in handy in case of any disagreements or disputes.
Allow winning bidders a certain time period, usually three to ten days, during which they can inspect your art after they receive it, make sure it matches what they thought they were bidding on, and allow them to return it for any reason if they're not entirely satisfied (less shipping costs). Sellers who offer moneyback guarantees like this tend to put bidders at ease and, as a result, attract more bids and net higher prices for their art.
Assuming you do your research on shipping and customs costs and don't mind the additional work involved, make your art available to bidders in as many countries as possible. The more potential buyers who are able to bid on your art, the greater the potential for higher bids and selling prices. If you go international, make sure you fully understand customs, duties, and other requirements involved in shipping to various countries.
If you know what you're doing and do it well, online auction selling can work for you. Guaranteed!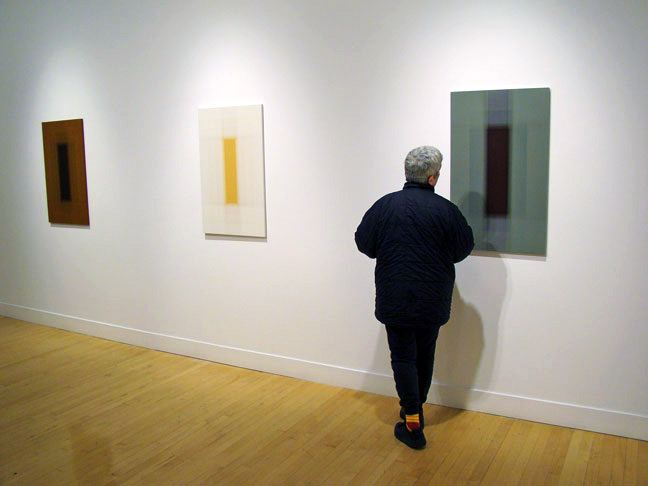 (art by Patsy Krebs)

Current Features
How to Buy Art on Instagram and Facebook
More and more people are buying more and more art online all the time, not only from artist websites or online stores, but perhaps even more so, on social media ...
Collect Art Like a Pro
In order to collect art intelligently, you have to master two basic skills. The first is being able to...
Services for Artists and Collectors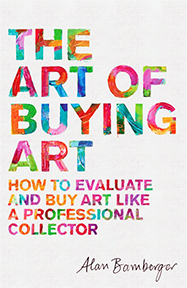 Buy the Book