SAN FRANCISCO INTERNATIONAL ART EXPOSITION 4, OPENING NIGHT
The fourth annual San Francisco International Art Exposition (SF4) opened Thursday evening, January 17,2002 with a gala preview party sponsored by J. P. Morgan Chase and benefiting the San Francisco Art Institute. Over 1,000 patrons, collectors, critics, curators, socialites, and artists attended the event. Miscellaneous luminaries also dotted the landscape such as Mayor Willie "I've always liked Warhol" Brown and Cheech Marin, showing a penchant for the art of the female form (but does he collect?). Better than $350,000 was raised to support student scholarships at the Art Institute, founded in 1871, and the nation's only visual arts college dedicated solely to the fine arts. SF4 runs through Monday, January 21.
The food at the opening did not quite measure up to that of SF3, but there was plenty of it and more than enough beverage with which to wash it down. Kind of like all-you-can-eat Sunday brunch at Smorga Bob's. But no one comes to these things to eat or drink. It's all about the art.
1500 artists from around the world are being shown at SF4 by 100 prestigious international dealers from as far as Russia, Hong Kong, Korea, Argentina, Colombia, and Santa Monica. The exposition fills two pier buildings at Fort Mason Center, directly on San Francisco Bay with everything from antique African wood carvings to masterworks by DeKooning, Moore, Diebenkorn, and Rauschenberg, although the selection is overwhelmingly contemporary. Whether you're on a budget or have a couple of million bucks burning a hole in your pocket, you'll find that perfect something for your collection at SF4.
If you need a break from looking at art, all you have to do is step out the West facing doors of either pier building and you're looking directly at the Golden Gate Bridge. The San Francisco International Art Exposition is one of many examples of how San Francisco's fine art profile has increased by leaps and bounds in recent years. You out-of-town art lovers better start making plans to visit SF5. Beautiful art in one of the most beautiful cities on the face of the earth-- you just can't beat it.
And now for the visuals:
Robert Flynn Johnson, Curator in Charge, Achenbach Foundation for Graphic Arts, Fine Arts Museums of San Francisco, chats up art researcher and author Nancy Boas against a backdrop of Rauschenberg's "Communion from Anagrams (A Pun)," 1997, $225,000 at John Berggruen Gallery, San Francisco.


"Untitled," 1961, mobile by Alexander Calder, $300,000 (above); "Arrest," 1992 by Sean Scully, $190,000 (background); head of antiquarian bookseller Jeffrey "I've never liked Rauschenberg" Thomas, NFS (foreground); all at Berggruen.


SF4 Honorary Committee member, Robert Harshorn Shimshak (right), and Botero's "Woman with Parrot," 2000, $325,000 at Marlborough Gallery, New York.


Still life with martini and name tag. It walks, it talks, but is it art?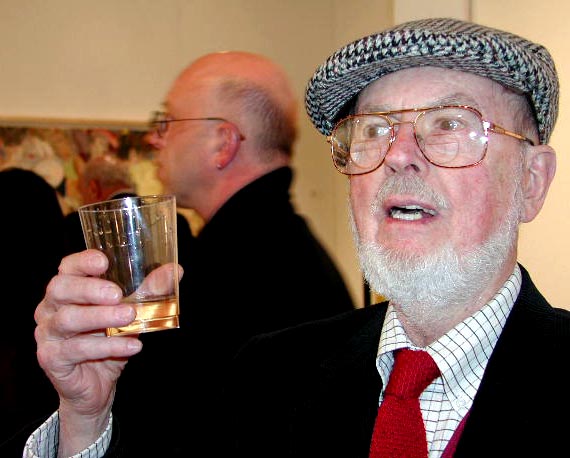 Charles Campbell, influential in the evolution of the Bay Area's contemporary art scene.


"Persuation" by Aurora Canero, bronze, edition of 6, $19,500 at Galeria El Museo, Bogota, Colombia. Great if you're having a Limbo party and you own a couple of sets of nesting pedestals.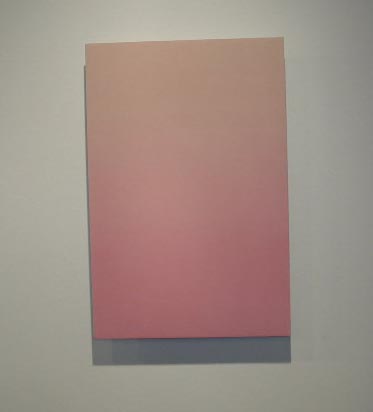 Mysterious unidentified pink rectangle on display at PDX Gallery of Portland, Oregon. Is there a label in the house?