SAN FRANCISCO INTERNATIONAL ART EXPOSITION 5, OPENING NIGHT
The fifth annual San Francisco International Art Exposition (SF5) opened Thursday evening, January 16, 2003 with a gala preview party sponsored by J. P. Morgan Chase and benefiting the scholarship and financial aid programs of the San Francisco Art Institute. SF5 fills two pier buildings at Fort Mason Center, directly on San Francisco Bay, with several thousand quality works of art from over 100 prestigious international galleries. The opening night crowd was somewhat sparser than last year, but still healthy; the dealers somewhat more trepidatious in their art market outlooks than last year, but still reporting sales. SF5 runs through Monday, January 20.
The food at the party far surpassed that of SF4 with cutting edge sushi to satisfy the gastronomically needy in Building A, and an artful Haagen-Dazs ice cream pavillion rounding out the rear end of Building B (if more museums had Haagen-Dasz ice cream pavillions, more children would learn about art). And, of course, the beverage selection was entirely adequate as evidenced by an adventurous few out to prove that you can never have too much to drink. So that was the food, not to mention the schmooze and the elitists and the wannabes and the wack-o's, and the strategizing on who to acknowledge and who to not and ya de ya de ya. So on to the show.
Dealers from as far as Russia, Korea, Venezuela (actually here for the cheap gas), New York, Germany, and Grass Valley trot out their best stuff in hopes of wowing the crowds and stimulating the art economy. Their selection is overwhelmingly modern and contemporary with Building A being more the place to see big buck stuff by big name artists (sure, some art snit will complain that the Warhol selection was woefully inadequate. Three words for that person: Go to Pittsburgh). Building B is more focused on emerging and not-so-big-name artists, but wins hands-down in terms of fun, experiment, energy, and all those other delights that fall by the wayside when fame, importance, money, and attitude steal the scene.
The San Francisco International Art Exposition is all about the art world coming to San Francisco rather than the other way around. Forget about the indignities of air travel and paying for pillow mints rather than art. Forget about trying to find something you like by making random visits to strange galleries in strange places that keep strange hours and ignore you even if you are lucky enough to find them open. Instead, dear Northern Californians, take advantage of this opportunity to see gobs of good art right here right now, and support the show and the dealers who go to extroadinary lengths to be part of it. As a top West Coast international art exhibition, it deserves a long and profitable run.
And now for the visuals:
"Studio" by French artist Charles Matton, mixed media and painted bronze resin, 25" by 12 5/8" by 28", #2/2, $38,000, shown by Forum Gallery, New York. The ultimate shadow box.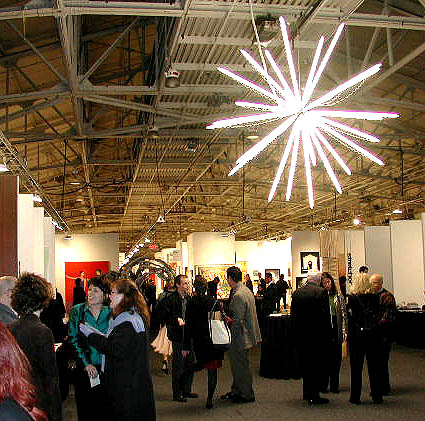 Party-goers navigating the entrance to Building B aided by Thomas Glassford's "Aster," flourescent sculpture, 71" by 71" by 71", $9,000, shown by Finesilver/FYI of San Antonio, TX.


California art megacollector Rene di Rosa hitting up the information lady for change for a five.


"Blue Eye" by You-Sun Kim, 47" square, $29,000, an unbelievably intricate Mother-of-Pearl mosaic on display at CIAS gallery of Seoul, Korea.


Joey G (right), dealer in art that's too old for SF5, and companion, "Sex Bomb" by Alesha Fiandaca, carved foam coated with resin, bondo, and auto paint, $9,000, at Peres Projects, currently of San Francisco, soon to be of Los Angeles. According to gallery owner Javier Peres, "Sex Bomb" is "more of a dildo than a butt plug." Thanks for pointing that out.