SAN FRANCISCO INTERNATIONAL ART EXPOSITION 6
OPENING NIGHT; JANUARY 15, 2004
The sixth annual San Francisco International Art Exposition (SF6) opened Thursday evening, January 15, 2004 with a gala preview party benefiting the San Francisco Art Institute Scholarship Program. SF6 fills the largest pier building at Fort Mason Center, directly on San Francisco Bay, reduced in size from the 2-building shows of previous years, the reduction due to earthquake retrofitting on the second building, report the PR folks. Several thousand quality works of art are on display from about 80 prestigious galleries-- a reasonable mix, West Coast, domestic, and international-- representing over 1,500 artists. The opening night crowd appeared a bit lighter than last year, somewhat less energized, but still healthy. The good news is that sales were happening, for example, one dealer tattling on Paul Thiebaud's moving two of Dad's paintings, not large ones, for an estimated half a million bucks. SF6 runs through Monday, January 19.
With plenty to eat and drink, no one had to buy art hungry. Those who noticed or were otherwise informed got to go upstairs to the low-light VIP Lounge, kind of like at the clubs, where copious amounts of sushi, Saki, and desserts were being served. A commendable level of decorum, sans attitude, warmed and fuzzed the evening out, gold-star-on-the-forehead material, with no overt displays, always a plus at art events. So there's the visceral view; now on to the show.
The art on display is overwhelmingly modern and contemporary, but with period works also, including a smattering of Abstract Expressionism by second-tier artists, and some harder edge stuff, much of it regional, typical of the American Abstract Artists, dating from the 1930's through the 1950's. A couple of booths show ethnic arts to round the show out. Oh, and for you Warhol fans, the Andy selection is better than last year's including a couple of big prints at Sims Reed of London, and a booth manned by dealer/storyteller Richard Polsky (I Bought Andy Warhol, Abrams, NY, 2003). Fewer pieces by emerging and not-so-big-name artists than last year give an air of stability to the show, but reduce the fun, experiment, energy, and edge that precede fame, fortune, and good behavior.
The San Francisco International Art Exposition presents a snapshot of art from other parts of the world, a great opportunity to gallery-hop without having to take a plane. In closing, Northern Californians and others in the vicinity, take advantage of this opportunity to see gobs of good art right here right now, and support the show and the dealers who go to great lengths to be part of it. As a top West Coast international art exhibition, it deserves a long and profitable run.
And now for the visuals:
"Study of a Head" by Ana Maria Pacheco, $40,000, at Salander-O'Reilly Galleries, LLC, New York.


"Pruning," by Francesca Sundsten, $7,500, at Davidson Galleries, Seattle, WA.


"Encirclement" with legs of the artist, Michele Pred, not included with purchase, $16,000, from Brian Gross Fine Art, San Francisco. It's made with stuff confiscated from travellers at SF International Airport which, according to Brian Gross, you can't get anymore. She's sold a similar piece to a museum, he says, but I didn't ask which.


Artist Mildred Howard and companion.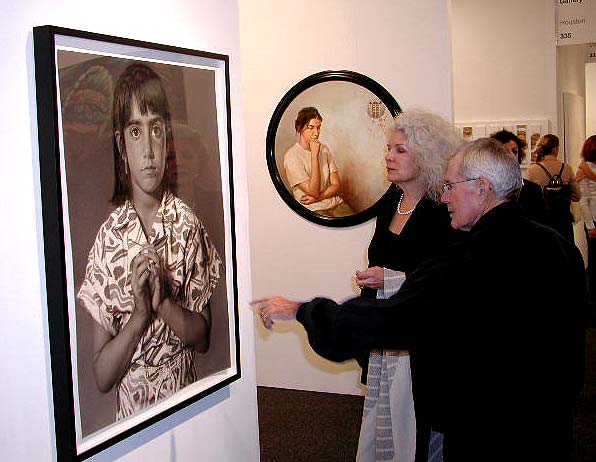 "Red and Pink," pencil drawing, by Bill Vuksonvich, foreground, $18,000; "To Saint Giles," background round, $8,500, both at Koplin Del Rio Gallery, Los Angeles.


"Bronze #27" (lying) and "Bronze 29" (sitting), $65,000 each, by Hanneke Beaumont, at Neuhoff Gallery, New York; Ethnic art from James Willis Tribal Art, San Francisco.


Art by Valentin Popov; Alysia Duckler Gallery, Portland, Oregon. I waited and waited, but she was busy, so I don't know the title or the price. I could tell by looking at it, though, that it was big.


"Inside Out," by Joel Sheesley, $4500, at Gescheidle Gallery, Chicago.


Avenue.