SAN FRANCISCO ART INSTITUTE: TOPOGRAPHIES
OPENING 03.19.04
Comment: A most satisfying show all about how artists perceive land forms, whether real, imaginary, cerebral, emotional, fantastic, unsettling, literal, urban, rural. Plenty to see, mostly contemporary, plus several 60's works by John Baldessari and Allan Kaprow, and a Charles Labelle 1992 photo essay looking like a ratty rejoinder to The Red Couch (Alfred van der Marck Editions, New York, 1985). Superior crowd, disappearing wine, seeing old friends, culture chat, and other reasons for keeping the SFAI operational. Then a male voice briefly intrudes on my art-induced reverie, telling me to step back from a blue styrofoam sculpture sitting on the floor. Apparently, my pant leg is touching it. Maybe next time use a pedestal? They're for keeping stuff off the floor. Meanwhile, tapemeister Simon Evans is perking right along with his "The World" cut-and-paste extravaganza.
Artist/Artists: John Baldessari, Allan Kaprow, Ed Ruscha, Charbel Ackermann (SFAI alumnus), Jessica Bronson, Bull.Miletic (SFAI alumni), Ingrid Calame, Simon Evans, David Hinman, Charles La Belle, Young Kim, Sabina Ott (SFAI Director of Graduate Programs and faculty/alum), Rigo 23 (SFAI alumus), Lordy Rodriguez, John Roloff (SFAI faculty), Adam Ross, San Francisco Bureau of Urban Secrets (led by SFAI faculty Jeannene Przyblyski), Susan Silton, Alex Slade, Shirley Tse, Tam Van Tran, and Anna Von Mertens.
Art.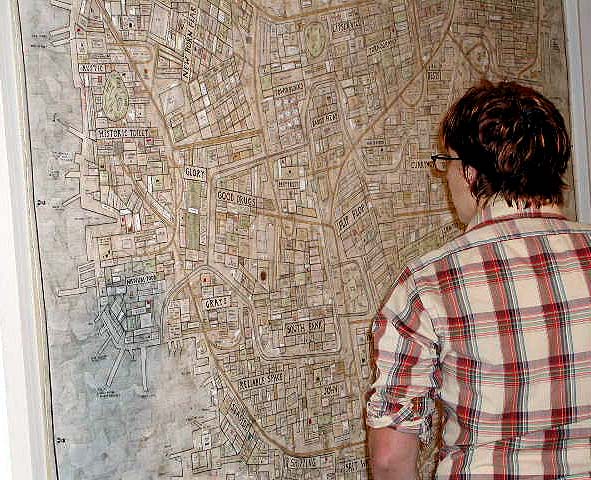 Pick.


Art.


Art.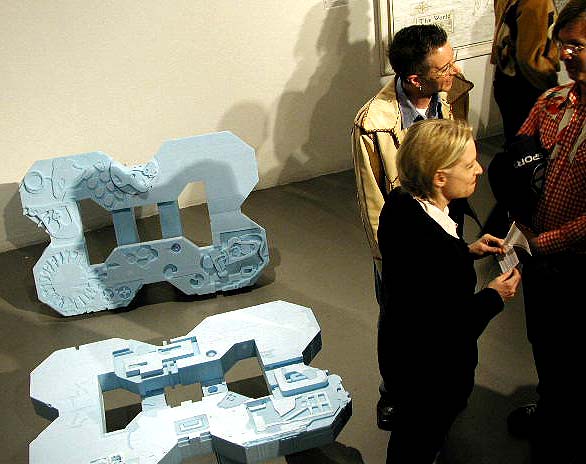 Please watch out for the sculpture.


Art (some of it on PEDESTALS).


Please step back from the sculpture

The San Francisco Art Institute
800 Chestnut Street.
San Francisco, CA 94133
415.771.7020