GALLERY SPANGANGA
THE WAY IT LOOKS FROM HERE
OPENING 01.24.04
Comment: An engaging grab bag of geographic art-takes on life, art about places. Cleanly crafted phone-message art (call 415.364.1465) by Kate Procrass, complete with laminated maps, singles out ordinary San Francisco locations, and directs you to look at ordinary things-- a sofa in a furniture store, a row of tree stumps, painted stairs, and the like. Adriane Colburn's veiny mappy gouache, ink and paper constuctions look like starched, pressed, and ordered vermicelli-- the largest, pinned to the wall, intimidatingly incomprehensible when one considers it's care, maintenance and logistical aspects, priced at $1500. But does that include delivery? Meanwhile, London-based artist Tom Dale offers up cityscape snippets photographed through the openings of shirt sleeves and pant legs, a rather curious predilection, but he forgets to price them. Hey Tom-- it's an art gallery. They're supposed to be for sale.
Artist/Artists: Adriane Colburn, Tom Dale, Nov Narumi, John O'Malley, Kate Procrass, Steve Roden, Jennifer Starkweather.
Phone art - pick.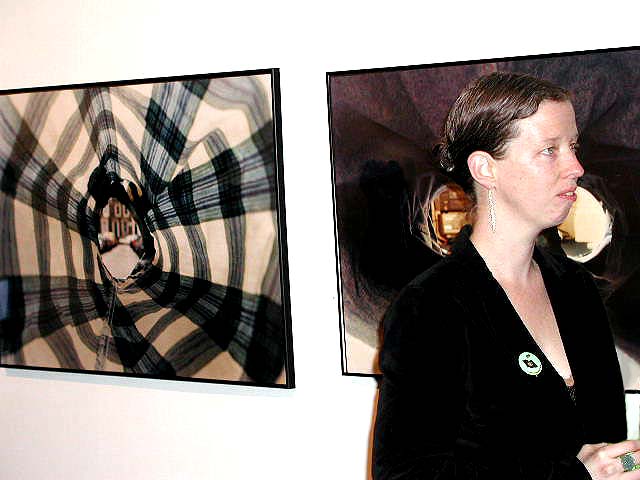 Sleeve and pant art.


Handle with care art.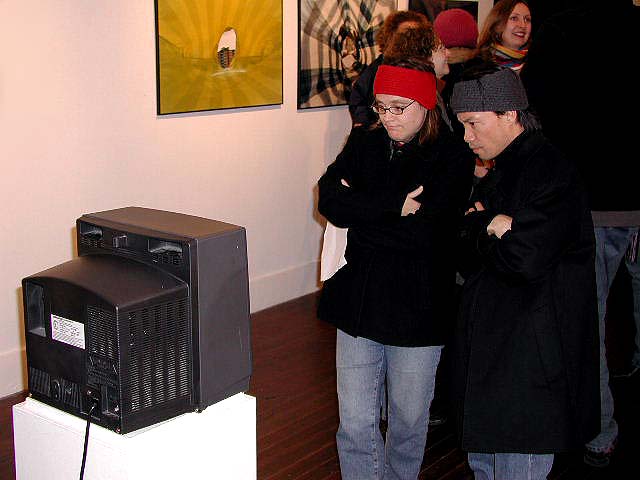 Watching art TV art.


Shirt shot.


Phone overview.

Gallery Spanganga
3376 19th St.
San Francisco, CA 94110
415.821.1102