START SOMA / LOLA GALLERY COLLABORATION
INSIDE; OPENING 8.16.03
Comment: Art, art, and art. Did I mention art? Oh... and design and furniture.
Art: 8 alternative options.
Crowd: 6 pre-party perusers.
Vibe: 7 prepratory activities.
Artist/Artists/Designers: Freddi C, Niagara, Marco Almera, Brian Barneclo, Stere05, Sam Flores, TM Scott, Ward Moore, Lisa & Jenny Pfeiffer, Claire McGovern, Charles Linder, Richard Nockles, Sandra McHenry, Eric Lifschitz, Nemo Gould, Warner Williams, Susan Kennedy, Kevin Diminyatz, Scott Blake, Brad K. Alder, Jonathan Foote, Mateo, Terrance Hughes, Leo Nuda, Mycal, Chad Pfarr, Cornelia Jensen, Asia Decor, Jim Corbett, Rick Lee, Elizabeth Scheidl, Michelle Sheppard, Paris Renfroe, House of European Design, Maggie Birmingham, Daniel Hopper, Damon Long, Wendie Davis, Walter Craven, Nathan Hunt, House of Mann
Art - artist.


Art.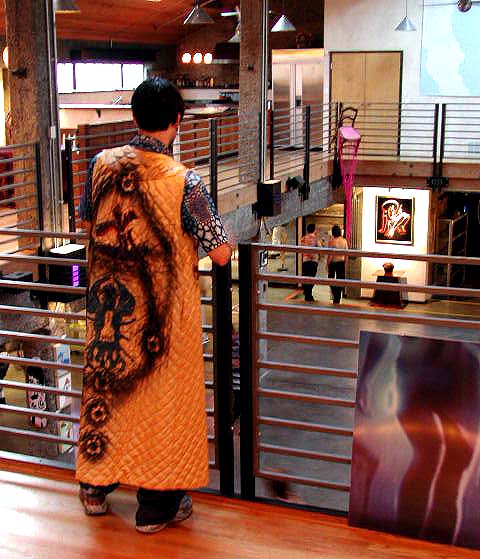 Soft sculpture.


Command center.


Contraindication


Threshold.

Proceeds to benefit BEST BUDDIES
START SOMA
270 14th St. (at Mission)
San Francisco, CA 94103
415.505.4734
The Lola Gallery
2517 Mission St.
San Francisco, CA 94110
415.401.6800